What Kind Of Message Is Fashion Trying To Send To Plus-Size Women?
Designers are finally reaching out to a long-ignored market. But can they balance glamour and authenticity to come up with a few good looks?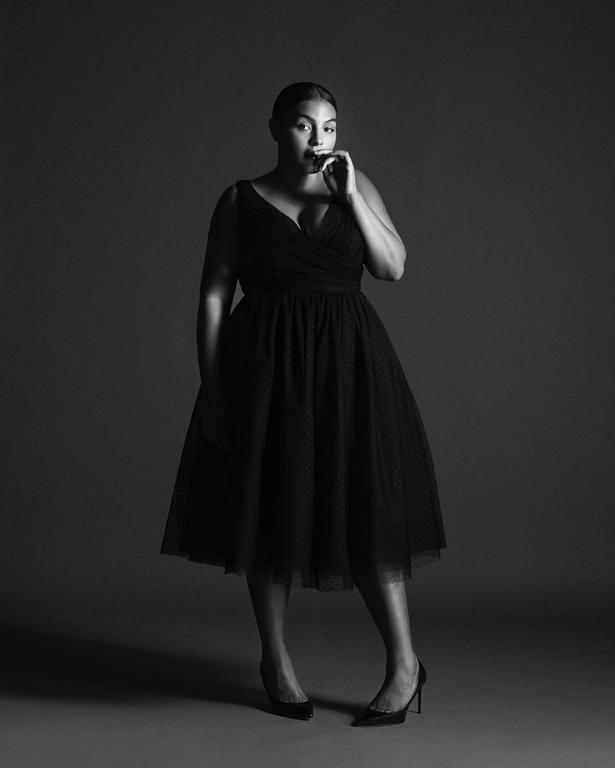 Sunday Dec. 2, 2018
What kind of message is fashion trying to send larger women? Consider two recent photos.
In one, designer Jason Wu launched his holiday collaboration with plus-size brand Eloquii with a retro black-and-white image of a coquettish model in a demure, full-skirted party dress. Her skin is poreless and gleaming. Her hair is immaculately slicked back. She looks like a fantasy. And at a size 14, smaller than the average American woman, she arguably is.
In the other, Universal Standard promoted its new loungewear with a full-colour image that is almost the direct opposite — a size 24 woman in her white skivvies, generous rolls of flesh exposed to harsh lighting and the camera's glare. Her skin tone is unretouched and uneven. Her hair is a bit frizzed. She gazes defiantly out beyond the viewer. She looks palpably real.
READ: Is Edward Enninful The Next Anna Wintour?
Together, the pictures exemplify a fashion industry debating how to speak to plus-size customers in a way that feels both inclusive and authentic. The Wu portrait is familiar fashion glitz — a beautiful lie. The Universal Standard picture aims for a kind of raw honesty, and it upends everything the culture has taught us about beauty and desirability.
Fashion, by its nature, reaches for extremes. As a result, it has always made size inclusivity so much more of an event than it ever needed to be. It has politicised, weaponised and fetishised fat. Now, as waif-like models are replaced with Rubenesque ones, can plus-size fashion be freed from the burdens of identity politics and cultural prejudices — to simply exist as clothes and not statements? When will a plus-size model get to stop representing diversity and simply be part of the pack? Does every plus-size model really slay?
The conversation surrounding plus-size fashion has evolved almost as dramatically as the fashion itself. Clothing for larger women once consisted of style-agnostic garments tucked away between the rugs and mattresses. Eventually brands emerged that gave consideration to style and quality. Renowned among them is Italy's Marina Rinaldi, with its classic cuts and luxurious fabrics.
But it was the rise of plus-size bloggers and fat activists that truly jolted the system, as they demanded clothing that wasn't simply utilitarian but reflected their personality, their moods, their fantasies. Plus-size customers wanted to fully participate in fashion. Teenagers wanted the latest trends; older women with financial clout were looking for more than just the current "it" bag or another pair of shoes. A newly awakened Seventh Avenue became worshipful of prominent derrieres, and the culture fell knee-deep into the language of body positivity.
READ: Wanted: Fashion Designers Who Truly Respect Women – Now More Than Ever
Wu made a name for himself by dressing Michelle Obama for her inaugural balls, outfitting celebrities and serving as creative director for Hugo Boss as well as his own secondary line, Jason Wu Grey. He has designed bridal gowns and extended his aesthetic to bathroom fixtures. But it has only been in the past year that he's done a deep dive into the plus-size market — which is to say clothes made to fit the average American woman.
Wu's collection for Eloquii, in sizes 14 to 28, was inspired by 1950s glamour. It includes styles from a black tulle, full-skirted, cocktail dress to a slinky platinum-sequined evening gown. Most everything is priced below $260; the looks are festive and classic without being kitschy or dull. Wu allowed Eloquii's experts to take the lead on fit while giving the clothes his particular point of view. The size 16's and 18's say "Jason Wu" as much as the size 2's and 4's in his flagship line.
Universal Standard was born in 2015 when founders Alexandra Waldman and Polina Veksler got fed up with the fashion industry's outdated sizing system. They believed there shouldn't be a distinction between how and where a size 6 woman shops and where a size 20 shops — which is to say that the two friends wanted to be able to shop together. Waldman, a former fashion and arts writer who is a larger woman, was tired of coming up with her own creative solutions to her wardrobe woes.
"We want to provide you with the tools to help you feel about your body however you want to feel about it on any given day," Waldman says. "We're a huge proponent of the body positivity movement, but unconnected to clothes. I don't think a plus-size woman should have to make an emotional payment every time she goes shopping. We can't have a conversation about plus-size clothes without having a conversation about how a woman feels about her body. You don't have that with a size 6."
The brand launched with a collection for sizes 10 to 28. "We thought we'd begin with the most underserved," Waldman says. "We would plant our flag in the straight sizes at 10, and we'd go up to a 28, which is outside of the traditional plus-size."
As they broadened their reach, moving down the scale to 6 and up it to size 32, they defined their version of a "medium" as a size 18, which more closely reflects the average American woman than the industry's notion of medium: generally a size 8 or 10. None of this is particularly complicated, but because fashion regularly overcomplicates straightforward notions, it reads as practically revolutionary.
READ: What Exactly Is Saint Laurent Saying About Female Sexuality & Empowerment Here?
This fall, Universal Standard added its Foundation Collection, a line of loungewear and underpinnings available in sizes 00 to 40. The advertising campaign features women representing a range of ages, ethnicities and, of course, sizes. La'Shaunae Steward is the one in her undies revealing her thighs and her belly. And it's this startling, unconventional image that raises questions: Is this effort to defuse plus-size of its "otherness" having the effect of glorifying or fetishising it? Is Steward being shown in her best light — or under the light of a microscope? This portrait is more truthful than most fashion images, but it's also more invasive.
Plus-size customers now have better access to the highest levels of fashion through retailers and e-commerce sites such as 11 Honore, which offers designer fashion in sizes 10 to 20, including Marc Jacobs, Altuzarra and several looks from Wu's signature collection.
"I've always been into feminine clothes that are womanly," Wu says, but "a lot of traditional retailers don't carry that range of sizes. It didn't warrant the development" of more patterns and samples. That has changed, Wu says, because "there's a big emphasis on individuality. Gender definitions are changing. Size definitions are changing. . . . We're going through a revision as a culture."
Designers such as Prabal Gurung and Christian Siriano have partnered with plus-size retailer Lane Bryant. Larger models have been mainstreamed into runway shows, including the high-end artsy ones such as Alexander McQueen.
Still, plus-size models are not fully integrated into the fashion system. They are the odd ducks, the special additions. They are proof of diversity. On the runway, they typically come in a size 12 or, rarely, a 16. But even at that size, a woman is hard-pressed to find much to fit her in a designer salon.The Bergdorf Goodman website, for example, offers around 60 different designer options — Jason Wu among them — for shoppers wearing a size 0-10, but only 38 for sizes 12 and 14. The options dwindle to a mere three if you're a size 16 or 18. If a woman is larger than that, she's simply out of luck.
That's not to suggest that Wu or any high-end designer has set out to snub — but that's the result.
And every time a size 16 model walks down a fashion runway, her presence is noted by industry watchdogs, like points on a cultural scoreboard. How big is big enough to be truly representative of a too-long-ignored demographic? Fashion editors and stylists talk about emphasising and celebrating curves — and they are always "curves," not potbellies, saddlebags or love handles — as if to suggest that camouflaging them would be a surrender to social oppression and old-school thinking. In the self-congratulatory world of Instagram, the only acceptable response to a selfie accompanied by #fat or #fatgirl is an onslaught of heart emojis, exclamation points and the all-caps interjection: SLAY!
READ: How Fashion Is Getting Political
When fashion turns its attention to previously ignored markets, it has a tendency to exaggerate whatever characteristic is now being embraced to overcompensate for past trangressions. Universal Standard zooms in close and tight on thick thighs and apple-shape torsos not just as a matter of representation — but to serve them up as a feast for those hungering for visibility. The models are required to take a stance instead of simply standing.
Like many brands that began online, Universal Standard has opened a bricks-and-mortar store with the same spare interior as the fancy Soho boutiques that surround it. The founders wanted it to deliver a message of sophistication and desirability, plus the luxury of personal service. They won't leave customers to browse solo; they want them to be counselled and styled by consultants who will fetch their correct size from the stockroom. For a plus-size customer who is often ignored when she enters a specialty store, the attention may be a welcome surprise — or she may find it exasperating.
The question that seems baked into the conversation about plus-size clothing: How much should this growing market cling to long-standing fashion traditions — the exclusivity, the glossy standards, the photoshopped images, the beautiful lies? Universal Standard has opened a store that aspires to be a classic Soho boutique, but frankly, there's nothing all that electrifying these days about shopping in Soho, no matter what size one wears.
When it comes to size, it's hard to separate the personal from the cultural — even if we should. How a size 24 feels about her body is, in significant ways, affected by how the culture feels about it and whether she makes a decision to ignore prejudices, upend them or internalise them. We are still working toward a society in which everyone can simply be.
Mostly though, one wonders how long fearless plus-size women must stare defiantly into an unkind camera in nothing but their underwear before they are fully recognised and represented?
— The Washington Post
Share this: