What to Wear to the Tennis
If you're headed to the tennis this summer, go for a look that's both comfortable and polished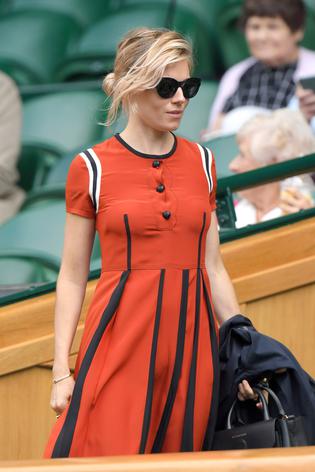 Rather than following strict rules, dressing for the tennis is more about making sure you're prepared for the elements and looking smart while doing so. So long as you don't wear sneakers and ripped jeans, you're off to a good start.
What colour is more synonymous with the sport than white? From grandstand to court, there's no denying it's the colour du jour. But if you're heading to the ASB Classic 2017, although it's failsafe, don't feel like white is your only option.
The Duchess of Cambridge made a case for scarlet red at Wimbledon in 2015, and opted for canary yellow this year, wearing a structured Roksanda Ilincic dress, while Sienna Miller chose red by Burberry. Summery prints are a good option too. Anna Wintour is the courtside queen of which, consistently sporting plaid and floral frocks from the likes of Chanel.  
READ: Venus Williams on Tennis and Fashion
Polished comfort is the mantra here, so stick to styles that you would normally wear but go for light shades and breathable fabrics. If you're a dress person, go for your favourite shape in crisp cotton, or if separates are up your alley, linen pieces are a great way to keep cool.
"What I love about the tennis is that is really encompasses everything I design - luxe casual, dressy yet infinitely comfortable," says fashion designer Juliette Hogan, who will be joining guests at the Ladies that Lunch event this year, which is presented by Viva. "A silk tee and a pair of beautiful soft linen shorts create the perfect balance of casual attire in luxe fabrications."
"My tip for enjoying yourself at the tennis is to cover up," she says. "I designed visors just for occasions such as the tennis, where you require sun protection but still want to look polished and put together."
Dressing with the sun in mind will not only keep you comfortable, but prevent you from turning into a hot mess. A top or dress with sleeves is a great way to protect your shoulders from going pink, and a classic pair of sunglasses, such as Ray Bans a la Pippa Middleton, will mean you don't squint the day away.
The same goes for menswear too.
"Generally over summer you'll find plenty of linen and seersucker fabrics for men to invest in, and pieces made in these fabrics look especially smart when you're a spectator at the tennis," says Viva fashion editor Dan Ahwa. "A Panama hat, linen shirt and shorts are an ideal way to look polished without feeling overdressed, finished with a pair of easy moccasins or white canvas sneakers."
Although there's nothing stopping you, wear black at your own risk - a choice that's sure to have you heating up faster than a jug of Pimm's left out in the sun.
Share this: