What to Wear to the Tennis
Take your cues from the Duchess of Cambridge at Wimbledon when dressing for the tennis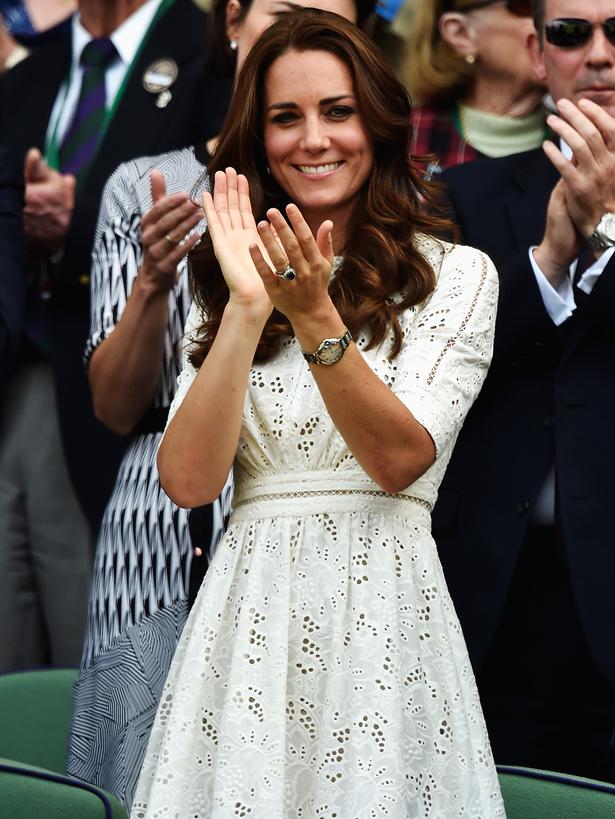 Thursday July 2, 2015
It doesn't take much to upset the wardrobe department at Wimbledon. This is as true today as it was in 1905, when the American player May Sutton Bundy, competing in the final in a corset, a crinoline and a floor-length dress, rolled back her sleeves because they were "too long and too hot" and promptly caused an outcry.
One newspaper reported that the future King George V cried in the royal box. Let's hope that the tears were prompted by Bundy beating England's beloved Dorothea Chambers to the title rather than by her sartorial misdemeanour.
READ: How the Duchess of Cambridge got her French style
If the All England Club dress code remains gruelling for players, it has relaxed for onlookers. Technically, "torn jeans, running vests, dirty trainers and sports shorts" are the only items verboten. In reality, however, everyone, particularly on Centre Court, is notably smart. It's a dress code that can only be described as Wimbledonian. So what is that?
The Duchess of Cambridge, an expert in dressing for the occasion, is a tennis fiend and invariably wears white to Wimbledon. In 2012 she could have doubled for a particularly dazzling ball girl in a preppy, cable knit Alexander McQueen dress; last year she rolled out her tennis whites again in a broderie anglaise Zimmerman number.
But white is tricky, especially if your legs are the same colour as your outfit. Too much broderie and you will resemble Miss Havisham's table cloth; too much shiny neoprene and you'll take after the disposable Tesco version. If you like lace but can't afford Chanel couture, opt for it in cream - cheap white lace always looks cheap.
READ: How Ana Ivanovic keeps fit and healthy
If you prefer more structured shapes, go for a cleaner, Colgate shade. The key is in the accessorizing: never wear a white dress when in the presence of fake tan, peep toe platforms or a Formula One driver boyfriend. You're aiming for a modern update on Julie Christie in Far From The Madding Crowd, not a baby Kardashian.
If white feels like an unforced error, a summer dress should still be your first port of call.
NB "summer" is not a synonym for cocktail - Victoria Beckham looked all wrong in 2013 when she wore a black lacy Louis Vuitton slip dress. The general rules are: not too short, not too tight.
Fortuitously, mid-length dresses are the very thing right now, and in floaty fabrics, look a little less contrived than a pleated cousin. A sparkly necklace can brighten up a dull neckline if you're worrying about getting caught on camera. And don't forget sunglasses since sun hats will be frowned upon by the people behind you.
Footwear-wise, you can't go wrong with a summery espadrille. You don't need to worry about heel height, as you'll be sitting down for most of the day, but a lower wedge or block heel will provide the best support as you climb the grandstand to reach your seat.
As for cover-ups, don't forget to bring a jacket - the stands quickly chill down as play continues into the evening. Collarless styles will look less corporate than a blazer, and accommodate necklaces. Trench coats tick the smart but seasonal box - and make a handy cover-up.
— The Daily Telegraph
Share this: