What to Wear Where
Make May a month of culture and style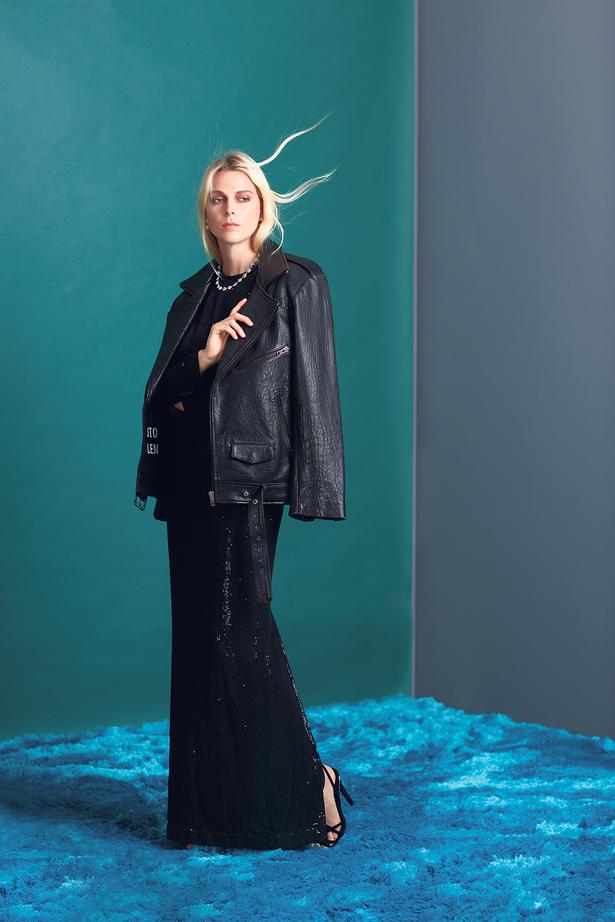 Wednesday May 6, 2015
MODERN CLASSICS
Watch the drama unfold with the New Zealand Opera and its production of La Cenerentola by Gioachino Rossini. A fairy tale with a difference, the re-working of the classic Cinderella story replaces the wicked stepmother with Don Magnifico, a wicked stepfather, and the classic glass slipper is replaced by a glass bracelet. Brought together under the supreme direction of Lindy Hume and NZO's director of music Wyn Davies, this is one magical performance worth getting dressed up for. La Cenerentola, at the ASB Theatre, May 30 to June 7.
Juliette Hogan sequin dress $1199. Stolen Girlfriends Club leather jacket $1399. Topshop heels $75. Lola and Grace earrings $89.90 and necklace $119.90. Citta Design chair $339. 
Enter our competition to win a $1000 Juliette Hogan wardrobe, night at Auckland's Hotel de Brett and a double pass to the opening night performance.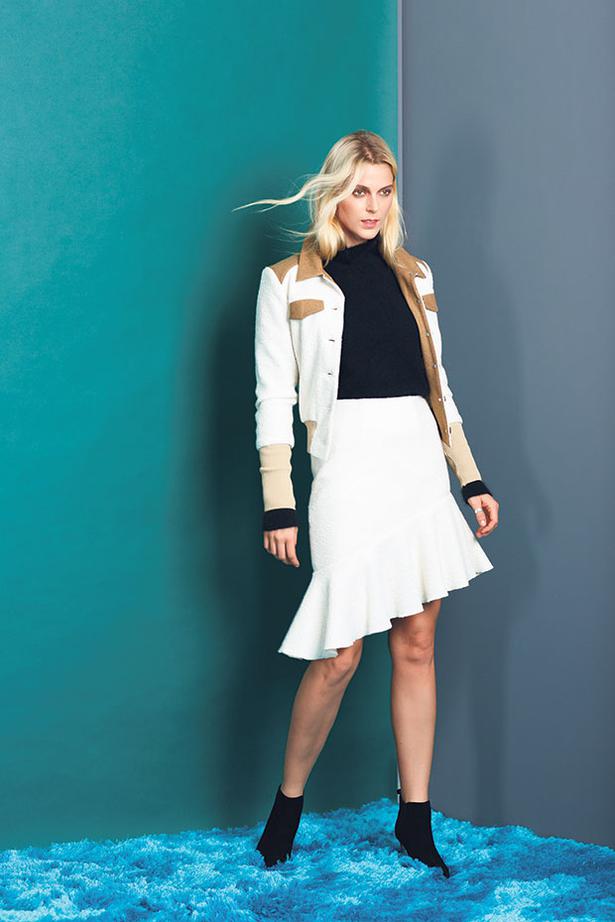 FRILL SEEKER
Is white the new black? Trend Beacons at the Documentary Edge Festival looks into the world of forecasting, where trends are predicted two years in advance by specialists in fashion, design, culture and more. This smart ensemble by Eugenie is ideal for a thought-provoking night at the movies. The Documentary Edge Festival, May 20 to June 1. 
Eugenie wool blend skirt $429 and jacket $565. Gregory roll neck sweater $289. Kathryn Wilson suede boots $389. Model's own ring worn throughout. Hand-woven shaggy silk rug $2400, from Source Mondial.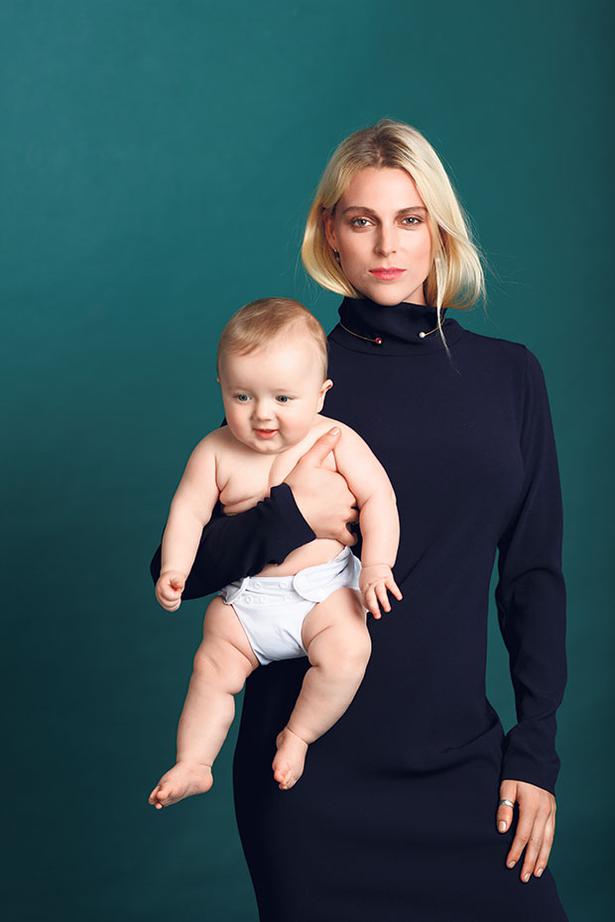 DOMESTIC BLISS
Novelist Emily Perkins' adaptation and Auckland Theatre Company's production of Henrik Ibsen's A Doll's House is a cultural highlight of the season. Settle in with something comfortable and chic to watch Perkins' version of the play, like this Gregory tunic dress. Originally performed in Denmark in 1879, this performance is set in contemporary New Zealand, and examines gender roles and the expectations of domesticity, so leave the kids at home for this one. A Doll's House, Maidment Theatre, until May 23.
Gregory tunic dress $449. Tous necklace $345. Pascoes 9ct pearl drop earrings $129.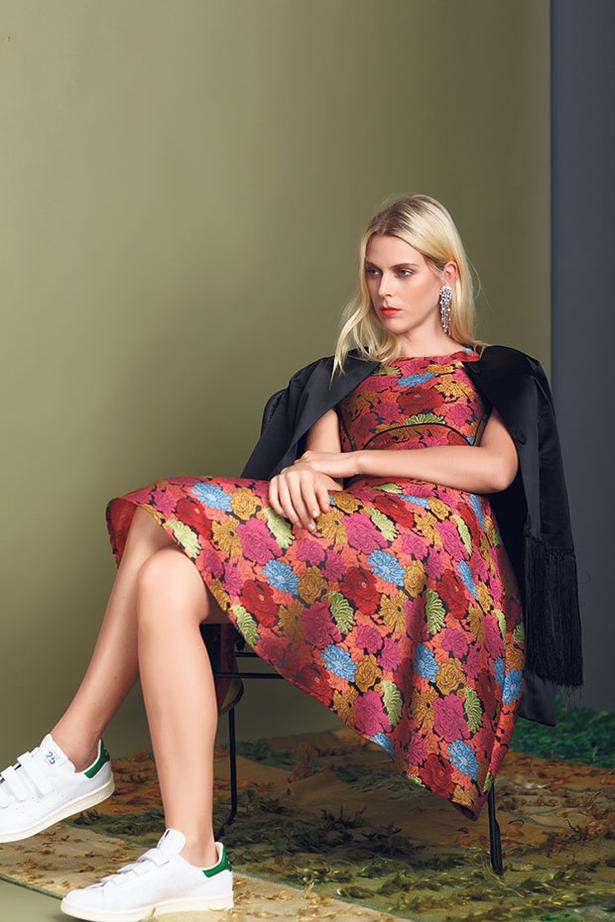 LAUGH IT UP
Take a high-low approach to a fun night out with friends in a patterned cocktail dress and a pair of trainers — the perfect way to show you don't take yourself too seriously. This State of Grace number is best worn out for dinner after a night at one of the many performances at this year's Comedy Festival. Our pick is Snort With Friends, a fast-paced, hilarious improv show featuring some up-and-coming comedians including Rose Matafeo, Eli Matthewson, Joseph Moore, Guy Montgomery, Nic Sampson and Hamish Parkinson. Snort with Friends, every Friday and Saturday at the Basement Theatre at New Zealand International Comedy Festival until May 16.
State Of Grace dress $559. Harman Grubisa jacket $695. Swarovski earrings $599. Adidas Originals x Nigo Stan Smith sneakers $150. Hand-knotted vintage patchwork rug, $4935, from Source Mondial.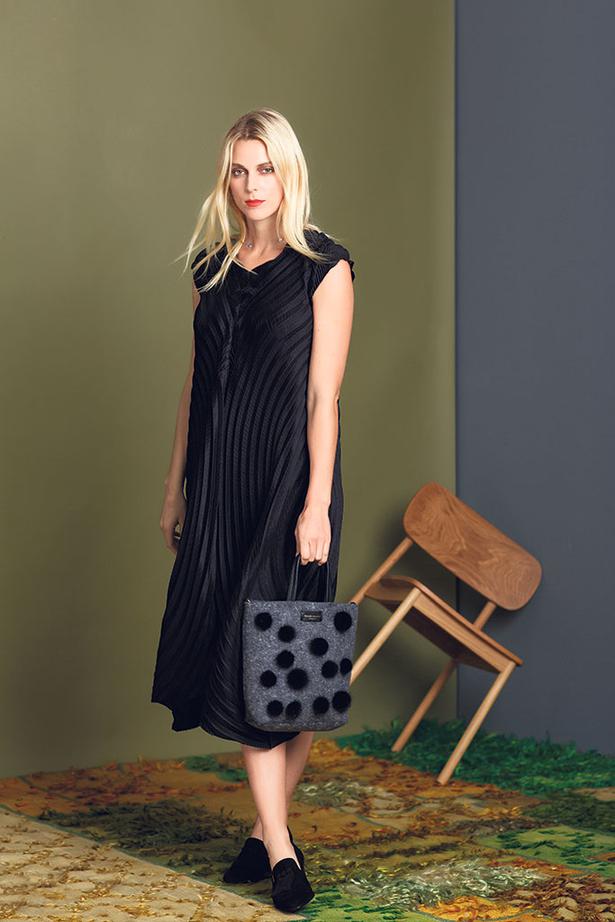 IN CONVERSATION
Haruki Murakami is the headliner at this year's Writers Festival, with the Japanese writer taking the stage to discuss his work and surrealist novels including Norwegian Wood and Kafka on the Shore. If you were fortunate enough to get tickets to An Evening With Haruki Murakami, what better to wear to the evening with the iconic Japanese writer than this pleated dress by Japanese brand Issey Miyake? An evening with Haruki Murakami at the Auckland Writers Festival, Saturday, May 16.
Issey Miyake dress, $1710, from Scotties. Deadly Ponies bag $640. Tous necklace $345. Stuart Weitzman loafers, $590, from Scarpa. Citta Design chair $389.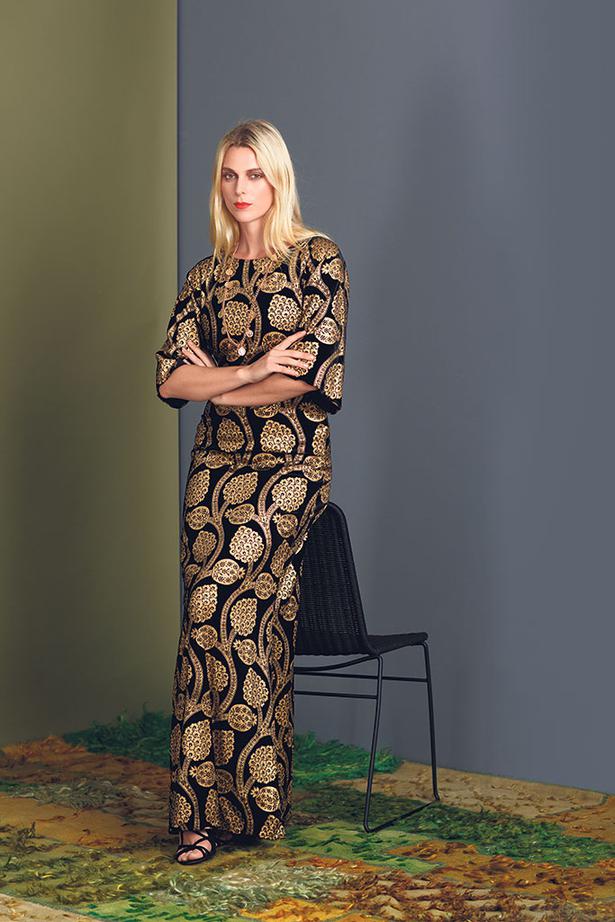 TO THE NINES
Encourage a return to evening decorum with an elegant gown in striking black and gold from World. It's a gown that sets the tone for dressing up, particularly for a memorable night out to watch our premier dancers from The Royal New Zealand Ballet mark the centenary of World War I in Salute. In collaboration with The New Zealand Army Band and distinguished New Zealand composers and choreographers Dwayne Bloomfield, Gareth Farr, Neil Ieremia and Andrew Simmons, this anticipated ballet will tour Christchurch, Dunedin, Hamilton, Auckland and Napier after its opening night in Wellington on May 22. Salute from The Royal New Zealand Ballet, May 22 to June 25.
World gown $999. Silk & Steel necklace $299. Topshop heels $75. Citta Design chair $339.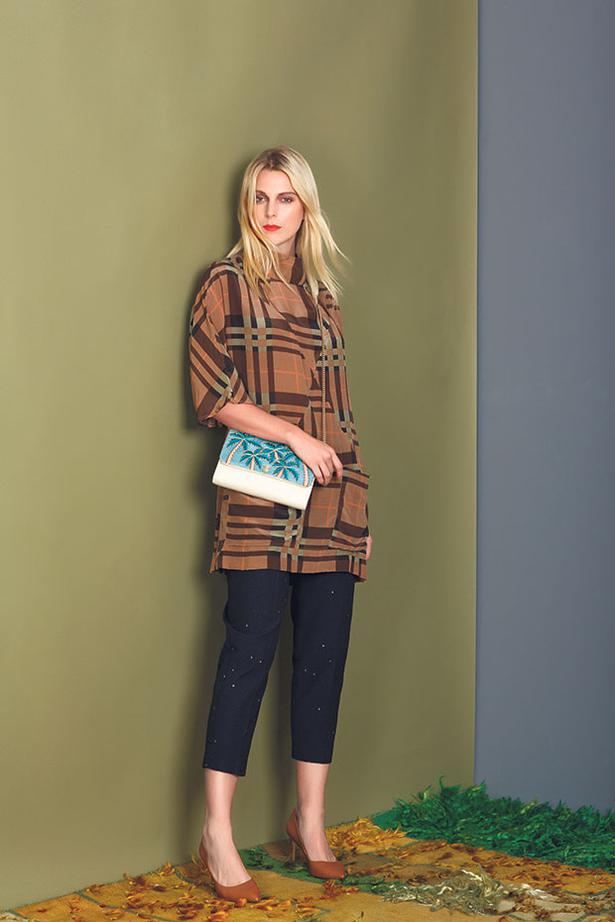 HIGH BROW
The opening of artist Lisa Reihana's latest exhibition at the Auckland Art Gallery calls for an admirable outfit. Lisa Reihana: In Pursuit of Venus [Infected] takes Joseph Dufour's Les Sauvages de la Mer Pacifique (1804), a sophisticated 20-panel scenic wallpaper that highlighted a fascination with Captain Cook and voyages to the Pacific, and reanimates it as a panoramic video spanning a width of 26m. Be inspired by Reihana's poignant message encouraging visitors to acknowledge the nuances and complexities of cultural identities and colonisation. Like a stylised map, this silk tartan dress from Lonely Hearts comes in an organic colour palette, accessorised with tan pumps and a clutch embroidered with palm trees for a subtle salute to the Pacific. Lisa Reihana, in Pursuit of Venus [Infected] at The Auckland Art Gallery until August 30.
Lonely Hearts silk dress $375. Kate Sylvester pants $385. Tous purse $169. Kathryn Wilson pumps $289.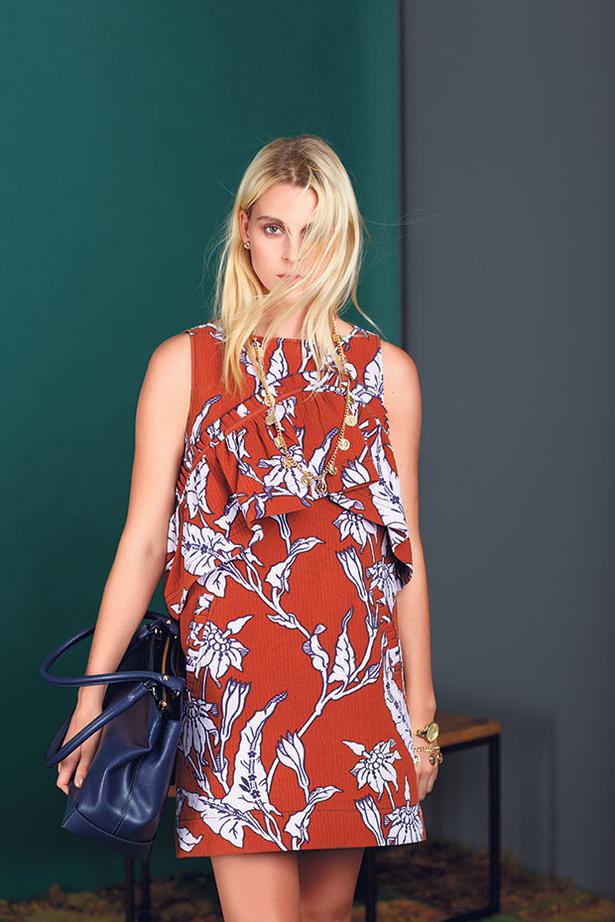 PETAL PUSHER
Karen Walker's winter collection, Garden People, drew inspiration from Valerie Finnis' photographs of English country gardens, with lots of lush, retro floral prints like this dress — perfect for a screening of Garden Lovers at the Resene Architecture and Design Festival. The documentary looks at seven Finnish couples with a passion for gardening, and is part of the festival's focus on greenscapes. Resene Architecture and Design Film Festival, Rialto Cinema until May 20.
Karen Walker dress $555. Ripani handbag, $560, from Scarpa. Lola and Grace earrings $69.90. Silk & Steel bracelet $149 and necklace $299. Tous watch $485.
Photographer: Babiche Martens. Fashion Editor: Dan Ahwa. Hair & Makeup: Shirley Simpson using M.A.C Cosmetics and O&M. Model: Siannon Pallister from Red 11. Shoot Assistant: Anna Lee. Special thanks to Hugo and Greg Bowker.

STOCKISTS: Adidas, Deadly Ponies, Citta Design, Eugenie, Gregory, Harman Grubisa, Juliette Hogan, Karen Walker, Kate Sylvester, Kathryn Wilson, Lola and Grace, Lonely Hearts, Mimco, Pascoes, Source Mondial, Swarovski, Scotties, Scarpa, Silk & Steel, State of Grace, Stolen Girlfriends Club, Topshop, Tous, World.
Share this: