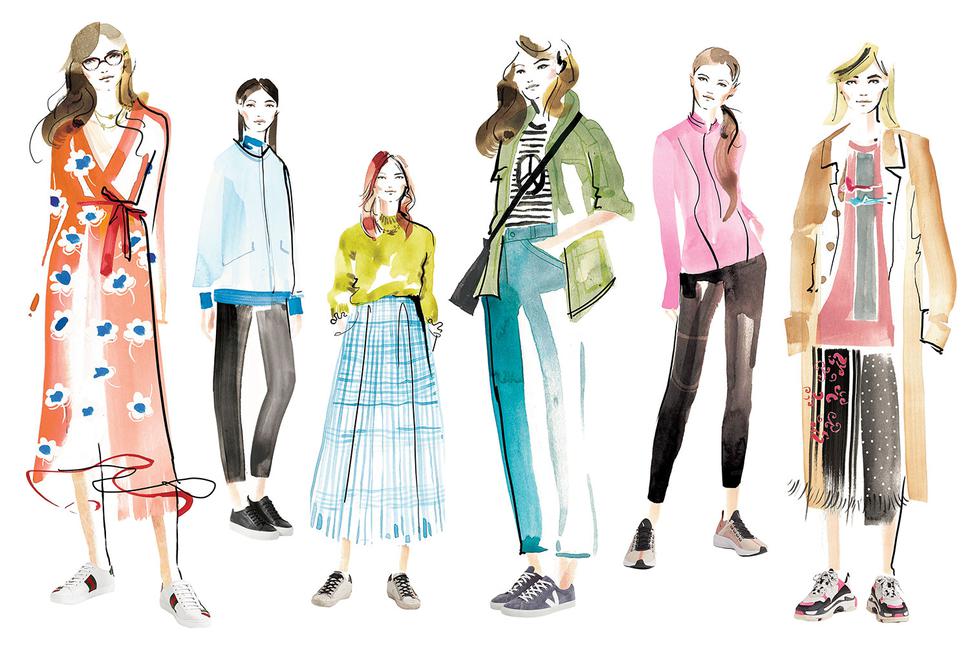 What Does Your Preferred Sneaker Style Say About You?
The trainer trumps every other shoe trend this season, but the ones you wear speak volumes
Wednesday Nov. 21, 2018
Show me a dress code and I'll show you the trainers to match it. First it was Emma Thompson receiving her damehood at Buckingham Palace in Adidas Stan Smith sneakers. And then the French first lady Brigitte Macron wore a pair of $1425 Louis Vuitton trainers while on an official visit to Finland. Meghan Markle wore Veja sneakers during her Royal Tour and our own Prime Minister Jacinda Ardern has been spotted on official duty in her Allbirds.
Five years ago, trainers were worn on the commute to the office or dinner and swapped for heels at the door. Now, execs wear them with trouser suits and celebrities with evening dresses. On global fashion search platform Lyst, someone searches for trainers every three minutes.
READ: Say Hello To Scumbro, This Year's Most Intriguing Fashion Phenomenon
"Where you once had to wear a smart shoe to the office, you can now team tailoring or a long dress with sneakers and look stylish in a contemporary way," says Cassie Smart, head of womenswear buying at Matches Fashion, where trainers make up a third of all shoes on site for autumn/winter 2018, with sales for them up 100 per cent year-on-year.
What started as the athleisure trend has expanded into the mass casualisation of fashion. Designers were quick to create their own offerings and so after years of status-defining It bags, the It trainer has emerged. And since we all started wearing trainers in place of flats/heels/sandals/boots, you can't spot a city girl by her Loubs or a fashion editor by her Gucci loafers any more. So what are the new signifiers? It's time to find your trainer tribe . . .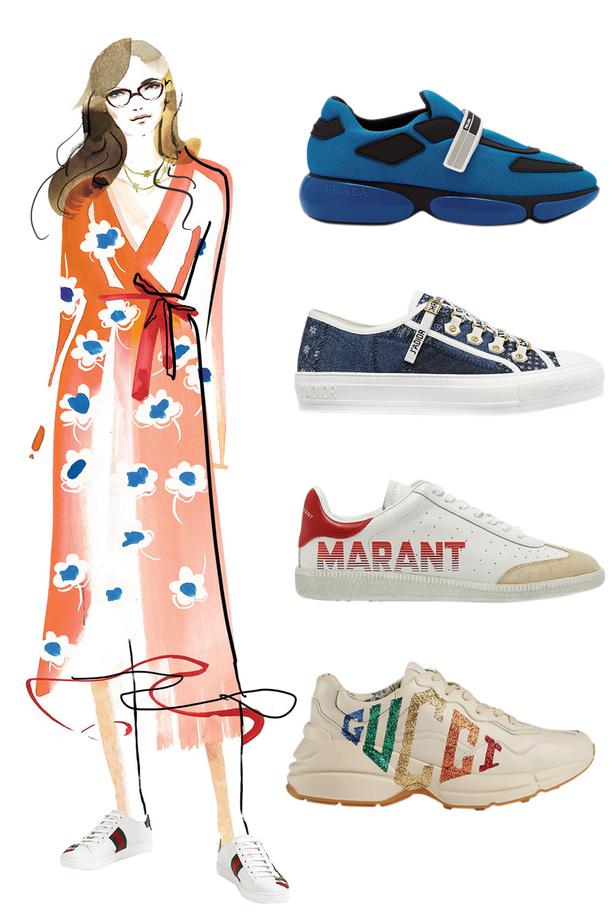 THE DESIGNER CROWD
Nike and Adidas offered the gateway trainers, but there was too often a 14-year-old in the same pair as you, or a mum at the school gates who misinterpreted your knowing riff on the sport-luxe look as laziness. Which is where the designer trainer came in. Slim and elegant, cut simply like plimsolls or a pair of Adidas Gazelles, but adorned with a heritage side stripe and a Gucci bumblebee.
Fashion editor Marianne Jones first succumbed to the Gucci Ace, but then followed up with Saint Laurent. "I've literally worn them to death, but even so, the cost per wear is maybe about $2 — they were that expensive," she says. "I've now lost count of how many pairs of trainers I own (and how few heels). I no longer stuff them into my bag when I get into the office, I just wear them all day. Apart from being comfy, if you buy the right pair, they look smart and stylish."
Trainers that go with floral midi-dresses and jeans, in which you can walk all day but still draw envious looks? It's no surprise that once you've bought one pair, it's hard to resist another.
THE ARCHITECTS
Not reserved solely for architects, of course, but for those who like to dress like architects. Think voluminous-sleeved tunics, plisse trousers by Issey Miyake, oversized shirts and Dinosaur Designs necklaces . . . The shoes to match could only be minimalist: all-white leather, pale grey or navy suede. Scandinavian labels Axel Arigato and Eytys have built their businesses on this aesthetic, and Common Projects is the ultimate stealth-status trainer. British brand Grenson may be known for its brogues, but its unbranded leather trainers are perfect for the archiphile.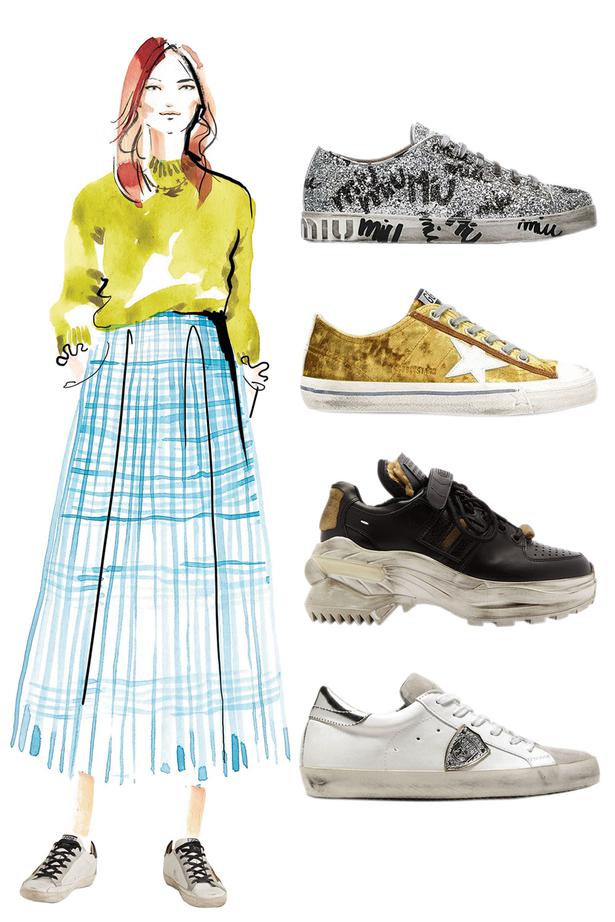 THE FAUX VINTAGE
Time was, your shoes were battered because, well, you'd worn them while battered yourself, watching from the side of the stage at a festival. Now? Golden Goose Deluxe Brand's star-emblazoned trainers come pre-distressed, which is handy since the glamping area at Splore doesn't get quite as raucous. At the weekend, you'll see them on executive types dressed in T-shirts by Etre Cecile and denim midi-skirts from Mih Jeans.
GALLERY: Retro-Inspired Sneakers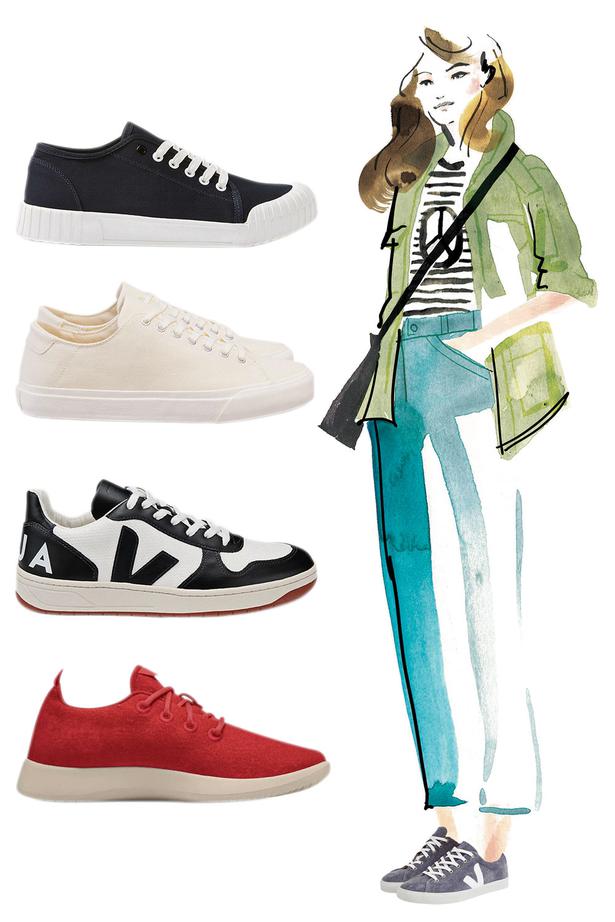 THE SOCIALLY CONSCIOUS
Long a celebrity favourite, Adidas's Stan Smith trainer became the symbol of low-fuss fashionability when designer Phoebe Philo appeared on the autumn 2010 Celine catwalk wearing a pair. Now Stella McCartney has launched the first vegetarian Stan Smith in collaboration with Adidas. At $450, it's more than three times the price of its leather predecessor, but comes with socially conscious bragging rights.
READ: Sustainable Sneakers To Look Out For
Speaking of which, it's worth a mention that Gwyneth Paltrow gets her kicks from Allbirds, which has sold a million pairs of its sustainable wool trainers. Cindy Crawford is a fan too, pairing hers with that eco-warrior uniform of jeans, stripy tee and a khaki shacket. Since jeans are part of the uniform, the trainers should be cut low for that flattering flash of ankle. Veja trainers fit the bill visually and the brand's use of organic cotton and non-toxic chemicals, and its focus on fair trade and social responsibility, do too.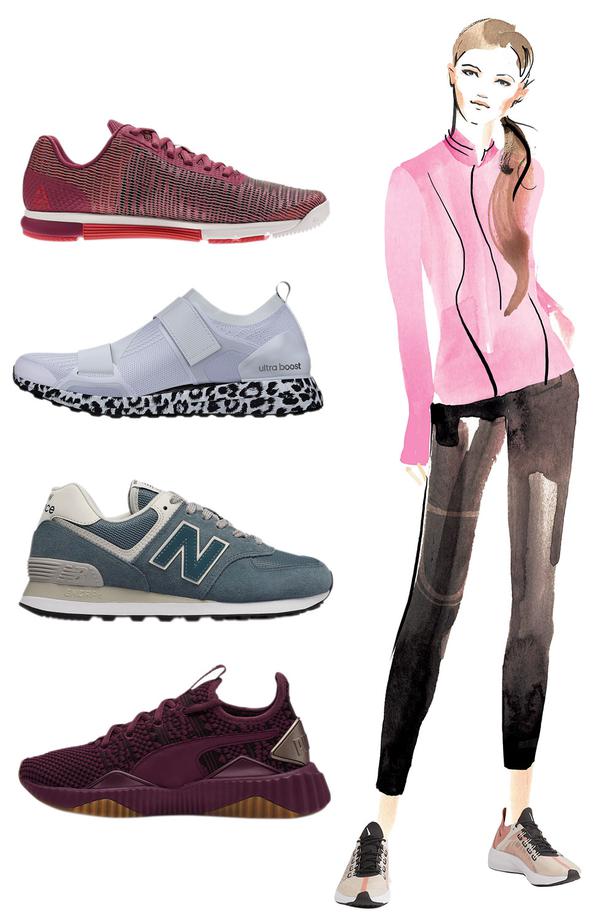 THE ASHTANGA BRIGADE
You know the type — maybe you are the type: always seemingly ready to drop and give 20 at a moment's notice, clad in Lycra and Roshe Runs while eating a salade nicoise. At the core of this LA-inspired aesthetic are the trainers. A few years ago, slope-soled MBTs were the only acceptable option if you struggled with back pain. Now you can step happy in Nike's Flyknit, Adidas' Ultraboost or APL's TechLoom. 
You may have seen this breed of trainer worn with spandex cycling shorts, to which the answer is no. N. O. Absolutely not. Instead, take your cue from the wellness brigade: the leggings-as-trousers trend is still going strong, from suck everything-in classic black, to Sienna Miller's much-worn leopard version. Just add a slouchy jumper and a wrap coat. The shoes themselves should look like the kind you'd wear to run a 10K, without the intention of running a 10K, since you'd scuff them.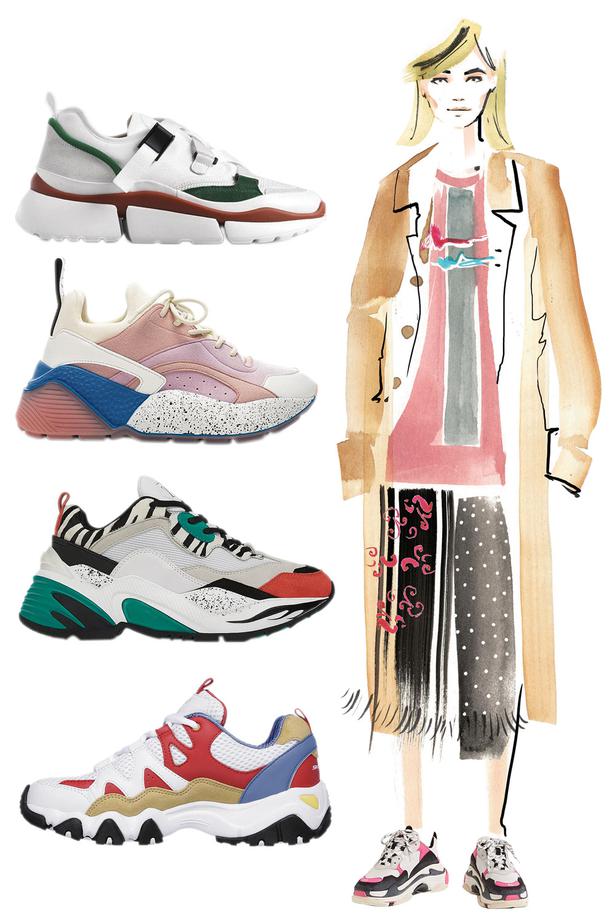 THE MAN-REPELLERS
The bestselling trainer trend of the year is also the ugliest — in fact, that's its USP. Imagine a cross between your dad's orthopaedic trainers and the Spice Girls' bubblesoled Buffalos topped with a $1200 price tag, et voila, you have Balenciaga's Triple S trainers, which have sold out multiple times. And they're not alone: there's the Flashtrek by Gucci, Chloe's Sonnie, and Acne's Manhattan, all priced north of $670. At these prices, this is definitely a status buy.
READ: Fanny Packs, Prairie Dresses, Luxury Shower Shoes: Is Fashion Trolling Us Or What?
So, what to pair with your man-repelling trainers? If you're too young to remember 1990s kicks the first time around, then a crop top and stonewashed jeans creates the perfect backdrop for Fila's Disruptor II. No? Then head to your closest chi-chi wine bar to see polished PR types pairing bubble soles with silk slip dresses and cashmere jumpers. Or take your cue from those who pair theirs with everything from floaty dresses to tailoring, like a souped-up take on the classic commuter combo of suit and runners. Fun, huh?
— Telegraph
Share this: