Whitecliffe College Fashion Show 2016 Rundown
The highlights and ones to watch from last night's Whitecliffe fashion show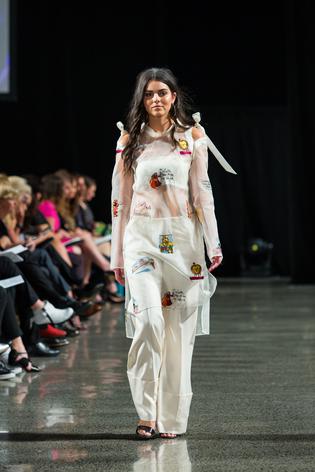 Year Four
Olivia Cashmore
Beautiful knits with flared pants, Olivia's transeasonal collection 'Chosen' has a little bit of everything from daywear to eveningwear. A stand out garment was a hand embroidered dress with colourful pictures on delicate organza fabric. An accompanying band playing music set the tone for the collection and was memorable.
Georgia Lloyd
Georgia presented a really strong collection with an emphasis on sportswear. Her collection was made with the use of Econyl which is a fabric made from recycled consumer nylon waste. Swimwear, sweat shirting, windbreakers and running tights feature throughout the collection, and was one of the few designers from the entire faculty who showcased strong potential in the lucrative sportswear and athleisure market.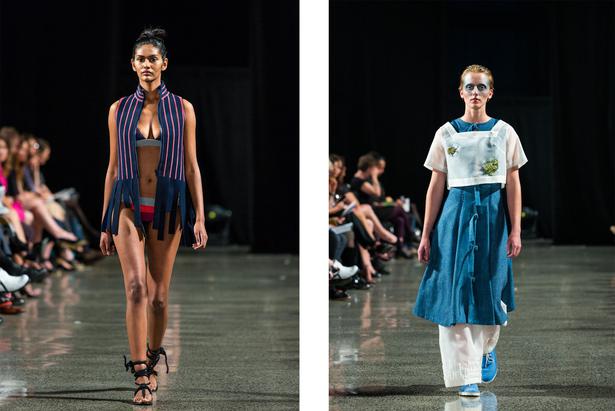 Year Three
Bianca Jones
This up-and-coming designer took inspiration from Old Nordic culture where the people were often influenced by their natural surroundings. She used traditional techniques from hand-dyeing to weaving in her collection as a way of making her garments environmentally friendly. One of the better styled collections of the night with its considered layering and thoughtful hair and makeup brief.

Nam Phung 
Nam was stimulated by her favourite street style icons of the 1970s through to today. Her Almost Famous collection mixed a variety of subcultures from disco to rockabilly, skinhead and streetwear which was all reflected in her designs. Her opening look was a silver-glitter lurex flared one-piece and the closing look was an acid wash denim jacket with jeans, emblazoned with the words Almost Famous in a glam rock font.  

READ: Highlights from the 2016 AUT Rookie show
Aaron Marshall
Aaron's menswear collection, called Bloodied By The Spur, was created to solve the problem of uncomfortable and impractical work clothing. It was a highly commercial collection and he used traditional techniques such as hand weaving and leather plaiting to give the brand a heritage aesthetic, with a supple leather apron a stand out piece.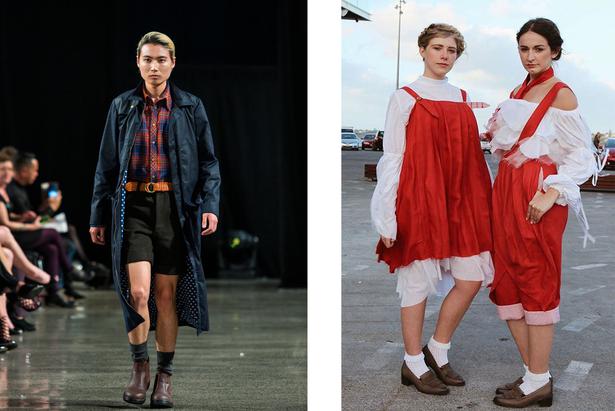 Aaron Marshall (left) and Harriet Lewis. Picture/ Supplied and @Theharrietlewis.

Year Two
Harriet Lewis
Standout year two student Harriet Lewis' Youth in Retrospect collection was made entirely of natural fibres. Her crisp white blouse and shirt dress were off-set with a vibrant red pinafore dress and overalls. She set out to create a collection that reflected an Edwardian childhood yet wanted the garments to also forecast the chaos of the Great War.

Annaleigh Stafford
Annaleigh's collection, titled The Sea Reapers, explored the characteristics of fisherman. Her clothes had 3D braids which imitated nets and Aran jumpers. A three dimensional quality made this a strong presentation on the runway.

Share this:
More Fashion / Features & Profiles