Why Fashion is No Longer Child's Play
Thanks to social media, women over the age of 40 are increasingly calling the shots in fashion - and it's about time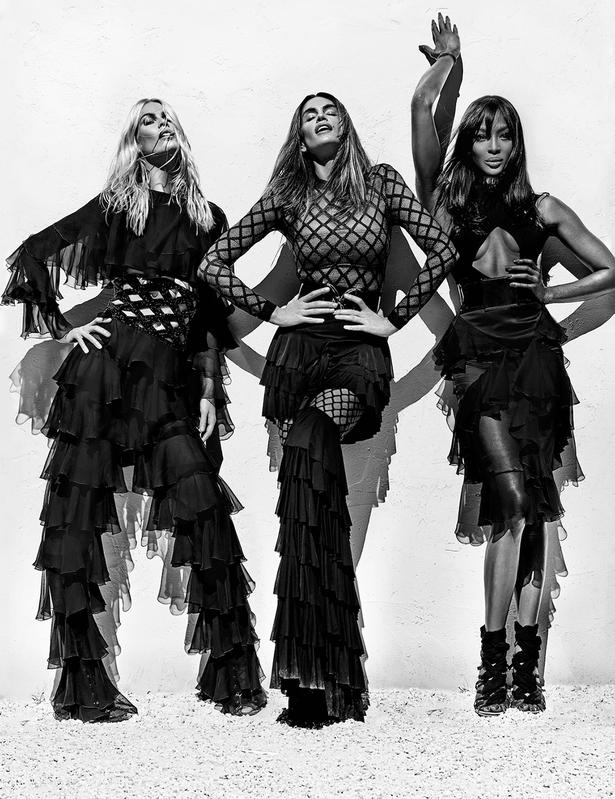 Thursday Jan. 28, 2016
The selfie-satisfied, Kardashian cheerleader, Olivier Rousteing, may not seem an obvious champion of the everywoman. But in his own not-so-subtle way, the creative director of Balmain is emerging at the forefront of a refreshing movement to reflect and cater to a wider demographic in fashion - the fortysomethings.
In his latest spring/summer campaign, Rousteing has reunited three of the original "supers" - Cindy Crawford (49), Naomi Campbell (45) and Claudia Schiffer (45). Premiering the campaign on his Instagram feed (where else?), he said the trio had made him "love fashion yesterday, made me love fashion today [and you] are going to make me love fashion in the future".
Calvin Klein's joyful pictures of mother and daughter Lisa Bonet (48) and Zoe Kravitz (27), all full of beachy abandon, also offer a broader outlook of generation fashion. And on Monday in Paris, Giorgio Armani launched a range of everyday luxury classics called the New Normal with Yasmin Le Bon (51), Nadja Auermann (44), Stella Tennant (45) and Eva Herzigova (42). Armani says the collection reflects a "desire to dress women in their daily lives. It offers garments that maintain the values of elegance and dignity, and at the same time a reflection of modernity."
READ: How Giorgio Armani stays relevant
A collection of grown-up garments shown on grown-up women should be a no-brainer. But, as we all know, that hasn't always been the case. Until very recently, the average age of a model in super-expensive clothes was around 18. Then, last year, it was 80-plus, with Saint Laurent and Celine featuring Joni Mitchell and Joan Didion respectively in their campaigns. This was an interesting idea that undoubtedly helped expand the concept of what is cool and who looks great, as well as aligning the labels with zeitgeist heroes, but it was also yet another example of fashion's obsession with extremes.
This shift feels more measured. Ruth Chapman, co-founder of Matchesfashion.com, says that the demographic of 40- and 50-year-olds is "the woman we always consider first. She's the one who spends the most money on fashion and is most engaged with luxury designer fashion. Social media has been really useful in changing concepts of what and how people want fashion to be seen. If we're going to be spending a lot of money on something, we don't want to see it on somebody who's 17; there's no correlation between the product and the girl wearing it. Social media has changed the concept of what it means to be beautiful. Long gone is that idea that woman become invisible at a certain age."
WATCH: Armani 'New Normal':
While we should be careful to attribute every shift and shake to something that happened on Instagram, what the platform has done is allow women of any age, any size, any look to create their own highly tuned and receptive audiences.
Most interestingly, when the audience is put in control, the scope for who can be seen as a model widens. Some of the most popular so-called "street-style stars" on Instagram, are definitely not in the conventional "model" mode. The likes of Eva Chen (aged 35; 528,000 followers), Anna Dello Russo (53; 1 million), Net-A-Porter.com's Sarah Rutson (44K), Natalie Massenet (50; 142K), Giovanna Battaglia (36; 449K), Ines de la Fressange (58; 106K) and Caroline de Maigret (40; 385K) have gained their fans based on their style (crucially) and personality.
They are not the passive blank canvases that models so often represent, but authors of their own extremely successful careers. Not before time, brands have begun courting them, and they're not simply using these women as clothes horses, but starting to shape collections around them.
READ: Hollywood is finally celebrating older women
De Maigret, for instance, stars alongside model Angela Lindvall (37) in Karen Millen's new campaign. The chain is cleverly capitalising on the fashion kudos it has picked up in recent months through its wearable and well thought-out collections. Gemma Metheringham, chief creative officer, explains that "thirty- and fortysomethings are our heartland customers. Our campaign women resonate with a broad range of women regardless of age. We cast them because we're inspired by their fashion attitude and personality."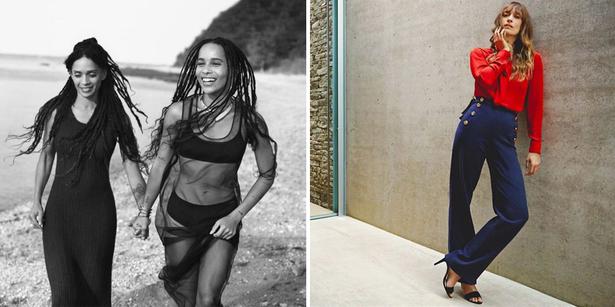 Calvin Klein's campaign featuring Lisa Bonet and Zoe Kravitz; Caroline de Maigret for Karen Millen. Pictures / Instagram

Meanwhile, Maigret's fellow French style guru, Ines de la Fressange, has just launched her fifth collaboration with Uniqlo - a handy edit of easy-to-wear mix-and-match shirt dresses, serviceable trousers and great knits, all with that crucial Fressangian nonchalance.

Don't call this demographic middle-aged, however. Last year, Stella magazine editor Marianne Jones coined the alternative term "Diamond generation". Jones (50) speaks for many when she says that "for too long fashion has targeted very young girls, ignoring the swathe of older, confident consumers who have a high disposable income and are unsaddled by debt. They are a powerful and stylish army and don't particularly want to dress in a uniform of wrap dress and nude court shoes."

Increasingly, there's no shortage of relatable red carpet role models for women over 35. From Amal Clooney to Cate Blanchett, Kate Winslet to Sophie Hunter, Rachel Weisz to Joan Fonda, at 78 rocking, yes, Balmain.

Lupe Puerta, Net-A-Porter.com's global head of client relations, says that "the customers I spend time with love looking at youthful models and seeing what the next generation are getting excited about, because, honestly, they don't feel any different. But they also want to be represented. This is about inclusion, not exclusion. It's recognising that there is a place in fashion for everyone. The industry will always be about aspiration and dreams, but we need to reconsider what we aspire to."

- The Daily Telegraph
Share this: