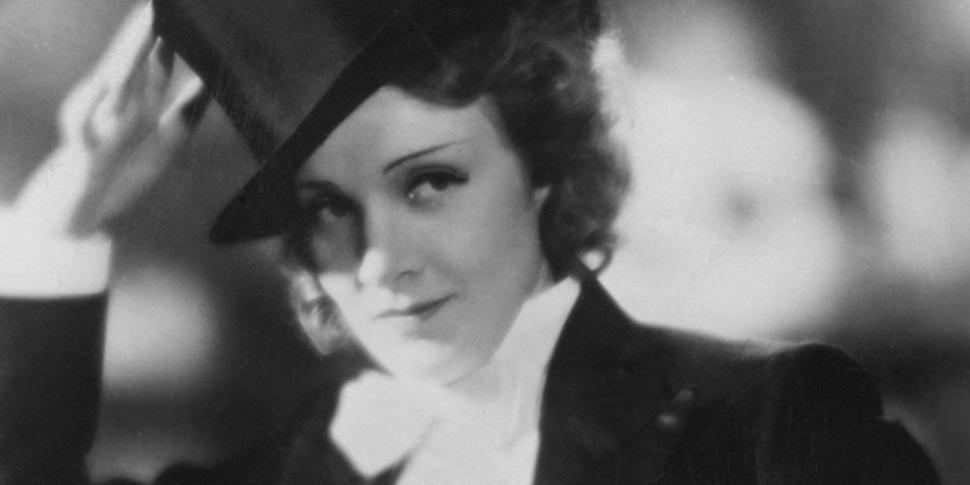 Why we continue to love the tuxedo
The tuxedo spells glamour at any age writes long-time wearer Cecilie Geary.
Wednesday Jan. 14, 2015
The first tuxedo I owned was made to wear to the Benson & Hedges Fashion Design Awards in Wellington, more years ago than I care to remember. In 1995, when I was working as an editor at Fashion Quarterly, Auckland designer Ches Pritchard made me a second tux for the magazine's 15th anniversary party at the Auckland City Art Gallery. Tuxedos were a key evening look in 1995. We did a big feature on them in the winter issue of the magazine.
It always amuses me when I read some-where that "the tux is back". Since Yves Saint Laurent introduced the first feminine version in 1966, it has never gone away. Perennially chic, like the little black dress, it is a fashion classic, an inspiration to designers to this day.
The latest tux redux, as it is called, has seen women of all ages, from Angelina Jolie, 39 to Carine Roitfeld, 60, the formidably stylish editor of CR Fashion Book, and former editor-in-chief of Paris Vogue, wearing them. When Gwyneth Paltrow, 42, fronted the advertising campaign for the new Hugo Boss fragrance, Ma Vie pour Femme, which launched in June, guess what she was wearing? A tuxedo from the 2014 Hugo Boss Fall collection.
A svelte alternative to more decorative evening dressing, the tuxedo is a godsend to older women who panic at the thought of squeezing into a revealing frock. A well-cut tux will slim the body and conceal any imperfections. Overseas, women in search of the perfect cut and fit are heading to men's tailoring establishments to have their tuxedos made. London's Savile Row, bastion of male fashion since the 1800s, now offers bespoke tailoring for women.
"The quality of the cut depends on a well-made pattern," says Ches Pritchard, whose wool barathea tuxedo won the Menswear Award in the Benson & Hedges Fashion Design Awards in 1989.
"A lined jacket is preferable to an unlined one. The seams should lie flat with no puckering. Pockets should also be totally flat, and another real mark of quality is the keyhole buttonhole which is corded inside and won't distort in a million years. The most important thing with pants is that they're cut 'on the grain'."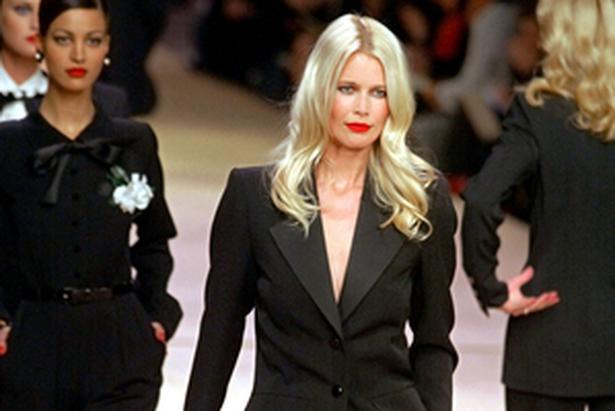 The classic tuxedo is essentially a single-breasted, one or two-button, semi-fitted jacket with a long satin shawl collar or notched lapel, paired with straight-cut tailored pants. It's predominantly black but white versions do pop up periodically on the red carpet.
Nigella Lawson, 54, was pictured in London recently, wearing a tux in the traditional manner, with a dapper white shirt, black bow tie and white pocket handkerchief. A more modern option is to skip the shirt and offer a glimpse of a black silk or satin bra, a lacy cami or a sheer chiffon tank at the cleavage.
A necklace, of any kind, is a no-no. The uncluttered neckline is an intrinsic part of the tuxedo's design and it's important to retain the purity of line. Jewellery should be confined to a flash of diamonds or rhinestones at the wrist or on the ears. Diamonds and a black tuxedo - a match made in heaven.
The tuxedo needn't always be worn as a two-piece, either. A tux jacket can be teamed with a black satin skirt or slipped over a short lace dress, a little black dress or a long drifty number in a soft colour. In fashion parlance, this is called feminising the masculine. It's not hard to do. All it takes is a little imagination and a bit of womanly thinking. Most of us are pretty good at this by the time we reach a certain age.
Dressing like a man and looking like a woman was something Marlene Dietrich, one of the first fashionable women to wear a tuxedo, on-screen and off, knew a thing or two about. With her soft curls, smoky eyes, red lips and matching red nails, she exuded sex appeal. The red lips/black tux combination is still a winner. However, on older women, strong opaque reds tend to look hard. Softer reds in creamy or sheer formulations are more flattering.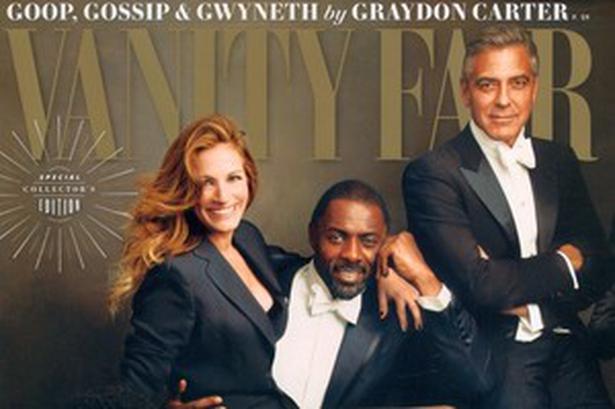 On the cover of Vanity Fair's Hollywood issue in March, 47-year-old Julia Roberts appeared in a meticulously tailored Armani tux jacket, fishnet tights and Manolo Blahnik heels. The black court pumps with killer heels, like those she was wearing, are the tux-perfect shoes.
For women whose high-heel-wearing days are over, patent leather or satin flats trimmed with a bow are the answer.
Whenever I see a woman wearing a tuxedo, I'm reminded of Yves Saint Laurent. He understood what, up until then, other designers had not, that women can wear Le Smoking, as it is known in France, as well, if not better, than men.
Time has done nothing to stale the infinite appeal of the tuxedo. Forty eight years after Yves Saint Laurent re-imagined it for women, it remains as seductive as ever.
Share this: