Why we love menswear label Moreporks
Sophie Burton meets the guys behind Moreporks, an urban menswear label with a rugged edge.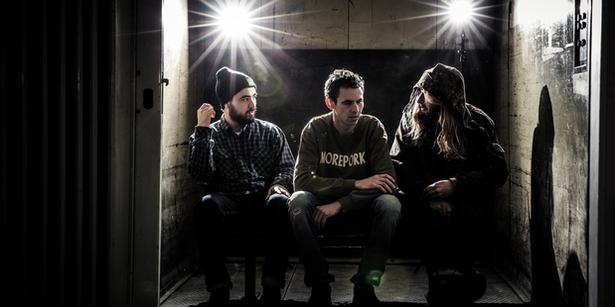 Wednesday Sept. 10, 2014
They've been known to drive across sand dunes at 3am, just to gain perspective. Or spin tracks in the dirt to let go of work-week tensions. They go off the grid on early morning hunts up the Arawhata Valley, and sometimes clock up nautical miles delivering yachts across oceans. Refreshingly, their clothes are a lot like them.
The great outdoors is what got Guy Brock, Sam Montgomery and Nathanael Allen, the trio behind functional outdoor clothing label Moreporks, into fashion. They didn't know anything about clothes, but they knew they were into them. Most essentially, they wished to design garments that could come along for the ride, as they bush-bashed across parts of the lower North Island or forged new trails in trucks suited for such rock 'n' roll activities. Those years spent as the most well-dressed, sartorially up-to-date adventurers have paid off.
The three guys met in various stages of high school, with Allen and Brock becoming fast friends early on, meeting Montgomery at different times further down the track.
Their talents seem to have converged organically, too. Allen, and his mind for business, has taken charge of the label as director, Brock works on illustration and brand imagery, and Montgomery is in-house photographer, tasked with shooting new collections in supreme locations across New Zealand, as well as researching historical material for the brand to draw from.
And together Montgomery and Brock take charge designing new pieces for each seasonal collection. Allen recalls spotting Brock's talent for illustration and clothing design very early on: "I remember looking at Guy's art boards during design class and wondering why he was allowed to draw whatever he wanted, while the rest of us had to operate within strict teacher guidelines."
Moreporks wasn't originally conjured up by the trio, however; it was founded by their good friend, photographer James Tolich. "Very early on James decided to leave Moreporks in the care of Guy, Sam and I in order to go travelling ... we were all ready to do something, so Moreporks came together very easily after that, says Allen. "James called me up and said "I've heard you're pretty good with a business plan. Want to come over and work on something with me?" I obliged and we went from there."
Prior to Moreporks, the boys' work was varied, yet always somehow connected to their creative and outdoor interests. Brock took on graphic design jobs, painted houses and boats, and was a full-time book binder. Allen also dabbled in painting, and ran an art and fashion magazine called Free Hamburger with Montgomery, which they produced until Allen left to spend a year sailing the Pacific, post-university. Montgomery's work varied, his interest in photography battling it out with several other side jobs.
Several collections in, and the crew continues to draw inspiration from the very things they've grown up doing, structuring clothes for creative dudes, not fit models, that regularly get outside. They like to hone in on an activity, whether that may be fly-fishing, dirt biking or duck shooting, and figure out how to dress it better, paying close attention to elements that are essential to the nature playground of choice; bush, sea or mountain. Everything is considered, and then re-considered, showing a refreshing faithfulness to the outdoors.
Their oilskin jacket, a product of a bygone collection inspired by hunting expeditions, quickly sold out. Tees and sweatshirts are illustrated in-house by Montgomery, instantly recognisable by their hand-drawn style of New Zealand landscapes and historical emblems. And their photo essays and collection imagery, which are likely never to be shot under artificial studio light, feel intimate. As if a few local guys, bearded, cuffed and collared, have stepped into a National Geographic documentary by accident, infinitely better styled and more suited to the scene than the presenter.
To these three, Moreporks' connection to outdoor culture is a given. Says Allen: "We live in a country where it is impossible to ignore what's outside. It's an essential and unavoidable part of our life."
And it's hard not to draw at least some parallels with cult Japanese menswear labels like Visvim and White Mountaineering, or successful Denmark label Norse Projects. Each threads streetwear sensibilities with a functional outdoor know-how. And although Moreporks is still in the fledging stage, it feels like a solid flag bearer of the aesthetic in New Zealand, as the label continues to design for the guy who is looking for the freshest air. Of course, city slickers can partake, but only if they are happy to get their sneakers wet.
Moreporks' rugged collections may be guided by nature, but given the trio's 50 per cent urban existence, practically everything is transitional, making it, just like its global counterparts, more than suitable for city life. Bear Grylls might camp out in trees on weekends, but he wears a shirt while doing it, and you can be damn sure he's sipping espresso Monday to Friday.
Share this: