Wimbledon Fashion Through the Years
From pleats to laser-cut mesh, see how Wimbledon fashion has changed over time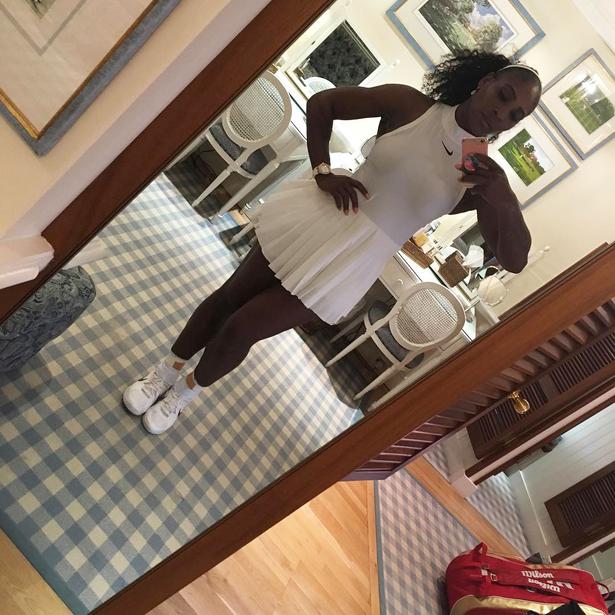 Thursday June 30, 2016
After the last few days, what relief to be absorbed into the fastidious sartorial guidelines of south-west London's finest purveyors of sporting dignity.
Or not, as the case may be... viewers (and questions of taste) have already been sent spinning by the, erm, fluidity of Nike's "Premier Slam" dress: a sort of sporty, baby doll, thigh-skirting pleated mini-dress worn by Czech Republic first-round winner Lucie Safarova on Monday, which floated up perilously throughout play.
Germany's Sabine Lisicki played Wimbledon fashion safe and chose a traditional vest and skirt combination, saying she had tried on the dress (which has been likened to a nightie), but "didn't feel comfortable showing that much".
While not contravening any of the All England Club's rules (which mostly hinge on wearing white and upholding "common standards of decency"), Nike requested that players return the dresses for alterations just days before the tournament was set to begin.
In a statement since, it insisted, "the product has not been recalled and we often customise products and make alterations for athletes as they compete. We work closely with our athletes to provide them with product that helps them perform and feel their best on the court."
Serena Williams, also sponsored by Nike, made her Centre Court debut yesterday in a bespoke version (no player of her clout would wear the same outfit as lower-ranking competitors, who will pick something from the collection), which kept the pleated mini-skirt detail and high neck, but featured a more user-friendly close-cut bodice.
Pleats and frills - the fashion world's favoured tropes - featured fairly heavily across all Wimbledon courts. Lacoste - which outfits American Christina McHale and Russian Elena Vesnina - has also opted for pleated skirts, which nod as much to current trends as to classic preppy tennis style.
Meanwhile, Karoline Wozniacki and Garbine Muguruza will sport the cool, modern-looking adidas by Stella McCartney Barricade collection, which features laser-cut mesh fabric in zones that require "superior breathability", as well as technology to help regulate a player's temperature.
READ: What to Wear to Wimbledon
Of course, a bit of knicker-flashing at Wimbledon is nothing new. The evolution of tennis from a gentle game - which slowly overtook croquet as the Victorians' favourite post-afternoon tea activity, before becoming a highly vigorous and competitive sport - necessitated an obvious shift in attire.
In 1919, French winner Suzanne Lenglen raised eyebrows for competing in a short-sleeved, calf-length pleated dress sans petticoat. Her other signature look was to wear a thick headband while playing, which was much aped by her fans.
By the time Gertrude Moran, aka "Gorgeous Gussie", exposed ruffled knickers under her rather skimpy skirt in 1949, Wimbledon - and tennis - had cemented itself as a forum for fashion and style statements as much as sporting prowess. It's no surprise that two players, Rene Lacoste and Fred Perry, have a legacy as fashion labels as well as sporting heroes.
Fashion - that provocative little sneak - comes in many guises; especially on court, where it can be employed as a weapon. In 1985, Anne White's shiny white catsuit (with hindsight, it looks more like rave gear than sportswear) distracted opponent Pam Shriver so much that she lost - later complaining to officials that White shouldn't wear her outfit ever again.
Serena and Venus Williams have created striking court looks since their early debut, where their matching braided hair - along with playing skills - didn't just nudge their opponents' focus, but ensured that no one forgot who they were. The younger sister warmed up in a white trench in 2008, while the elder has since launched her own sportswear line - EleVen by Venus Williams.
Provocative style can be seen as much in the men's game - who but Roger Federer could get away with turning up on court in a blazer or tote a gold lame bag?
There is a sense of power play in any ensemble. The intention being to unsettle an opponent with a forceful show of confidence and bravado as they peacock onto the court. James Rose, director of tennis at La Manga club in Spain, who trains Wimbledon hopefuls, asserts that confidence is key. "Great clothing gives players a boost. Maybe that's worth one or two points in a game, but sometimes that's what tennis comes down to. If a player feels good, they'll play well."
In the modern game, the power of sponsorship is crucial: Anna Kournikova didn't become the highest-earning tennis player thanks to her skill. Brands will work closely with players to develop outfits they feel happy in, but these pieces will be sold widely off the back of their popularity and appearances; hence picture appeal matters almost as much as fabrics and fit. That's just tennis.
- The Daily Telegraph
Share this:
More Fashion / Features & Profiles