Annie Hall is 40! Style Lessons to Learn from the Woody Allen Classic
As Annie Hall turns 40, we salute the film's enduring style legacy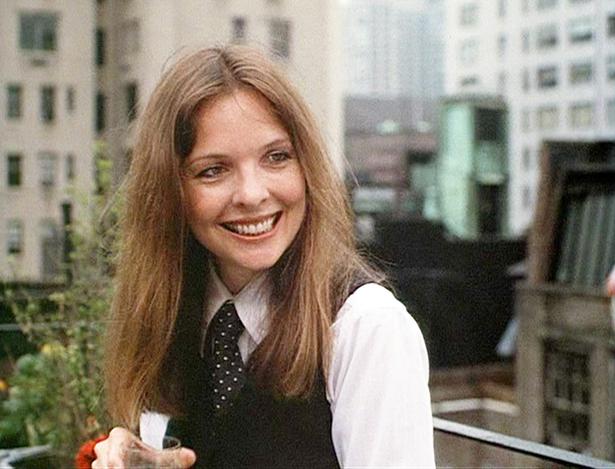 Friday April 21, 2017
Forty years on, the style of Annie Hall continues to captivate a certain type of girl who identifies with the film's zingy script, dark humour and pitch-perfect 'New York intellectual preppy' style.
Diane Keaton's Annie Hall – in her suits and waistcoats and tie – caused a sensation back in 1977, with the 'Annie Hall look' helping to usher in a new wave of 70s fashion.
Years later, there are still countless fashion homages to the character's look, from fashion collections to street style ensembles and photo shoots (Alexa Chung recently dressed up as her for InStyle).
But, as Alexa herself knows, the secret to Annie's style is a little more complicated than just putting on a suit or pair of beige high-waisted pants.
It's the attitude, the unselfconscious scruffiness, and embracing being a little bit weird rather than sexy or simply pretty.
As Steph Hiltz wrote in the Boston Globe, "In an era characterized by metallic hot pants and polyester bellbottoms, the boots, vests, and bowler hats that comprise the Annie Hall style stood as a rejection of gender-normative fashion. Her sexuality is cloaked by layers of tweed and buttoned-up shirts, but her charm and coy confidence make it work".
As I rewatch the film for the 134th time this weekend in celebration of its 40th, here are some of the style lessons I've learned.
1. You do you
Goofy and free-spirited, the film's namesake character was reportedly created especially for Diane Keaton, with a wardrobe made up mostly of the actress' own clothes – an example of being yourself and embracing your own personal style, no matter the trends of the season.
Famously though, her style was almost cut from the film, with Allen recalling that costume designer Ruth Morley wasn't impressed.
"She came in, and the costume lady on Annie Hall said, 'Tell her not to wear that. She can't wear that. It's so crazy.' And I said, 'Leave her. She's a genius. Let's just leave her alone, let her wear what she wants.'"
Keaton wrote about the look in her 2011 memoir Then Again, recalling Allen's direction.
"Loosen up the dialogue. Forget the marks. Move around like a real person. Don't make too much of the words, and wear what you want to wear. Wear what you want to wear? That was a first.
So I did what Woody said, or, rather, I stole what I wanted to wear from the cool-looking women on the streets of SoHo. Annie's khaki pants, vest, and tie came from them. I stole the hat from Aurore Clement, Dean Tavoularis's future wife, who showed up on the set of The Godfather: Part II one day wearing a man's slouchy bolero pulled down low over her forehead. Aurore's hat put the finishing touch on the so-called Annie Hall look."
2. Waistcoats are underrated
Few people own a waistcoat, and even fewer would think to buy one: too natty, too buttoned up for today's ath-leisure led lifestyle. But they're great! I have one, brown velvet with a matching blazer – a literal ode to Annie Hall, from Karen Walker's Liberal and Miserable collection.
That collection, shown in 2004, was described perfectly in the press release as "a character who suffers from the curse of the chattering classes - high strung, complex and intellectual; who finds it hard to have relationships because she's so damn critical of everything. A post modern in love".
Annie in 1977, and true of a lot of young women today.
3. Black turtlenecks can be worn under anything
A plaid shirt, a maxi sundress: make like Annie and put one under everything in your wardrobe. Chic!
4. Embrace brown
Set in the late 1970s, Annie Hall's costumes came in various shades of brown; like most of Woody Allen's earlier films (and the director's own style).
Annie and Alvy's tweedy jackets, brown corduroy and mousy hair still make the case today for embracing the colour traditionally thought of - in the context of fashion - as frumpy or ugly. The challenging aspect is, however, part of the colour's appeal. It's a favourite of Miuccia Prada, who once articulately explained, "Brown is a colour that no one likes. So, of course, I like it because it's difficult and unappealing".
5. Details
Annie's hat and tie still get much of the attention 40 years, but it's the straw bag she carries a few times throughout the film that draws my eye today; an example of finding the perfect piece and wearing it for years.
That's just one example of the character's skill at effortlessly accessorising and styling: the perfectly popped collar on her polo shirt while playing tennis, a skinny scarf worn with almost everything, or the red corsage pinned to the lapel of her men's-style blazer while singing It Seems Like Old Times.
6. Scruffy is Neat
Tailoring may be a key part of her look, but despite the blazers and trousers, Annie manages to always look artfully dishevelled. Her awkwardness and imperfections – both in personality and style – are part of her charm, from her crumpled, oversized pants to her messy mousy hair and absolutely terrible driving.
SHOP: Get the Annie Hall look:

Share this: