Meet the World's Oldest Supermodel
Daphne Selfe, 87, talks about her most lucrative years yet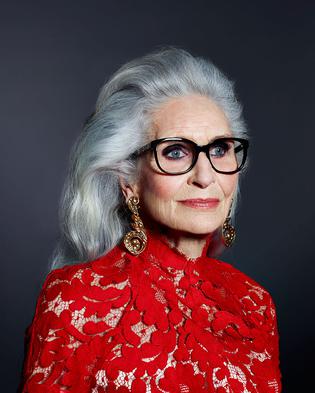 There's no raw ingredient, fermented drink or alternative exercise class that keeps Daphne Selfe, who celebrates her 87th birthday today, looking young. The British native holds the Guinness World Record as the oldest professional fashion model, so keeping fit and healthy is of the utmost importance. "I walk a lot, I do all my own housework and gardening, I eat properly, and I'm lucky that I sleep properly most of the time," says Selfe of her secret to staying fit, which all sounds pretty common sense.
Her more than 60-year career in front of the camera began in the same way it does for many models — winning a competition to appear on the cover of a magazine, which in Selfe's instance, was the humble Reading Review in the late 1940s. She moved to London to pursue that path, doing a three-week training course where she learned to walk, pose and do her own hair and makeup, as all models did back then.
Despite not having what she describes as the right kind of frame for modelling (with broad shoulders and big thighs), Selfe made a good living doing editorial, runway and commercial modelling, as well as a bit of dancing. "I let loose," Selfe says, with a giggle. "It was a very good opportunity to go abroad, which no one did in the 1950s. We went by boat to Brussels and Antwerp, dancing in nightclubs in Madrid and Rome.
"And then I got married and thought, 'Well I won't work anymore'."
She had three children to her husband, Jim Smith, who was a television floor manager, and, except for the odd bit of work as a television extra, that was the end of her illustrious modelling career as she saw it.
In 1998, however, at the age of 70 and after the death of her husband, she was asked to walk for British label Red or Dead at London Fashion Week. "I went along thinking, 'That's ridiculous, I'm much to old to be a model'. But they wanted older models, and we had a great time trancing up and down the catwalk." Three months later, while doing an article on ageing for Vogue, she was scouted by agency Models 1, which also boasts Linda Evangelista, Olivia Palermo and Dree Hemingway on its books.
"Daphne has an incredible spirit and energy about her which is totally enchanting," says Models 1 agent Chantel Murray. "She has incredible bone structure and poise which made her stand out. Also her dance and fitness background made her incredibly attractive too as she was in such great shape with her super physique."
Although she was sceptical about the longevity of the offer, Selfe is now enjoying the most successful years of her career yet, landing editorials in Vogue, Harper's Bazaar and i-D, and campaigns with Dolce & Gabbana, Nivea, and most recently eyewear company OPSM. The brand is angling the campaign, photographed in Sydney, around the idea of celebrating people who have seen remarkable things and continue to lead interesting lives.
"They are making all these fabulous glasses and sunglasses, they are just so comfortable," explains Selfe of working with the company, "They're starting to think about older people, and it's very good."
Selfe represents a different kind of "granny chic" — one that isn't resigned to handknitted cardigans or eccentric outfits like the ladies of Advanced Style. "Everybody's got so much older in the world now, and people are much younger at 60 than they were before somehow," she says. "They don't dress old anymore, so I think people want to see more clothes on people who are their age. I mean, I don't want to look at teenage girls' clothes, do I?"
It's a market that brands, especially the fashion and beauty industries, have over the past few years started to embrace — recall Celine's campaign with author Joan Didion, L'Oreal's series with Helen Mirren, and Jacquie Murdock for Lanvin, among others.
Mike Lee, a senior marketing lecturer at Auckland University, says brands are wise to consider the ageing population because it's such a lucrative group.
"They're a growing market and one that does typically have more of a disposable income, because they've reached the peak of their career, and they also have a little bit more time perhaps."
Lee says the baby boomer generation is at an age where they're not as young as what they're accustomed to seeing in ads. "They might respond a little bit better to someone more appropriate for their age, because they don't want to seem like mutton dressed as lamb."
Of her own style, Selfe says she's not particularly interested in fashion because most of it is geared towards the young.
"My daughter calls my style classy funky. I just wear what I like. I'm not particularly fashionable — I like to be comfortable. I can't wear high heels anymore, so I wear comfy shoes and all sorts of things like that. But I always look quite, you know, okay."
Compared with when she first started modelling, Selfe says she's treated with more respect now. "They allow me to sit down occasionally," she says, again with that modest giggle. "Help me from falling over while I'm putting on my shoes."
But although she's entering into her ninth decade, Selfe says she still feels young. "I feel about 50. I'm a bit Tigger-ish amongst some of my friends."
Must be all that gardening.
Share this: