Get to Know Designer Wynn Hamlyn
Wynn Hamlyn's first solo show at NZFW looks set to cement his thoughtful, subversive style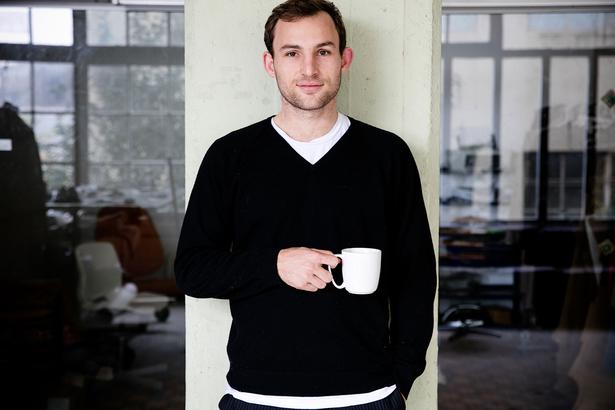 Tuesday Aug. 23, 2016
If you get deja vu at Wynn Hamlyn Crawshaw's show today, perhaps it's because you clocked his talent at Fashion Week last year. As one of the designers debuting in 2015's Choose Wool group show, he impressed with his merino knitwear midi dresses, cropped sweaters, skirts and ribbed polo tops, with time-consuming hand-finished tassels and felted embellishments. But there could be another reason for that sense of familiarity.
"My first point of reference this season was carpets," the up-and-coming womenswear designer explains. "I realised those 70s-style carpets and rugs that you find in your grandparents' house or a hotel, with a full-on print, are as beautiful as a Turkish rug but also very nostalgic to me."
Named Axminster after the iconic British carpet brand, Wynn's winter 2017 collection gives a luxurious nod to the past, those flooring-inspired prints appearing on seductive velvets, and a 70s-inspired colour palette of gold, maroon and cream. Key pieces are tops and dresses come in unexpected colours — chartreuse appears throughout — and with sculptural shapes and ruffles. The collection also features enzyme-washed denim, silk shirts in blue, white and maroon, cable knitwear, suits and cashmere coats.
Despite the throwback nature of some of the pieces, Viva's editorial assistant and stylist Danielle Clausen has styled the show with a modern look, pairing oversized pinstriped shirts with baggy jeans, and minimal accessories. The designer's aesthetic is best described as subversive classic, inspired by Wynn's favourite designers Dries Van Noten and No.21's Alessandro Dell'Acqua. "I'm trying to use that classical element," he says, "but be a little bit cheeky with it."
It's not the first time the designer has worked with sumptuous textures. His previous four collections have featured gold-leaf printed silk shirts and skirts, ultra-feminine crocheted slip dresses and pink suede shirts. Viva fashion editor Dan Ahwa says Wynn has developed a signature aesthetic over the seasons.
"What I admire about Wynn's work is its sensitivity," he adds. "There's always good balance of relaxed tailoring and interesting knitwear, but always thinking about the women who wear his clothes."
READ: Models to Watch at NZFW 2016
Wynn went to fashion school in Otago then transferred to AUT before dropping out, deciding he wanted hands-on experience. He moved to Australia and started sewing and selling pieces before launching his label last year. Until then he worked as a land surveyor, possibly not the first occupation you think of when you think fashion, but not without some parallels.
"I think there's a certain level of accuracy and calculatedness in both," says Wynn, whose designs are selling at Eugenie in Auckland and Caughley in Wellington, plus stores in Nelson, Wanaka and Dunedin.
Share this: