Yeezy Season 4 'Worse than Bad'
West's collections have become static in their development, says Robin Givhan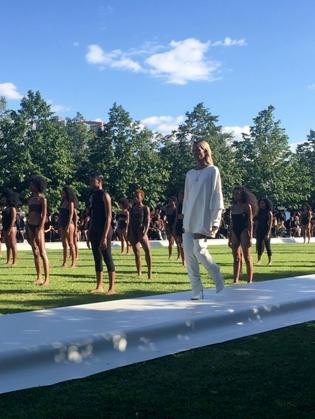 As fashion week begins in New York, Kanye West presented Season 4 of his Yeezy collection on Roosevelt Island. The setting, under a sunny September sky, was breathtaking — with a view of Manhattan on one side and the Queensborough Bridge looming in the distance on another.
And despite a full regiment of models standing at attention on a field of grass, the unrivaled star of Yeezy Season 4 was New York City. She's really quite beautiful and she'll upstage you every time.
The park, situated on the narrow island in the East River, celebrates the four freedoms articulated by Roosevelt in a State of the Union address in 1941: freedom of speech, freedom of worship, freedom from want and freedom from fear.
Those are powerful sentiments, particularly in this fraught election year. (Hillary Clinton formally kicked off her presidential campaign with a speech on Roosevelt Island.) The decision to present a fashion collection against that backdrop comes with a certain amount of responsibility. At minimum, one might presume that the show — as a spectacle — would, in some way, speak to issues larger than spandex, shearlings and over-the-knee boots.
Instead, the event was a pastiche of convoluted logistics, discombobulating secretiveness and repetition: an hour-long shuttle ride, an hour-long wait in the sun and the unsettling sight of amateur models — posed in a tableau vivant — crumpling one-by-one under the unremitting heat.
In an interview on Vogue.com, West talked about not really wanting to call his collection fashion. He's very much into dressing the masses these days. He's very much into the people. So he sent out a call for models via Twitter — and got himself into a controversy because he mandated "multi-racial" models only. Some took this to mean he didn't want black models; he said he simply didn't want white ones. No matter what he meant, including ethnicity as a resume data point wouldn't seem to be doing the vox populi any favors.
The event was organised to cater, as one might expect, to his famous friends, who were hustled into the venue lickety-split while the people sweated behind metal barricades.
Still, the masses salute West for his desire to deliver interesting, enduring clothes that don't cost a fortune. It's a work in progress, however, as these Yeezy garments don't come cheap, with shoes more than $800 and a parka costing more than $1,300.
Mostly, though, the collection was dull — which is difficult to believe because drama and controversy seem to follow West wherever he goes. But Season 4 included the same stretchy separates we've seen before, plus ever more hooded coats and athleisure gear. Even the music was more sensory wallpaper than evocative texture.
And, as usual, there was his stylistic signature: models-of-color standing in formation before the show began. They made a striking picture, but it's a familiar one — which in this case seemed to be little more than a backdrop than any part of a narrative.
As the models stood and stood in the heat, some began to wilt. And you were left wondering: Why isn't someone from Adidas, which sponsors this extravaganza, helping them? Where is artist Vanessa Beecroft, who choreographed this show? Why isn't West aiding these women? Why am I not trying to assist them? Are we all complicit in this? And what exactly is this?
Well, for one, this shtick is unkind to models. But it is also boring fashion. West's collections have become static in their development. And the show was neither a focused testament to the beauty and technique of the garments nor an expansive statement about the culture that produced them.
And if these high-priced frocks are just meant to be clothes — just basic commodities — then something more than the glitter of celebrity should give them value. Needs to. If not, that's an insult to the masses. Really, it is.
Cult of fame? Fame is easy. Good clothes are hard.
Share this: