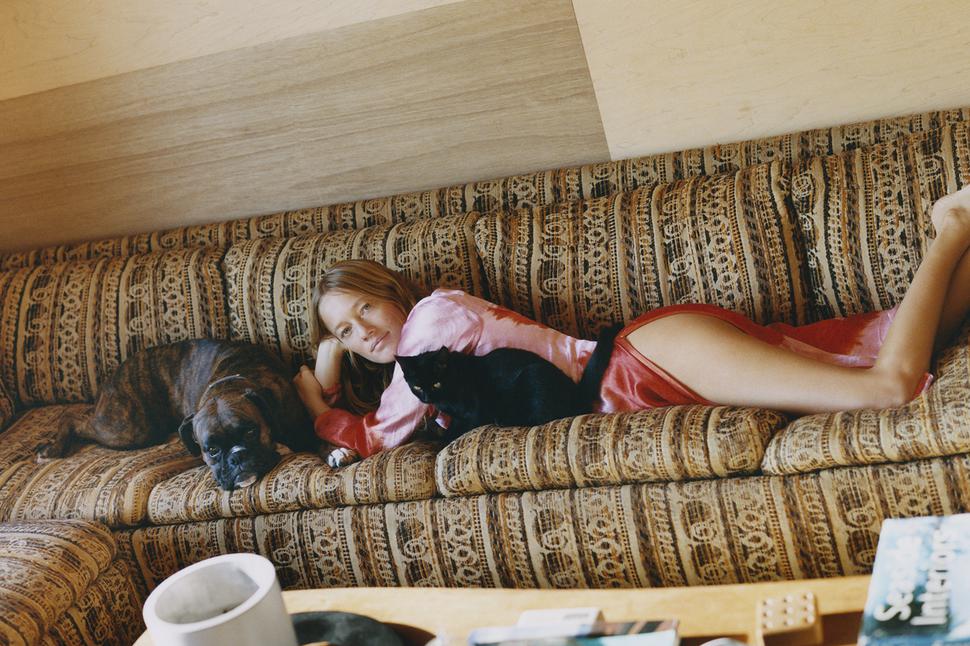 Zippora Seven's Personal Uniform Is As Easy-Going As She Is
We find the expat supermodel in her element at her recently renovated beach cottage in the seaside village of Montauk, New York
Saturday March 5, 2022
On the September day model Zippora Seven turned 30, she left a photo shoot at 4pm. Her husband, film-maker and photographer Terence Connors, was waiting at their half-acre Montauk property with a surprise: he'd planted her an orchard.
They sat down beneath 10 peach, pear and cherry trees and Face-Timed her parents in New Zealand. Then her older brother Jasper flew in from his home in San Francisco and they gathered around the bonfire, toasting the milestone with a glass of Champagne.
"Actually I think it was a sparkling natural wine," laughs Zippora, her accent flecked with a hint of American. "I'm not a big party person, so for me it was the perfect birthday."
Today she's chilling at the beach cottage she and Terence have recently renovated, Zooming from a retro lounge-suite. Her hair is mussed, evoking an effortless "woke up like this" vibe, and she's wearing a pale yellow jumpsuit from New Zealand label Wixii.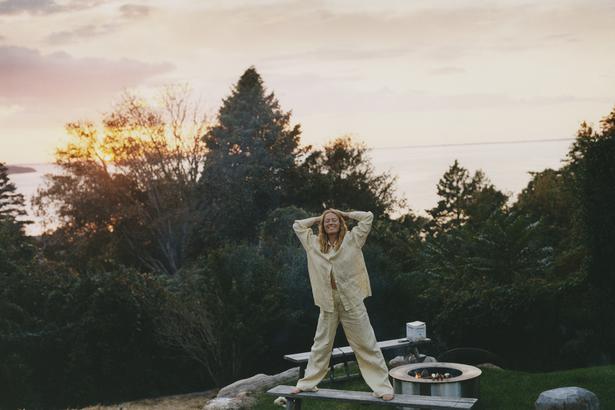 "They're like pyjamas but they're actually a linen suit," she says of her personal uniform: whatever's comfortable, and a little bohemian.
"I've always tried to fight that, to be a little cooler, a bit more fashionable. But especially after shooting something super polished or wearing crazy heels, I like to take it off and put on a kimono."
Since she was discovered in New Zealand at the age of 15 and thrust into the transient world of international modelling, Zippora — or Zippy as she's known — has featured in (among many others) Vogue, Harper's Bazaar and Elle, and fronted campaigns for a multitude of designers, from luxury labels DKNY and See by Chloe to high street brands H&M and J Crew.
Her natural, beach-babe look and down-to-earth Kiwi attitude have been captured by acclaimed fashion photographers including Richard Bailey, Derek Henderson and Cass Bird — and of course, husband Terence, with whom she collaborates most often.
READ: Style Liaisons With Opera Singer & Model Isabella Moore
Anyone who visits Zippy's Instagram page will find shots of the model draped over the sand on an empty beach, standing with her surfboard in the sun or powering up the sails on a boat, much as she did as a child. They paint a picture of a dreamy existence — yet without the overtly sexual vanity that might encourage parody by Insta-comedian Celeste Barber.
Zippy's the first to mention that her socials aren't a true representation of her life anyway, as carefree as it seems at a glance. They're more a showcase of her modelling, whereas her more personal photography, an artform she has long been interested in, is less likely to end up in the public domain. Last year in lockdown the couple built a darkroom downstairs, and Terence has been busy teaching Zippy how to print.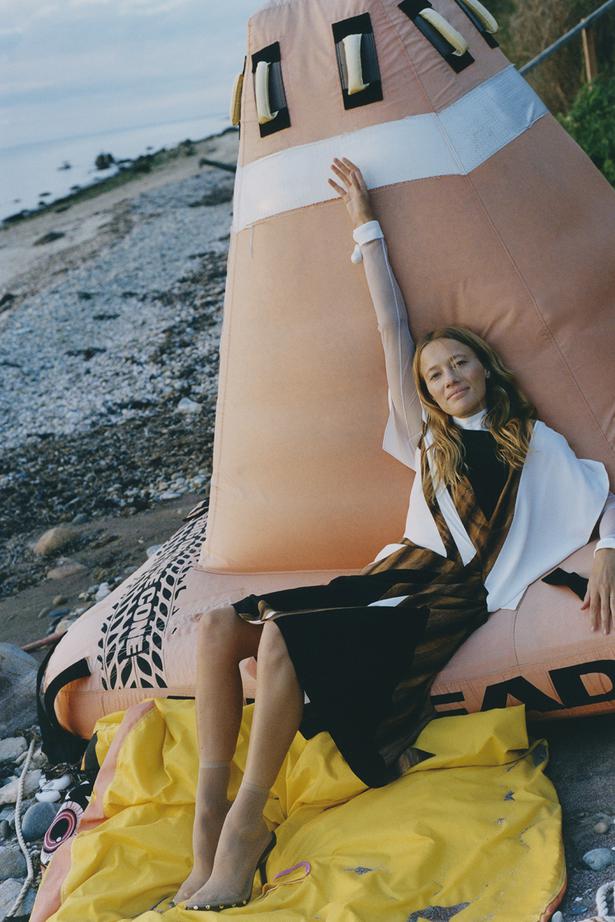 As for those surf shots, well those are all real. Zippy and Terence hit the waves daily, summer or winter, she says, but there's been little time to rest and take stock otherwise. Even as the world shut down last year due to Covid, they were busy working.
In fact, they'd never been busier. Whereas she'd grown accustomed to the surfer-girl editorials for swimwear brands, last year she starred in campaigns for a diverse range of designers at a loss for how to shoot in lockdown.
With Zippy and Terence a one-stop-shop, the couple soon found their home a virtual depot for couriered clothing. The property, with its hilltop location, lush gardens, pathway to the beach, creative studio and surfer-chic cottage, have all played backdrop to various fashion campaigns.
"Every day we were shooting a different style," says Zippy, who had to step it up doing her own makeup. "It was fun, I enjoyed it, and I learnt so much."
It's no less busy this year, but it is a little more normal. Two weeks before we chat, Zippy was in Spain shooting a campaign for American swimwear brand Solid & Striped. Since getting vaccinated earlier in the year, she's also travelled to the UK, Greece, France, Spain and Mexico, including a "relaxing" five-day quarantine in London. A few days after our chat, she and Terence will fly to the Caribbean for a shoot.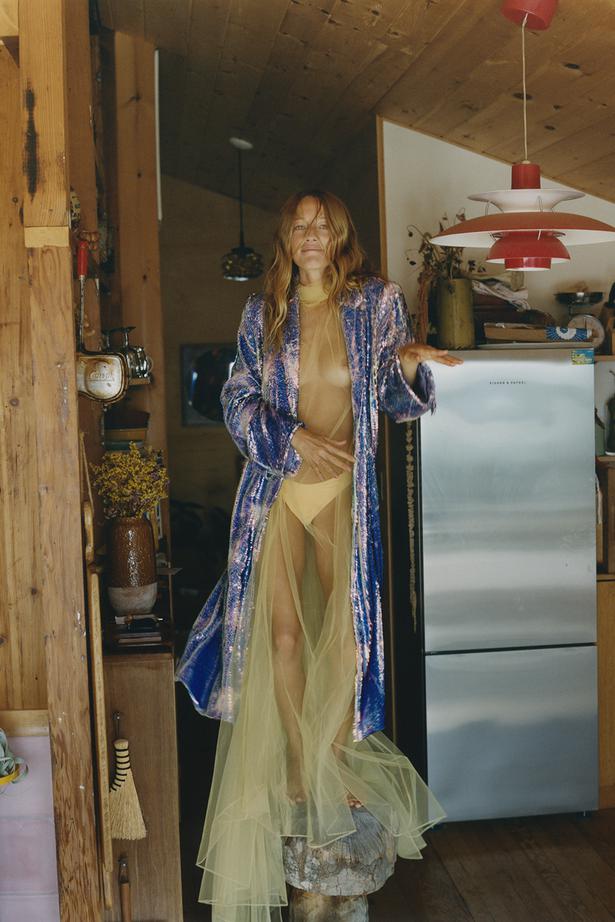 While most spouses have had to negotiate the challenges of living and working together during Covid, Zippy says she and Terence have always thrived on it. It's easier working with him than anyone else, she says.
"We know each other so well and I know exactly what he wants. We don't have to be polite to each other. We just do it. We can get the shot
we need in 10 minutes because we take out the small talk."
When they started dating, she recalls checking their compatibility against their star signs. Zippy, a Virgo, and Terence, a Cancer, would supposedly have a good working relationship but lack in the romance department.
VIVA TALKS PODCAST: What Is It Really Like To Be A Model? An Inside Look At NZ's Modelling Industry
"It was wrong about that," she says, shyly.
As for the traits of Virgo, they also resonate.
"Virgos are very earthy and hard-working, and perfectionists, too. Not in the way where everything needs to be straight and in order. My version of perfection is wanting something to be perfectly messy."
Those attributes came to bear during the renovation of their house. Whereas Terence has a strong style visually, Zippy's desire to create the perfectly imperfect was part of the reason she first painted the kitchen floor yellow, before going over it with navy.
"We meet in the middle. But we both had a vision, very strongly, of what we wanted it to look like."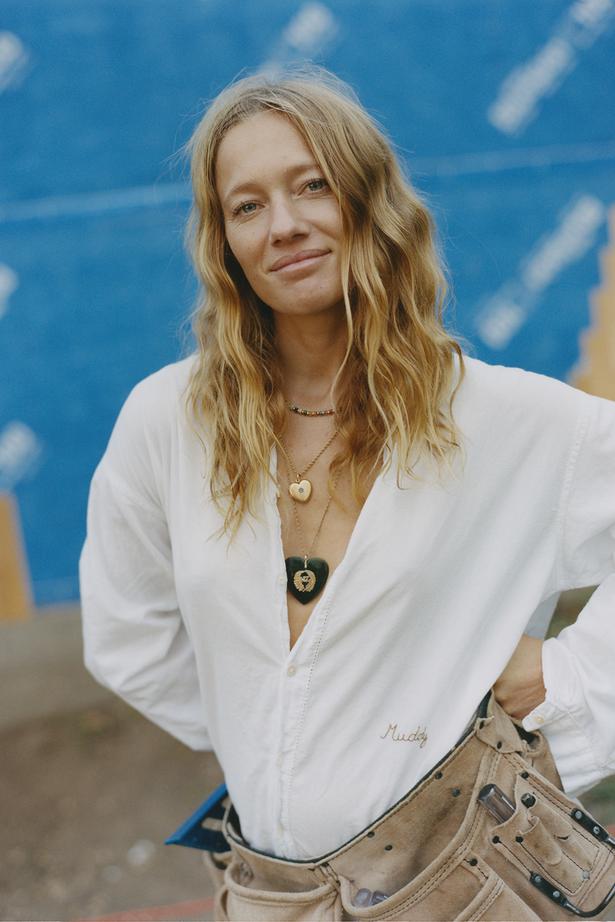 Viva last caught up with Zippy in 2017 when she and Terence were living on their sailboat to save money. They'd bought a piece of land in Montauk, at the eastern end of Long Island, and were about to embark on building their dream eco-friendly house. But they cancelled the builders after stumbling across an ad for two historical coastguard cottages from 1930.
Legend had it, the houses had once been situated on the Montauk wharf and were swept out to sea. They've since been rescued and relocated on the hill.
"We just walked on to the property and got that feeling, of 'oh my god'… it looks out over the bay in the sun and trees. Montauk is a busy, happening little surf town and you come up here and it's this quiet, peaceful zone, it's really protected, it's not as popular. It just felt like this tucked-away little magic slice."
After buying the cottages and selling the other property, they took to the renovation with gusto, trawling through local Facebook pages for secondhand materials. With the multitude of beachfront mansions in the Hamptons, they weren't short on goods, recladding the interior with plywood to give it a bachy feel, repurposing cast-off marble for the bathroom and installing a new wood burner in the living room that also heats the adjacent guest room. Now the main cottage has been renovated, they've started on the second, turning it into a photography studio, complete with salvaged glass doors.
"The good thing about going eco is it's so much cheaper too," says Zippy.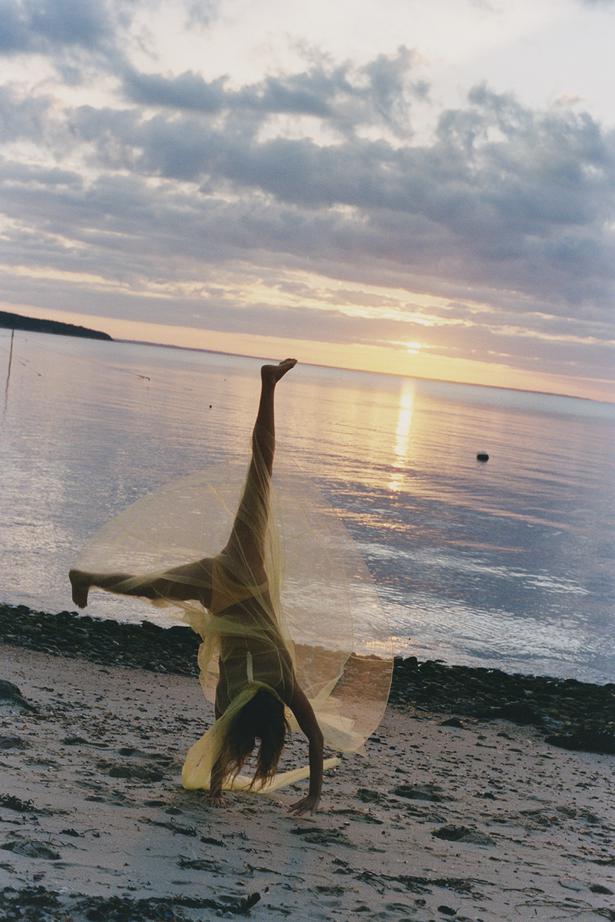 Weekends are now spent doing DIY — but you're just as likely to find her in the garden. Along with the fruit trees she's now nurturing, she's been busy growing every edible possible, including eggplant, tomatoes, zucchini, kale, chard and bok choy, plus varying herbs and spices.
"I'm obsessed with it. Every morning I wake up and it's the best thing I do. I go outside and see what's sprouted."
It all feels reminiscent of her life growing up on Waiheke, a place she misses desperately.
"I remember my mum [model agent Ursula Dixon] taught me when I was young how to grow carrots. I just love growing stuff and then cooking it. It changes your relationship to cooking and eating everything too. Because suddenly I'm so much more excited about cooking and being creative — like, okay what's growing? What can I make? I love the whole process."
READ: Meet The Model: Get To Know Nagisa Chauveau
Despite literally putting down roots on the other side of the world, she's still pining for home. Whereas she'd usually make the trip to New Zealand for Christmas, Covid has meant Zippy hasn't been able to get home for more than two years.
"I miss my little brother and my parents so much, and the culture and everything," she says. "It's grounding. I love my life and travelling and being in all these places, and then, you come home and you're like, okay, this is who I am. This is what I believe in. And then you can go back… you kind of hold it in you. But if you're away from home too long, you can get a little bit lost sometimes."
Has she found that sense of groundedness in Montauk, through connections with a second "family" of sorts, a group of friends she hangs out with regularly? "Not really," she says. "Not like New Zealand. It's just… it's different. It's a different culture."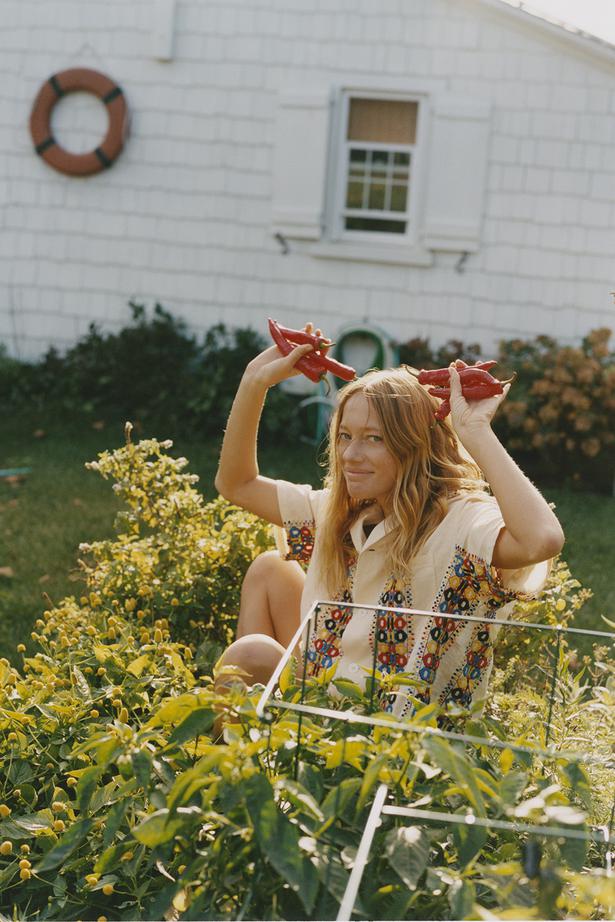 Boxer Muddy and new kitten Soot are her best friends — Zippy knew she wanted to get a high-energy dog after watching a friend adopt a bulldog that couldn't manage long walks along the beach. With plenty of shoots in the diary, there are no "life-changing" plans on the horizon.
And despite there being a certain longing for Aotearoa, Zippy says she's in a good place. Even with work, travel and a renovation, she's living proof that her easy-going nature has made for a lifestyle in a similar vein.
"I feel like I'm always playing," she agrees. "I don't think I ever stopped. I surf every day with friends. Being at home with my cat or dog or with Terence, we're always just running around outside or going to the beach, or playing board games
or checkers."
On her birthday came the realisation she'd been modelling for half her life, a career that has allowed her to see the world. Now there's a sense the next chapter is beginning.
"I remember when I was 20 thinking 30 was so old. But on my birthday I wasn't like, 'Oh my god, I'm 30! I'm old!' I felt really excited and happy."
This article was originally published in volume six of Viva Magazine.
Share this: