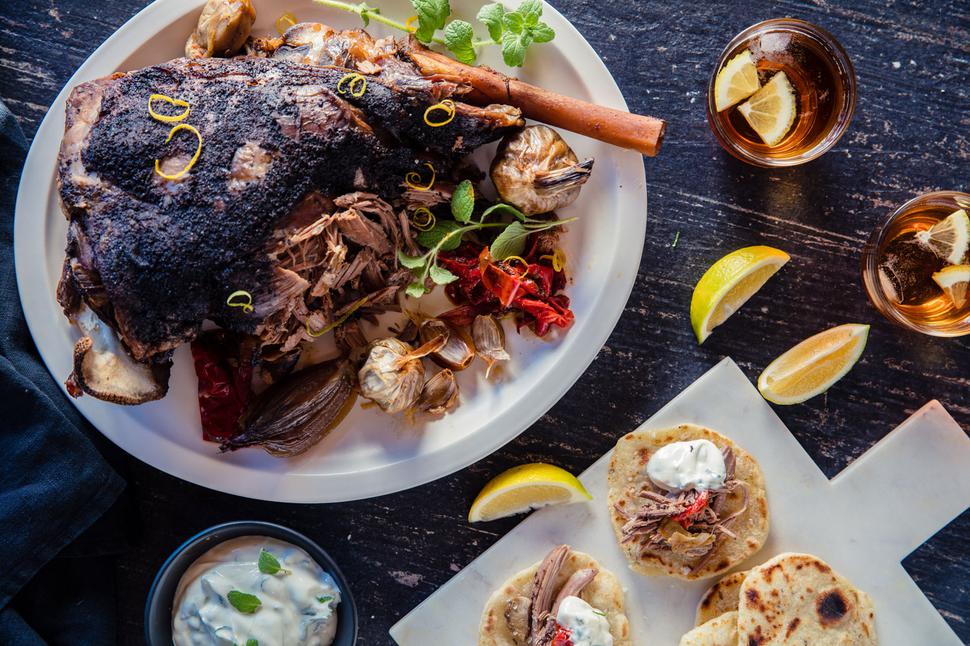 10-Hour Slow Roast Leg Of Lamb With Homemade Flatbreads
Be rewarded for taking it low and slow with this melt-in-your-mouth meal
Friday June 15, 2018
If you know it's a hungry crowd coming for drinks, take a cue from this crowd-pleasing recipe and get a leg of lamb in the oven early. The flatbreads can be made ahead of time, then reheated in the oven — or impress your guests as you flip them in the pan with ease as they are super-quick to cook. Place the lamb on a plate, stack the bread and let them help themselves. Don't throw away the liquid from the lamb, it will make fabulous stock for later.
10-HOUR LEG OF LAMB WITH FLATBREADS RECIPE 
Makes 20 
2 red onions, quartered
2 red peppers, quartered
4 whole bulbs garlic, unpeeled, halved
1.5kg (approx.) leg of lamb
1 Tbsp oil
1 Tbsp sumac
Salt and freshly ground pepper
1 cup hot water
Flatbreads
50g butter
200ml milk
2 cups plain flour
1 tsp caraway seeds
½ tsp salt
To serve — 2 cups yoghurt mixed with 2 Tbsp lemon juice and 2 Tbsp chopped coriander
To garnish — oregano leaves and lemon zest
1. Preheat an oven to 140C.
2. Place the onion, peppers and garlic on an oven tray. Place the lamb on top. Rub with the oil, sprinkle over the sumac and season with salt and pepper. Pour in the water.
3. Cover tightly with tinfoil. Place into the oven for 10 hours. Check after five (for peace of mind), then continue for the remainder of the time.
4. To make the flatbreads — heat the butter and milk in a small pot until the butter has melted. Place the flour, caraway and salt in a large bowl. Pour the milk into the middle and stir vigorously. Knead on a lightly floured bench for 5 minutes. Leave to sit wrapped for 20 minutes.
5. Divide the dough into 20 small rounds. Roll each one to 5mm thickness and 8cm diameter. Heat a little oil in a frying pan to a high heat. Cook one flatbread for 2 minutes each side until puffed and browned. Adjust the heat if need be, then continue to cook the remainder, two or three at a time.
6. If reheating the flatbreads, give them 2 minutes in a warm oven.
7. Remove the lamb from the oven, pour off the juices and reserve the cooking liquid for later. Allow to sit for 15-20 minutes before serving.
8. Place on a board and shred. Squeeze the garlic from the bulbs.
9. Serve the flatbread with lamb, peppers, garlic and a dollop of yoghurt.
Share this: