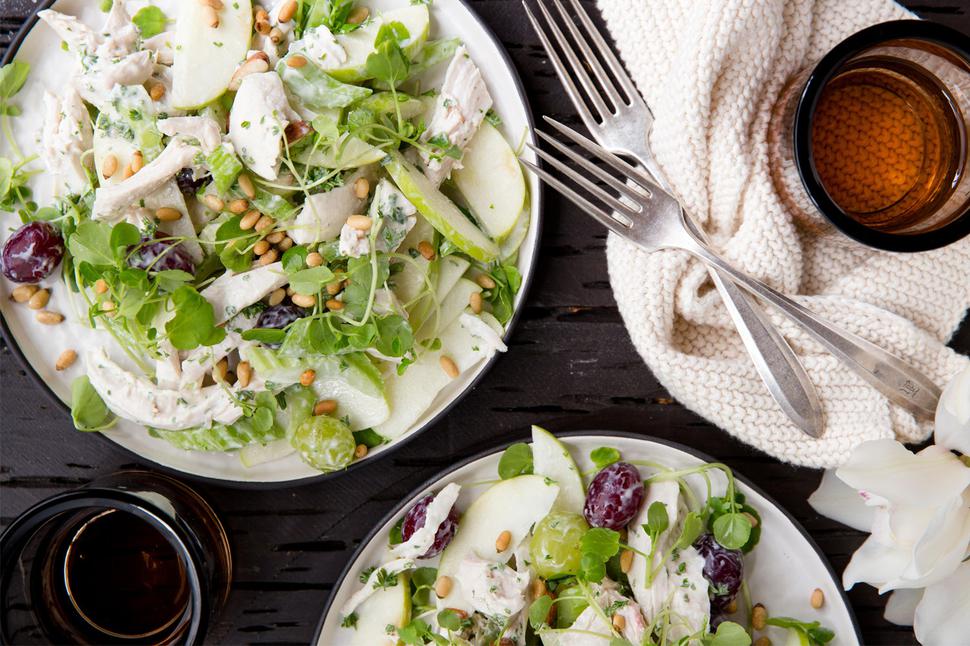 10 Of The Best Chicken Salad Recipes
Take a walk on the lighter side of life with these chicken salads to suit any taste
Monday Aug. 27, 2018
Waldorf Salad With Poached Chicken
Waldorf salad is an oldie but a goody. You'll love the textures of crunchy apple and grapes together in a creamy dressing. Adding poached chicken transforms it from a simple salad into a meal. 
Jamie Oliver's Blackened Chicken San Fran Quinoa Salad
You can trust celeb chef Jamie Oliver to come up with the goods when creating a healthy, flavourful salad recipe. This winner is from his 15-Minute Meals ebook and stars chicken that's coated in spices and fried until dark and smokey.
Chicken Salad With Barley & Walnuts
Less salad, more meal one-pan meal, this is the perfect example of how good green goddess dressing is. The combination of herbs, lemon, buttermilk and mayo is the perfect way to make even the healthiest meal feel indulgent.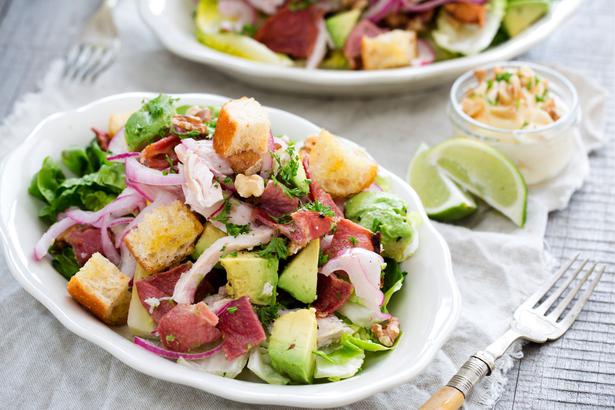 Smoked Chicken, Avocado, Bacon & Walnut Salad
For those with classic tastes, look no further than this traditional chicken salad. You can't go wrong with pickled onions, smoked chicken, crispy bacon and creamy avo.
Chicken & Bulgur Wheat Salad
Forget flimsy creations of sparse lettuce and thin slices of tomato, this substantial salad is a meal in itself. It has your protein, carb, vegetable and healthy fat hit covered.
Walnut, Barbecue Chicken, Apple & Watercress Salad
Caution: you may become addicted to this creation of grilled chicken, crisp apple, peppery watercress and curry-powder spiked dressing. You have been warned.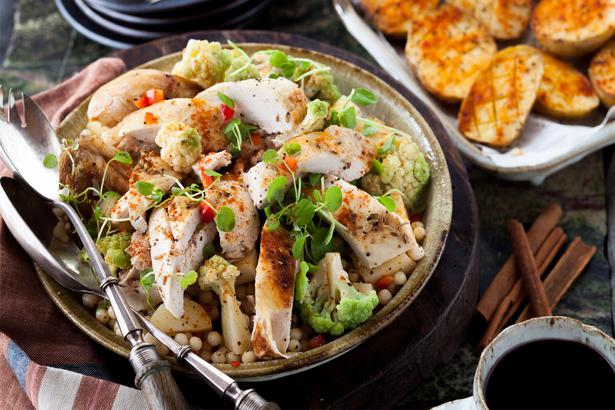 Fennel Roast Chicken Salad With Smoked Paprika Couscous
This warm roast chicken salad is a winner on cooler days. The inclusion of golden smoked paprika roast potatoes elevates this dish from good to great.
Chicken, Artichoke & Olive Salad
Created with Christmas in mind, this salad is just as delicious any other day of the year. The combination of pasta, roasted chicken, creamy aioli dressing and tender marinated artichokes is simply perfection.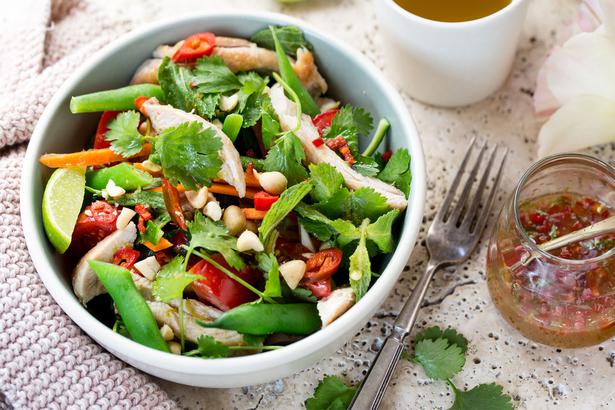 Vietnamese Chicken Salad
When you're craving something fresh, nothing but this salad will do. Light yet satisfying, this dish sings with the zingy flavours of the lime, chilli and fish sauce dressing.
Chicken, Mango & Quinoa Salad
Sweet and savoury collide in this delicious salad. Serve with a lemon and honey dressing for a juicy, refreshing bite on warm evenings.
Share this:
More Food & Drink / Recipes