5 Tasty Brunch Recipes From Top Chefs
Peter Gordon, Nigel Slater and more share their best brunch recipes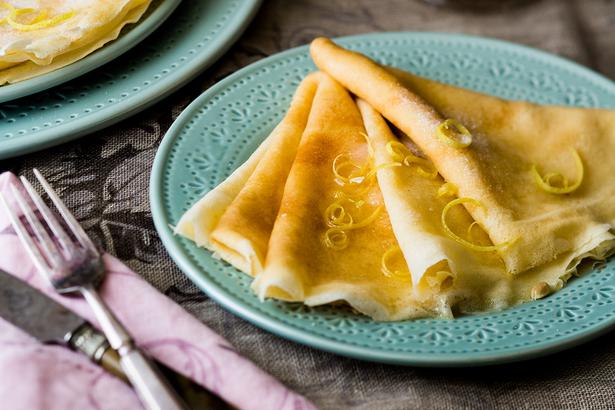 Thursday Sept. 28, 2017
NIGEL SLATER'S CREPES WITH APPLES, MAPLE SYRUP AND VANILLA CREAM
Serves 6
My own way with the humble pancake.
Filling
1-1.2 kg sharp apples 
3 tbsp maple syrup 
Batter
30g butter 
100g plain flour
1 large egg
1 extra egg yolk
1 level Tbsp caster sugar 
350ml milk 
Extra melted butter for cooking
Sauce
200g creme fraiche 
2 Tbsp maple syrup 
A little vanilla extract 
1. To make the apple filling peel, core and roughly chop the apples. Put in a pan with 4 Tbsp of water and simmer, covered, for 10-15 minutes. Stir occasionally. Stir in the maple syrup.
2. To make the pancakes, put the butter in a small pan, melt, then set aside. Sift the flour with a pinch of salt into a large bowl. Lightly beat the egg and egg yolk and stir with the sugar, milk and the butter into the flour. Leave to rest for half an hour. Brush a 20-22cm frying pan with melted butter. Stir the batter then pour in a small ladleful, tipping the pan so the batter just covers the base. Cook for a minute or so, until the underside is golden. Loosen with a palette knife, then turn to cook the other side. Lift it out and set aside.
3. To finish, set the oven at 180C. Place a pancake on the work surface, spread with the apple filling, then fold in half then half again to give a plump, loose triangle. Place in a warm serving dish and continue until the pancakes and apple are finished. Place in the oven for 10 minutes. Heat the creme fraiche over a moderate heat until melted. Stir in the maple syrup and a few drops of vanilla extract, stirring. Spoon the sauce over the pancakes and serve.
ROSE CARRARINI'S CLASSIC PANCAKES
Serves 4-6
Pancakes are on the brunch menu at Rose Bakery every weekend, whether served with bacon and maple syrup or fruit. Like bacon and eggs, pancakes are so popular I know I will be making many people happy by giving these recipes. The important thing to remember when making pancakes is never to overmix the batter. Once the wet is added to the dry, you must turn the batter over with a large spoon no more than eight times! At Rose Bakery we often serve these pancakes with sliced bananas, or we sprinkle blueberries over the pancakes in the pan just before we turn them over.
Ingredients
2 eggs  
220ml milk 
5 Tbsp unsalted butter, melted, plus a little for cooking
190g plain flour 
½ tsp salt 
1 Tbsp caster sugar 
4 tsp baking powder 
Maple syrup and your choice of fruit to serve
1. In a bowl, beat the eggs with the milk and melted butter. Put aside. In another bowl, sift together the flour with the salt, sugar and baking powder.
2. Pour the egg mixture into the flour and stir very lightly until the wet and dry ingredients are just combined. Rub a small frying pan with a little butter, heat the pan to hot and pour in 3-4 tablespoons of batter.
3. Tilt the pan so that the batter covers the base evenly and turn the heat down to medium.
4. Cook until a few bubbles come to the surface and then turn the pancake over. Cook for about another minute.
5. Continue making pancakes until all the batter is used up, adding more butter as necessary.
6. Serve immediately, as pancakes are best eaten hot, with maple syrup and fruit.
• From Breakfast, Lunch, Tea: The Many Little Meals of Rose Bakery by Rose Carrarini (Phaidon Press, $50)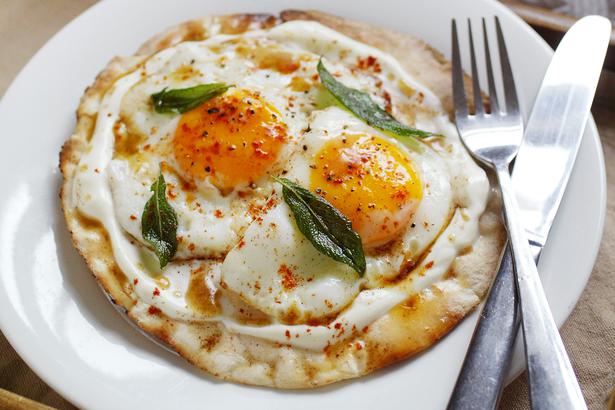 Known as cilbir in Turkey, eggs are served on a flatbread spread with a garlic yoghurt. Picture / Babiche Martens
PETER GORDON'S TURKISH EGGS
Serves 4 (allow 2 eggs each)
I first ate these in Istanbul in 1999. These are known as cilbir in Turkey (pronounced "chil-bir") where they always have raw garlic beaten into the yoghurt. At The Providores, where they are our biggest-selling brunch and breakfast dish and also hugely popular on the all-day menu, we don't add the garlic as our customers find it too confronting. When I put these on the menu in 2001, the garlic lasted all of two days. Just like Turkish cooks, I use a generous amount of the mild and seedless but truly tasty chilli flake called kirmizi biber, which is also known as Aleppo chilli. When I've been unable to find that pepper offshore, I've also made it using Korean chilli flakes, gochugaru, as they likewise give the buttery oil a delicious red hue, and a punch. We always serve this with toasted sourdough.
Ingredients
300g thick plain yoghurt
1 clove of garlic, peeled and finely crushed (optional, see above)
½ tsp flaky salt
50ml extra virgin olive oil
50g unsalted butter 50g
1 tsp kirmizi biber, more or less to taste
8 eggs
100ml white vinegar (this may seem excessive, but it isn't!)
1 Tbsp snipped flat parsley or fresh dill
8 slices sourdough 
1. Whisk the yoghurt, garlic (if using) and salt with half the olive oil for 15 seconds then put to one side (it's best served at room temperature). Warm 4 bowls that you'll serve in.
2. In a small pan, cook the butter over medium heat until pale nut brown (beurre noisette). Take from the heat and add the chilli flakes, swirling the pan gently to allow them to sizzle for 10 seconds. Add the remaining olive oil and put the mixture to one side, keeping it warm.
3. Add the vinegar to 1½ litres of simmering water in a medium-sized, deep pan and poach the eggs in this. Runny eggs will need 5-6 minutes' cooking (depending on size). Never add salt to the water when poaching eggs as it causes them to break up.
4. Toast your bread — we don't butter it as there is plenty of that in the dish.
5. To serve, divide ¾ of the yoghurt between the 4 warmed bowls. Place 2 poached eggs, drained of water, in each bowl then divide the remaining yogurt on top. Drizzle the chilli butter on, sprinkle with the parsley (or dill) and eat before the eggs get cold.
• Peter Gordon is executive chef of The Sugar Club and Bellota in Auckland, and The Providores and Tapa Room in London.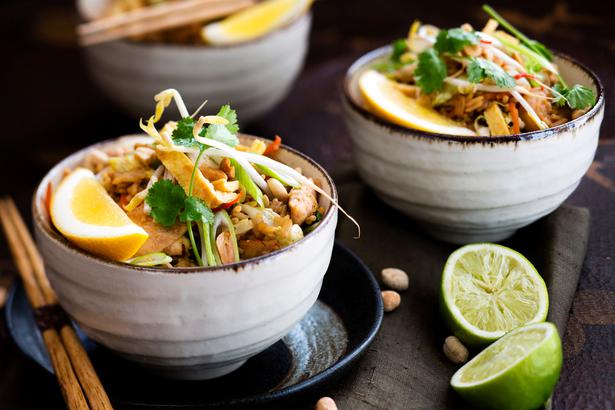 Nasi goreng. Picture / Babiche Martens
SRI OWEN'S NASI GORENG
Serves 4-6
This is one of the better known Indonesian dishes, although it originated in China. It has become an everyday dish that can be served with whatever you have, be it cold meat or leftover roast, or a vegetable stir-fry. A good nasi goreng is light and hot; the rice grains moist but separate, and quite fluffy; and the garnish fresh and attractive to look at. The rice should be cooked 2-3 hours before it is to be fried, so that it has time to get cold. Freshly cooked still-hot rice will go soggy and oily if you fry it. Rice that has been left overnight is too stale to make first-rate nasi goreng.
If you are going to use seafood or meat, it is best to stir-fry this separately. Mix the meat or seafood into the rice in the final 2 minutes before serving; or simply spread on top of the rice on the serving dish.
Ingredients
2 Tbsp peanut (groundnut) oil 
1 Tbsp butter 
3 spring onions, or 1 small onion, very finely chopped
1 tsp sambal ulek (see note below) or ½ tsp chilli powder
1 tsp paprika 
2 tsp tomato puree or tomato ketchup 
2 Tbsp light soy sauce 
3 carrots, very finely diced
115g button mushrooms, cleaned and quartered
2 Tbsp hot water (optional)
Salt to taste
450g long-grain rice, cooked by the absorption method or in an electric rice cooker, and allowed to cool completely
To serve: fried eggs, sliced cucumber, sliced tomato and crisp fried spring onions 
1. Heat the oil and butter in a wok or large frying pan. Stir-fry the shallots for 1-2 minutes, then add the other ingredients, including the hot water (if using), but not the rice. Continue stir-frying for about 6 minutes until the vegetables are cooked. Add the rice, and mix thoroughly so that the rice is heated through and takes on the reddish tinge of the paprika and tomato. Adjust the seasoning.
2. Serve hot on a warmed serving dish – by itself or as an accompaniment to a main course; garnished with sliced cucumber, sliced tomatoes, watercress and crisp-fried shallots; or topped with seafood or meat as described earlier.
Sambal ulek: Commonly spelled "sambal oelek" in English, sambal ulek is made by crushing chopped fresh red chillies with a little salt, using a mortar and pestle. It is available ready-made from Asian food stores and supermarkets.
• From Sri Owen's Indonesian Food by Sri Owen (Pavilion, $40)
YOTAM OTTOLENGHI'S SUPER FRENCH TOAST
Serves 8
Sami Tamimi and I were on a book tour in Toronto and were taken to the fantastic Rose and Sons, a restaurant/diner serving food that is rich in every sense of the word. One of Rose and Sons' most outstanding creations is a cross between a bread pudding and french toast. I reckon their secret involves double-dipping: the bread being soaked in custard once, before it is cooked like a pudding, and then dipped one more time, before it is fried like french toast.
To say that this "needs" anything extra would, frankly, be decadent but, to elevate it to the realm of the serious brunch, some stewed seasonal fruit or fresh berries would not go amiss.
Ingredients
600ml full-fat milk 
200ml double cream 
1 orange, rind shaved into long strips
3 long cinnamon sticks, broken in half
1 vanilla pod, split lengthways, seeds scraped
400g brioche loaf, crusts removed, cut into eight 2½ cm-thick slices
6 eggs 
40g caster sugar 
60g unsalted butter 
40g icing sugar 
240g sour cream 
Maple syrup to serve
1. Preheat the oven to 190C.
2. Place the milk, cream, orange rind, cinnamon and vanilla pod and seeds in a medium saucepan. Heat gently on a medium–low heat and remove just before it comes to the boil, about 5 minutes. Set aside for about 20 minutes, for the cream to cool a little and for the flavours to infuse.
3. Meanwhile, line a 32cm x 22cm baking dish with baking parchment and lay the brioche slices flat in the base.
4. Place the eggs and caster sugar in a medium bowl and whisk well. Pour the warm milk gradually into the eggs, continuing to whisk the whole time. Strain the custard and then pour two-thirds of it over the brioche, so that it's fully covered. Place the remaining custard in a wide shallow bowl and set aside.
5. Place the dish in the oven and bake for 20 minutes, until the custard is cooked through and golden-brown. Set aside to cool; then slice into 8 squares.
6. Place half the butter in a large non-stick frying pan and place on a medium–high heat. Dip half of the bread squares into the remaining custard mix, transfer to a plate and sprinkle ½ teaspoon of icing sugar over each square. Put them immediately in the pan, sugar side down, and fry for 30 seconds to 1 minute, to caramelise the sugar. While they are frying, sprinkle ½ teaspoon of icing sugar over each slice. Flip over and cook for the same amount of time, until the sugar is dark brown and crispy. Remove from the pan, rest on a wire rack and repeat with the remaining brioche slices and butter.
7. Place a slice of toast on each plate with 2 Tbsp of sour cream and as much maple syrup as you like.
• From Plenty More by Yotam Ottolenghi (Ebury Press, $70)
— The Observer
Share this:
More Food & Drink / Recipes