Azamara's Sole With Sundried Tomato Risotto and Puttanesca Sauce Recipe
From sea to land, try this fresh update on an Italian classic available on board the Azamara cruise ship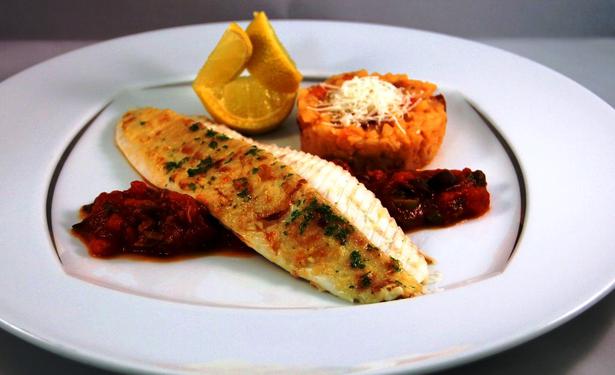 Wednesday April 19, 2017
Aqualina restaurant on board the Azamara Cruise Ship has a fantastic menu, created by executive chef Robert van Rijsbergen. His sole with sundried tomato risotto and puttanesca sauce is a fresh update on a classic and one you can easily try at home. It's perfect for cosy winter nights paired with your favourite glass of wine. 
SOLE, SUNDRIED TOMATO RISOTTO AND PUTTANESCA SAUCE RECIPE

INGREDIENTS
10 pieces of skinless sole whole fish, cleaned
Clarified butter
Flour, salt and pepper parsley, finely chopped risotto alla Milanese
6 cups chicken stock
3 Tbsp unsalted butter
2 pieces yellow onion, finely chopped
2 cups arborio rice
1 cup white wine
½ cup grated fresh parmesan cheese
Salt and pepper
Sundried tomato and fresh tomato brunoise
Puttanesca sauce:
3 Tbsp extra virgin olive oil
2 tsp garlic, finely minced
½ tsp red crushed pepper
1 cup chopped onion
1½ pounds cherry tomatoes, halved lengthwise
3/4 cup pitted kalamata olives
3/4 cup pitted Italian green olives
2 Tbsp drained capers
2 tsp finely chopped anchovy fillets
1 Tbsp red wine vinegar
4 Tbsp chopped basil
Salt and pepper
METHOD
For the risotto:
1. Heat stock in a medium-size cooking pot, keep warm.
2. Heat butter in medium-size saucepan over medium heat. Add onions, cook until soft, about 4 minutes.
3. Add rice, cook until lightly toasted, about 4 minutes, add wine, cook until evaporated. Add ½ cup warm stock, cook stirring until absorbed, continue adding stock, ½ cup at the time, and cooking until absorbed before adding more, until rice is tender and creamy.
4. When ready add the sundried tomato, tomato brunoise, some cold butter, parmesan cheese, season with salt and pepper.
Note: Risotto should always be a little runny; do not add any cream to risottos.
For the puttanesca sauce:
1. Heat a medium-size pan, add the olive oil, garlic and crushed red pepper for about a minute.
2. Add the onion, and saute until translucent. Stir in the tomatoes, olives, capers, anchovy and vinegar.
3. Toss to combine and cook until the tomatoes have softened and released their juices.
4. Add the basil and toss, remove from heat, set aside, ready to use.
For the sole:
1. Season the sole with salt and pepper, dust with flour and bake golden brown in a pan using clarified butter.
2. When nicely coloured, place on a tray and cook in oven for about 3-4 minutes.
3. Place on a plate, sprinkle with the remaining butter, parsley and garnish with lemon.
4. To serve, place the risotto and sauce as per picture and add freshly shaved parmesan cheese on top of the risotto.
Be inspired by the good things in life. Sign up now to receive emails from Viva, and twice a week you will be sent the latest news, profiles, videos, fashion shoots, competitions and more.
Share this:
More Food & Drink / Recipes