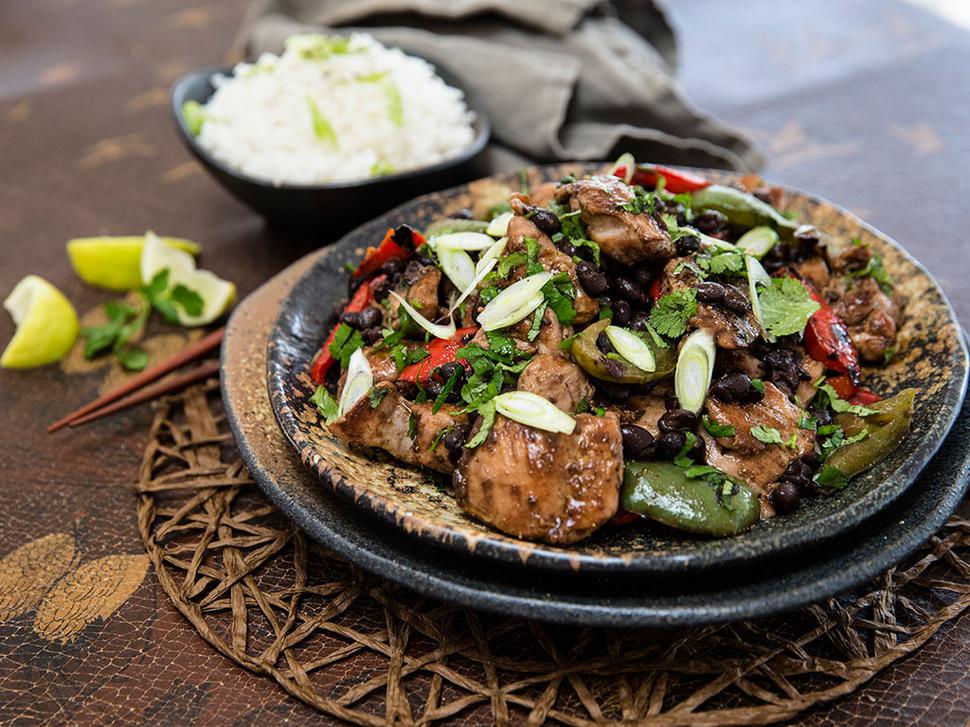 Black Bean and Chicken Recipe
Experience the taste of Asia with this black bean and chicken recipe
Tuesday July 7, 2015
BLACK BEANS WITH CHICKEN AND PEPPERS
Serves 4
• 2 tsp potato flour
• 2 Tbsp soy sauce
• 2 Tbsp sweet soy
• 2 Tbsp shaoxing
• Pinch salt
• 6-8 boneless chicken breasts, cut into 4
• 2 Tbsp oil
• 3 cloves garlic, sliced
• 1 Tbsp grated ginger
• 1 red and 1 green pepper, cut into chunks
• 1 cup black beans, cooked
• Pinch of chilli flakes
• 1 spring onion, sliced
• Coriander leaves to garnish
1. Place flour, both soy sauces, shaoxing, salt and chicken cubes in a bowl. Stir well, cover and leave to marinate, preferably overnight, or for at least 2 hours.
2. Heat oil in a frying pan or wok. Add garlic and ginger, cooking quickly for 2 minutes. Add peppers and cook until still a little crunchy. Remove from pan and set aside.
3. Add a little extra oil if needed. Fry chicken, browning on all sides, and cook through. Add a little water if the pan gets too hot.
4. Return peppers to pan with beans, chilli and spring onion. Season with salt and pepper.
5. Sprinkle with coriander and serve hot with brown rice.
Share this:
More Food & Drink / Dinner