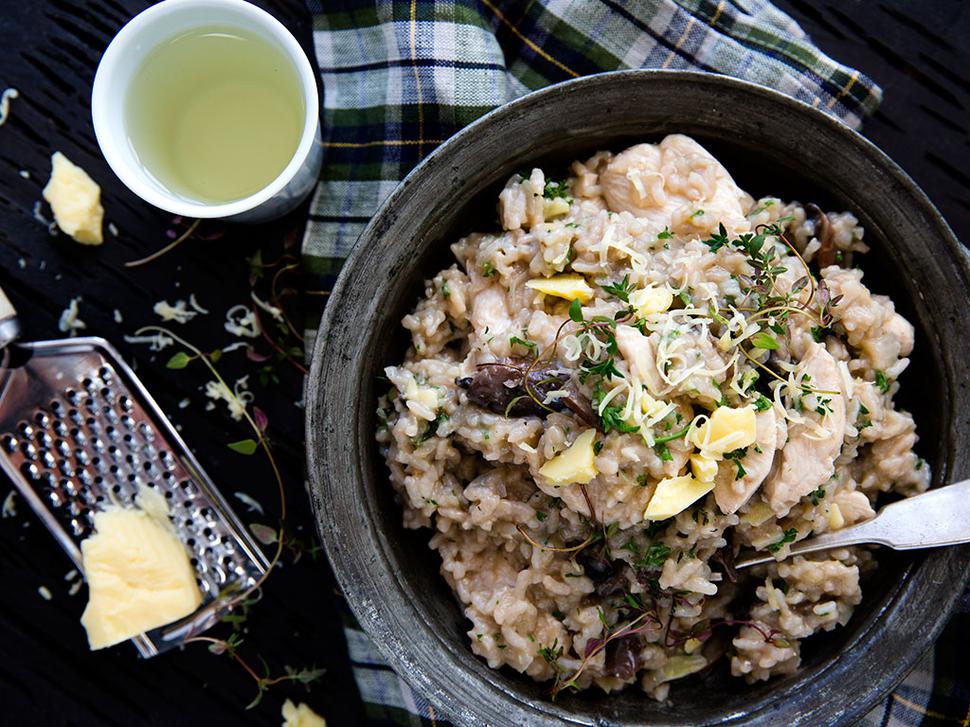 Chicken and Mushroom Risotto Recipe
Try Angela Casley's wholesome and flavoursome risitto
Wednesday June 24, 2015
CHICKEN, MUSHROOM  AND LEMON RISOTTO
Serves 4
• 2 Tbsp olive oil
• 1 Tbsp butter
• 1 onion, finely chopped
• 4 cloves garlic, crushed
• 400g chicken breast, sliced thinly
• 1 cup arborio rice
• ½ cup white wine
• 2 cups mushrooms, roughly chopped
• 1 litre chicken stock, warm
• Zest and juice of 1 lemon
• 1 Tbsp butter
• 1 cup grated parmesan, plus extra for garnish
• Salt and freshly ground pepper
• ½ cup chopped parsley
1. In a heavy based saucepan, heat olive oil and butter on medium heat. Add onion and garlic. Cook for 5 minutes until completely soft but not browned. Add chicken, stirring until slightly coloured.
2. Pour in rice and stir for 2 or 3 minutes then add wine, cooking until it has all been absorbed. Stir through the mushrooms.
3. Start adding your stock 1 cup at a time and allow it to be absorbed before adding the next. Continue until all the stock is used and you have a creamy risotto. This will take about 20 minutes.
4. Stir through the lemon, butter, parmesan and season with salt and plenty of freshly ground pepper.
5. Finally fold through the parsley and serve hot.
Share this:
More Food & Drink / Dinner