Guinness and Chocolate Cake Recipe
Beer gives this chocolate cake a rich flavour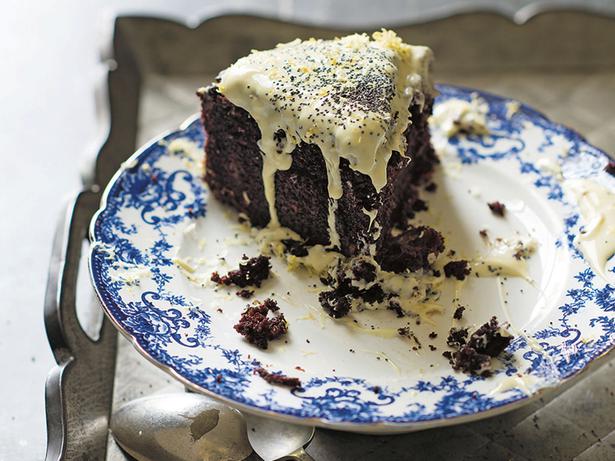 Tuesday May 26, 2015
This chocolate cake recipe from Anna Barnett's Eat the Week is one you can't go wrong with - plus it can last all week, so no need to scoff it all at once.
CHOCOLATE & GUINNESS DATE CAKE WITH WHITE CHOCOLATE & LEMON TOPPING
Serves 8-10 
250ml (9 fl oz/1 cup) Guinness
300g (10½ oz) unsalted butter
330g (11¾ oz/1½ cups) caster (superfine) sugar
80g (2¾ oz/¾ cup) cocoa powder
2 free-range eggs
150 ml (5 fl oz) sour cream
1 tablespoon vanilla extract
2 teaspoons baking powder
300g (10½ oz/2 cups) plain (all-purpose) flour
250g (9 oz) pitted dates, roughly chopped
White Chocolate Topping
300g (10½ oz) good-quality white chocolate
Finely grated zest of 1 lemon
1 tablespoon poppy seeds

1. Preheat the oven to 190°C (375°F/gas mark 5). Lightly butter a 23–25 cm (9–10 in) cake tin and line with baking paper.
2. Put the Guinness and butter in a large saucepan over medium–low heat. When the butter has melted and the Guinness has warmed through, take off the heat and whisk in the sugar and cocoa.
3. In a bowl, whisk the eggs with the sour cream and vanilla extract, then add to the pan, along with the baking powder, flour and salt. Whisk thoroughly until all the lumps are gone, then stir in the dates. Transfer to the prepared cake tin and bake for 45–55 minutes or until the cake has risen and is no longer wobbly in the centre. Leave to cool in the tin.
4. For the white chocolate topping, break up the chocolate and place in a heatproof bowl. Melt over a pan of simmering water – ensure that the bowl isn't touching the water – then stir in the lemon zest.
5. Carefully remove the cooled cake from the tin and place on a wire rack with a tray or plate underneath (to catch any drips). Pour the white chocolate topping over the cake, then sprinkle with the poppy seeds and leave to set.
6. Stored in an airtight container, this cake will last up to a week... in theory, at least.

TIP For an extra zesty finish, garnish the cake with freshly grated lemon zest.
• This is an edited extract from Eat the Week by Anna Barnett, $49.99, published by Murdoch Books.
Share this:
More Food & Drink / Desserts