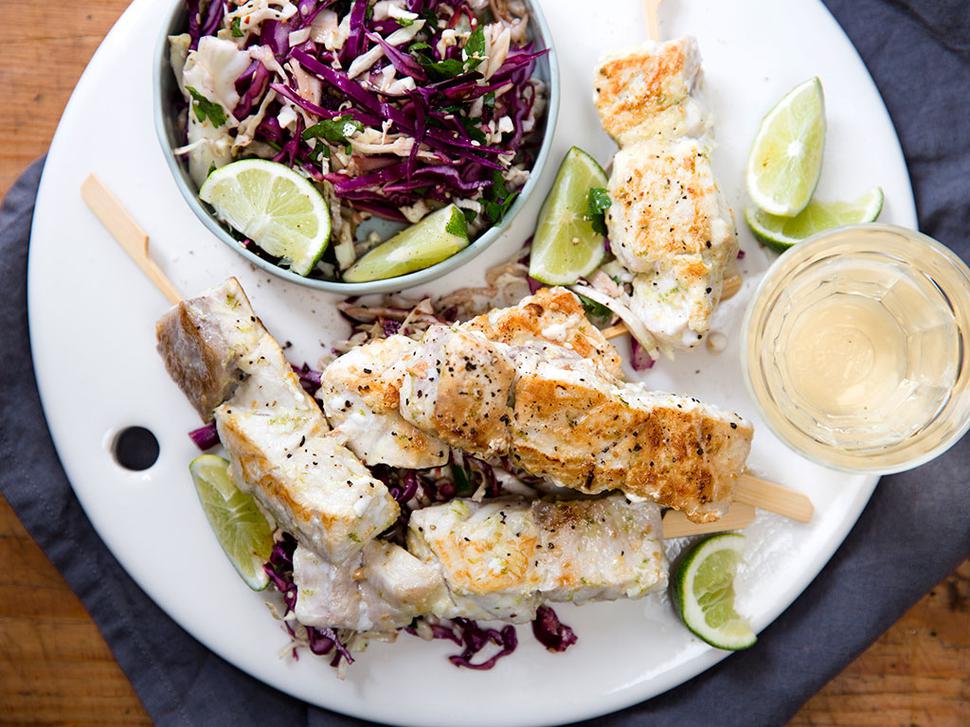 Hapuku Skewers with Autumn Slaw
For a fast favourite try Angela Casley's fresh and tasty skewers
Wednesday April 15, 2015
HAPUKU SKEWERS WITH AUTUMN SLAW
Serves 4
• 600g hapuku fillets, cut into 2cm cubes
• Zest and juice of 1 lime
• 2 Tbsp olive oil
• 3 cloves garlic, crushed
• Salt and freshly ground pepper
• 2 tsp sesame seeds
Slaw
• 2 cups shredded red cabbage
• 2 cups shredded white cabbage
• 1 spring onion, finely chopped
• ½ cup chopped parsley
• ½ cup chopped coriander
• Salt and pepper to season
• Dressing
• 1 Tbsp each: olive oil, vinegar and sweet chilli
• Lime wedges to serve
1. Place hapuku, lime, oil, garlic, salt, pepper and sesame seeds in a bowl. Leave to marinate for 20-30 minutes. Thread cubes on to skewers.
2. To make the slaw, combine the cabbages, spring onion, parsley and coriander in a large bowl. Combine with dressing just before serving and season with salt and pepper.
3. Preheat a grill or pan to high. Cook skewers for 4 minutes each side until just cooked through. Serve with slaw and lime wedges.
Share this:
More Food & Drink / Dinner