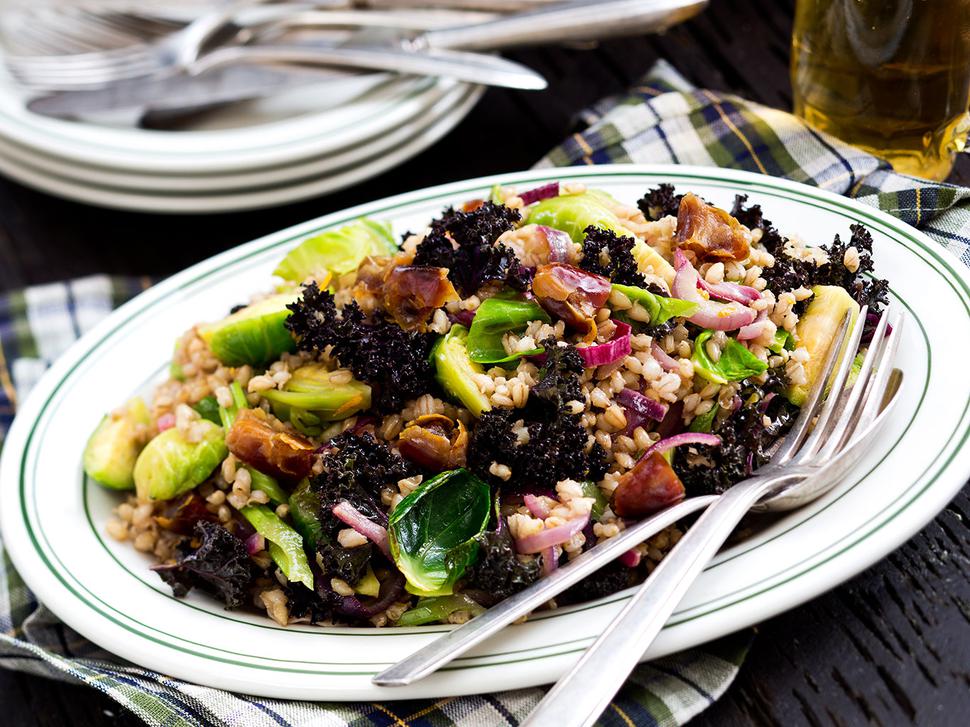 Pearl Barley Recipe with Brussels Sprout
Wednesday Sept. 3, 2014
PEARL BARLEY AND BRUSSELS SPROUT SALAD 
Serves 6
•1 cup pearl barley
•3 cups chicken or vegetable stock
•200g brussels sprouts
•1 Tbsp butter
•1 Tbsp oil
•1 red onion, sliced
•2 sticks celery, sliced thinly
•2 handfuls kale, stalks removed
•1 cup chopped dates
Dressing
• zest and juice of ½ orange
• ½ tsp dijon mustard
• 2 Tbsp olive oil
1. Place the pearl barley in a large pot with the chicken stock. Bring to a simmer and cook for 20 minutes until it is soft but still has a little bite. If there is liquid left drain it, but most will have been absorbed.
2. Cook the brussels sprouts in boiling water for 3 or 4 minutes, drain and cut in halves or quarters.
3. In a pan heat the butter and oil. Add the onion and celery and cook for 2 or 3 minutes until just soft. Add the sprouts and brown slightly.
4. Place the pearl barley, sprout mix, kale and dates in a large bowl. Season with salt and pepper.
5. Combine the orange, mustard and olive oil in a small bowl. Pour over the salad. Mix well and serve.
Share this:
More Food & Drink / Recipes