Pidapipo Gelato's Banoffee Pie
An innovative take on an old-school dessert that's filled with caramel and a banana milk gelato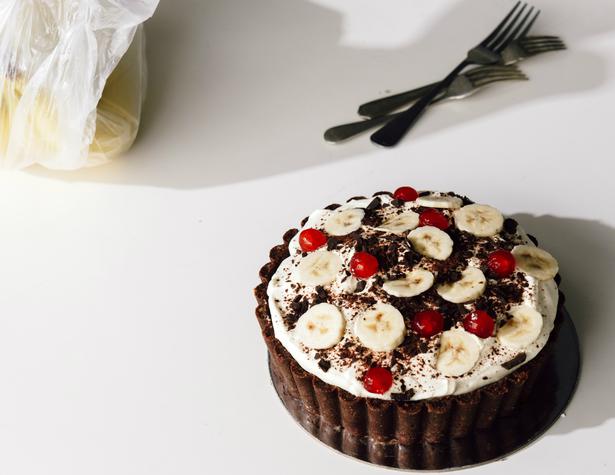 Wednesday Dec. 6, 2017
When I was trying to come up with cakes for my gelateria Pidapipo, I didn't want to go down the usual path of layered ice cream cakes with funny decorations on the top so I started to think about regular desserts that might translate well as gelato cakes. Bombe Alaska was an obvious one and then I started thinking of pies because the shell would work when it's frozen and can be filled with whatever flavours you like. Banoffee pie is one of those desserts that had fallen out of fashion for years but suddenly started popping up in cafes all over town, so it seemed like the right time to give it the gelato treatment.
BANOFFEE PIE (TORTA BANOFFEE)
Serves 8
Banoffee Pie
190g digestive biscuits
110g unsalted butter
110g dark chocolate (70% cocoa solids), plus extra for shaving
1kg (10 scoops) Banana milk gelato (recipe below)
500ml (2 cups) cream
50g icing sugar
3g vanilla paste
1 ripe banana, sliced
8 maraschino cherries
Banana Caramel Sauce
100g very ripe banana, chopped
155g soft brown sugar
160ml cream
50g unsalted butter
1. To make the banana caramel sauce, add the banana, sugar and cream to a heavy-based saucepan over a medium-high heat and heat for 1-2 minutes until bubbling. Remove from the heat and blend with a hand-held blender until smooth, then whisk in the butter until incorporated. Pour into a bowl and transfer to the fridge to chill.
2. Place the biscuits in a large bowl and crush them with the end of a rolling pin to a fine crumb (alternatively, blitz them briefly to a similar consistency in a food processor).
3. Melt the butter and chocolate together in a double boiler set over a medium-high heat. Pour the mixture over the crushed biscuits and stir to combine.
4. Spoon the biscuit crumb mixture into a 20cm  loose-bottomed pie tin and press it into the base to cover evenly, being sure to leave no gaps. Spoon over the banana gelato and spread it with a palette knife to form an even layer, then transfer to the freezer and leave to chill for 1 hour.
5. Remove the pie from the freezer and pour over the banana caramel sauce evenly, then return to the freezer for a further 1 hour, or until ready to serve.
6. When ready to serve, whisk the cream, icing sugar and vanilla paste together in a mixing bowl to form soft peaks. Arrange half the banana slices over the caramel in an even layer, dollop over the whipped vanilla cream, then top with the maraschino cherries and remaining banana slices and shave a little extra dark chocolate over the top to finish.
READ: Healthy Rocky Road Ice Cream Recipe
BANANA MILK GELATO
Makes 1kg (10 scoops)
160g caster sugar
35g dextrose
20g skim milk powder
5g carob bean powder
645 g milk
165 ml cream
80g over-ripe banana, chopped
1. Put the sugar, dextrose and skim milk powder in a bowl and mix to combine.
2. Put the carob bean powder in a separate bowl. Add 2 tablespoons of the sugar mixture and mix together well.
3. Pour the milk and cream into a large heavy-based saucepan over a medium heat. Whisk in the carob bean powder mixture and continue to heat, whisking in the sugar mixture as you go, until it hits 85°C. Remove from the heat, pour into a suitable lidded container and leave to cool in the freezer for 1 hour, or until the mixture drops to 4C.
4. Turn on your gelato maker so it begins the freezing process.
5. Add the banana to the mixture and blend with a hand-held blender until very smooth.
6. Pour the mixture into your gelato maker. Once the mixture reaches –4C or is the consistency of soft-serve ice cream (this should take about 30–45 minutes). Detach the canister or scoop the gelato into a pre-cooled lidded container. Transfer to the freezer and leave for at least 1 hour to harden before serving.
Tip: Make sure the bananas you use here are completely black; they will be gooey and very soft but will give you an amazing, strong banana flavour.

• This is an edited extract from Pidapipo by Lisa Valmorbida, published by Hardie Grant Books $45 and available now. Copyright photography © Lauren Bamford and Jesper Hede 2017. Illustrator: © Jean Jullien
Share this:
More Food & Drink / Recipes