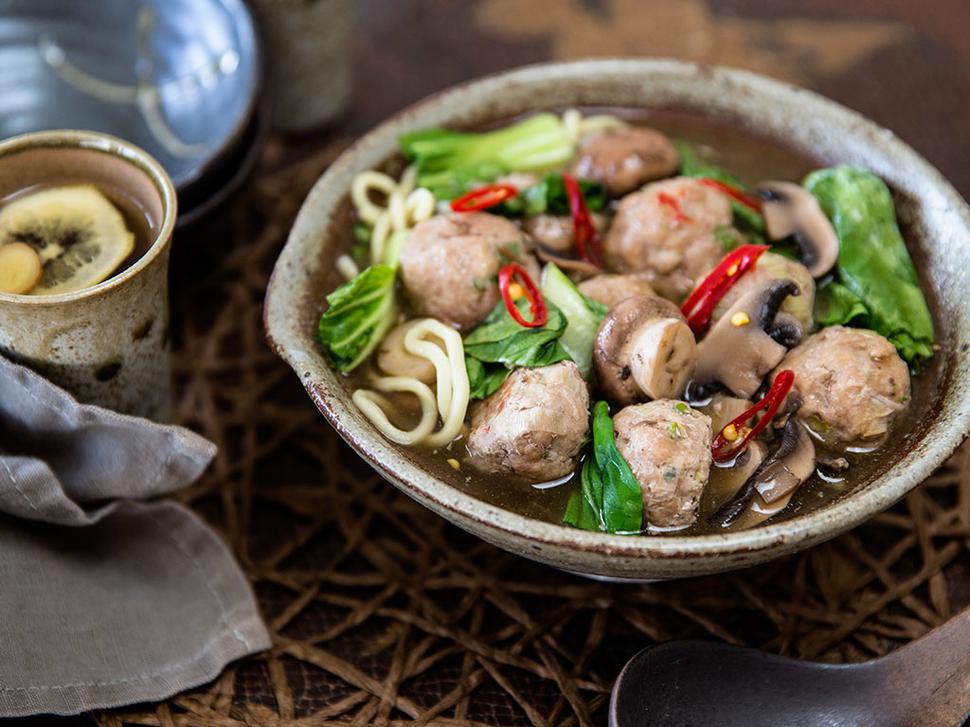 Nourishing Pork & Noodle Soup Recipe
For a quick and simple winter dish, this fragrant soup will warm you up in no time
Monday June 22, 2020
PORK AND NOODLES IN MUSHROOM BROTH
Serves 4
400g pork mince
2 spring onions, chopped small
1 Tbsp oyster sauce
1 chilli, chopped small
½ cup coriander, cut roughly
½ tsp salt
Freshly ground pepper
1 litre good quality stock
3 slices of ginger
200g mushrooms, sliced or whole
2 Tbsp rice vinegar
1 Tbsp soy
1 tsp sesame oil
1 head bok choy, sliced
200g fresh noodles
Salt and pepper, to taste
1. Place mince into a bowl with spring onion, oyster sauce, chilli, coriander, salt and pepper. Mix well. With damp hands roll into walnut-sized balls. Refrigerate until needed.
2. In a large pot place stock, ginger, mushrooms, vinegar and soy. Bring to a simmer for 10 minutes until mushrooms are cooked. Add pork balls and simmer for a further 10 minutes. Test one to ensure they are cooked. Remove ginger slices.
3. Add noodles and bok choy and heat through.
4. Place noodles into bases of four bowls then ladle in broth, mushrooms and pork balls.
Share this:
More Food & Drink / Dinner