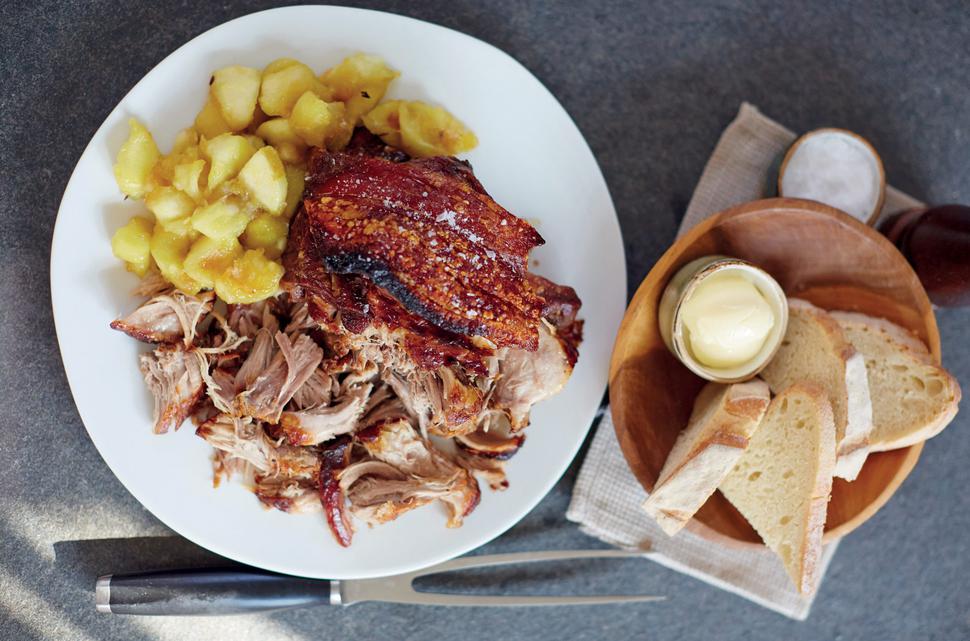 Slow-Roast Pork with Apple and Lavender Sauce Recipe
Slow cooking renders pork shoulder meltingly tender and the sauce balances the richness perfectly
Monday June 29, 2015
Some of the world's most renowned chefs have shared their three favourite weekend recipes — the dishes they create when they have the luxury of a day away from the restaurant kitchen — in new cookbook MasterChef: The Masters at Home. This slow-roast pork recipe by chef Gordon Ramsay is one of his favourites.
Serves 6–8
SLOW-ROAST PORK
1 x 2kg boned shoulder of pork
3 medium onions, halved
4–5 bay leaves
olive oil for the tin
200ml dry cider
APPLE AND LAVENDER SAUCE
4 cooking apples
30g butter
30g caster sugar
flowers stripped from a few lavender stems
sea salt and freshly ground black pepper
1. Preheat the oven to its highest setting.
2. Pat the pork rind dry with kitchen paper, then score at 5mm intervals. Rub all over with salt and pepper, massaging the seasoning into the cuts. Scatter the onion halves and bay leaves in a lightly oiled roasting tin and lay the pork on top, skin side up.
3. Roast for 20–25 minutes until the skin starts to blister and crisp, then lower the oven setting to 130C.
4. If there is any rendered fat, remove from the tin, then pour the cider around the pork. Cover with foil and roast for a further 4–5 hours until the pork is very tender. Several times during roasting, lift the foil and baste the sides of the joint with the pan juices. The pork is done when it can easily be shredded with a fork.
5. While the pork is roasting, make the sauce. Peel, core and roughly chop the apples. Melt the butter in a saucepan and add the apples with the sugar and lavender flowers. Cook over a medium–high heat for 10–15 minutes until soft and pulpy, stirring occasionally and adding a little water if needed. Sieve if you prefer a very smooth sauce. Season with salt and freshly ground pepper, and set aside, ready to reheat gently before serving.
6. When the pork is cooked, take it out of the oven. Slice off the rind and place it on a baking sheet. Turn the oven to its highest setting and roast the rind for 10–15 minutes until it turns to a crisp, golden crackling. Meanwhile, cover the pork shoulder loosely with foil and leave to rest in a warm place for 15–20 minutes.
7. Slice the pork shoulder thickly and serve with the pan juices, warm apple and lavender sauce and broken shards of crisp crackling.
This recipe was extracted with permission from MasterChef: The Masters at Home, published by Bloomsbury, available from July 1, $45.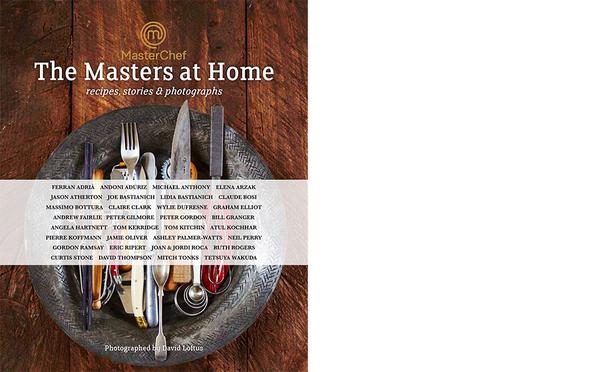 Share this: