SPONSORED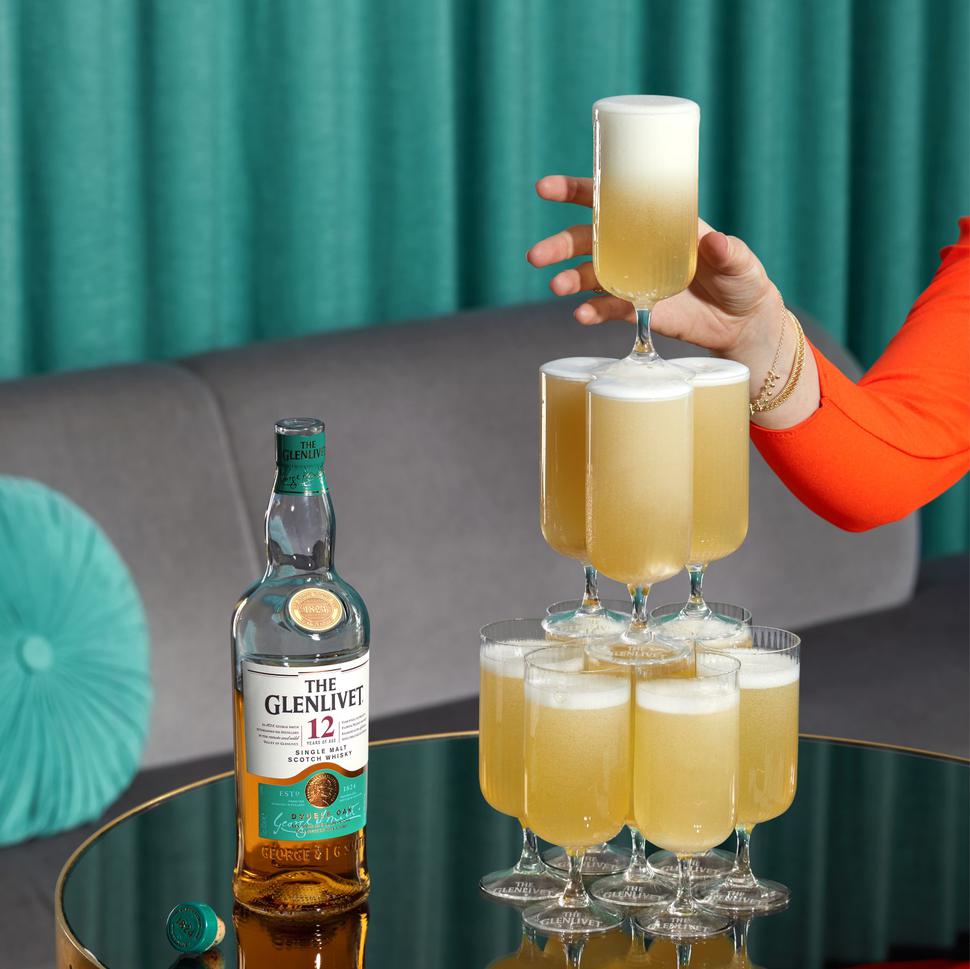 The Decadent, Effortless Whisky Cocktail To Have In Hand This Season
The Glenlivet Royale is a refreshingly fun way to enjoy whisky
Thursday Dec. 10, 2020
There's something quite charismatic about a glass of whisky, with its dark amber hue and syrupy viscosity, housed in a sturdy glass tumbler.
It's a complex liquor with a lengthy heritage, and whisky is a spirit long associated with men's spaces — such as members clubs and lounge bars — and marketed with a genteel yet thoroughly masculine image.
As such, seeing a woman with a glass of whisky often conveys elegant rebellion; think Katharine Hepburn wearing slacks and clutching a glass full of ice, whisky, and a dash of soda (her favourite drink).
However, contrary to popular culture, the relationship between women and whisky is nothing new — historically they were involved in both commercial and domestic distilling, business, pleasure, and even bootlegging.
The public reclamation of whisky by women in recent years is a welcome evolution, though not without its own critique. Both media and society have fetishised women who drink whiskey in the ilk of other "not like the other girls" interests, and the parameters of imbibement are still very masculine — a "cool girl" drinks whisky like a man.
That warrants challenging too. So, instead of buying into this narrative, why not have some fun with whisky?
To enjoy whisky doesn't mean you have to drink it on the rocks, instead, dismantle the social context of this drink further and enjoy a thoroughly decadent whisky cocktail.
The Glenlivet Royale combines two famously symbolic ingredients, whisky and Champagne, with a splash of luxury and frivolity that is as refreshing as the cocktail itself.
It's a stylishly simple drink to have in hand this party season, and is a sight to behold; the rich hue of the single malt scotch mingles with the effervescent Champagne to create a drink that's decadent and effortless, attributes we all try to channel as the festive season heats up.
The foundation of the drink is, of course, whisky. The Glenlivet 12yo Whisky is a famously good single malt scotch whisky — a smooth, classic malt that is matured in traditional oak barrels.
The Glenlivet was founded in 1822, hidden away in the Livet valley in Scotland, and it's now one of the most famous whiskies in the world. Given that pedigree, it's aptly paired here with G.H.Mumm Champagne — another historic alcohol, this time from France.
It all makes for a thoroughly irresistible cocktail.
THE GLENLIVET ROYALE
Ingredients
30ml The Glenlivet 12yo
15ml honey water
15ml lemon juice
80ml G.H.Mumm Champagne
Lemon twist to garnish
Method
Pour The Glenlivet 12, lemon juice and honey water into a chilled flute.
Top with champagne, stir and garnish with a lemon twist.
Enjoy responsibly. For more recipes and inspiration visit TheGlenlivet.com
Share this:
More Food & Drink / Wine & Drink