Toasting Success with International Sauvignon Blanc Celebration
An international event held here is testament to the importance of our sauvignon blanc, writes Jo Burzynska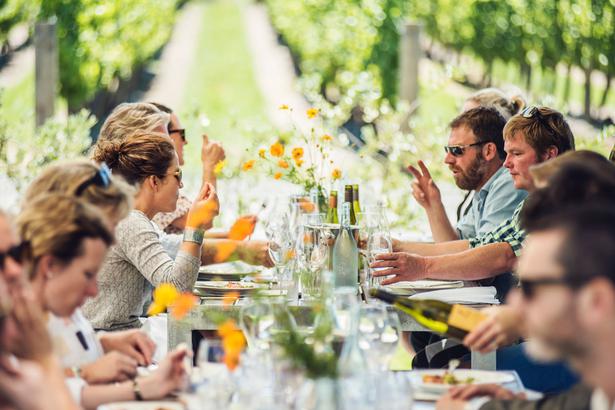 Wednesday May 4, 2016
''My world of wine would never be the same again," claimed one. "It was better than the first time I had sex," admitted another. What was the earth-moving experience that both visiting international wine authorities were alluding to? Why, their first taste of Marlborough sauvignon blanc; the zesty variety at the centre of our wine industry and in the spotlight at the recent International Sauvignon Blanc Celebration at which these racy revelations were made.
"There had never before been a wine that crackled and spat its flavours at you from the glass. A wine that took the whole concept of green, that expanded it, stretched it and pummelled and gloriously reinterpreted it in a riot of gooseberry and lime zest, green apples, green pepper, sliced through with an ice cold knife of steel," enthused British wine personality, Oz Clarke, who'd seen it shake up his vinous universe.
"You've created a wine style that is recognised everywhere and something that no one else has, so what the hell do you want? Mermaids?" quipped prominent US wine critic, Matt Kramer, who found the variety more rousing than his first erotic encounter. "This is a fantastic accomplishment, which is not something to be taken lightly. There are few places that can make that claim to distinction and profitability."
Clarke and Kramer were two of a number of respected international speakers to heap praise upon our sauvignon at New Zealand's first major event focused on our flagship variety. The three-day "Sauvignon 2016" event featured local and international wine commentators and 300 guests from around the world. Attendees gathered in Marlborough to sample and exchange knowledge about a variety that accounts for half the area of our vineyards and 85 per cent of our annual wine exports.
Setting the scene was the event's chair, Patrick Materman, of what is probably New Zealand's largest sauvignon producer, Pernod Ricard. Over a career that started in 1990, he has witnessed plantings of sauvignon go from less than 1000 hectares to more than 20,000ha in the ground today and become a $1.1 billion annual export. Fittingly it was a sauvignon — the international trophy winning 1989 Montana Sauvignon Blanc to be precise — that inspired him to become a winemaker.
"For our palate now, I'm sure that 1989 sauvignon blanc would look a little simple and herbaceous, as we've improved the knowledge of our land, viticulture and winemaking," he noted. "The wine styles have evolved enormously over that time. The bar continues to be raised here and around the globe and this event aims to celebrate that fact."

Secrets of sauvignon's success
Just what makes our sauvignon so special is a question that's been the subject of considerable scientific scrutiny in the past decade. Wine sensory scientist, Dr Wendy Parr of Lincoln University has been involved in defining the characteristics of our styles through sensory trials spanning local and international examples.
Her results confirm the typical Marlborough sauvignon is considered to have both green and fruity notes and a "fresh/zingy" character. However, in recent years perceptions have been changing, with tasters regarding green characters as less desirable, the stony quality described as "minerality" increasingly acceptable and more interest in complexity.
Parr also investigated regional differences. Within Marlborough itself, examples from the Awatere Valley were identified by their greener profile, those of the Brancott Valley as being fruitier, with Rapaura between these spectrums. Head overseas, and the examples have less of the green character and fruitiness seen in our wines.
"It's methoxypyrazines and thiols that make Marlborough sauvignon blanc so distinctive," says Dr Jamie Goode, British wine writer and author of The Science of Sauvignon Blanc of the organic compounds found at particularly high levels in New Zealand examples. Methoxpyrazines provide the herbaceous notes, while a number of different thiols account for the passionfruit and "cat's pee" character.
New Zealand's high UV levels could be why our sauvignons are so well-endowed on the thiol front, Goode suggests. Some vineyards also seem to produce more than others, as do certain vintages, with machine-harvested grapes possessing levels 10 times that of their hand-harvested counterparts.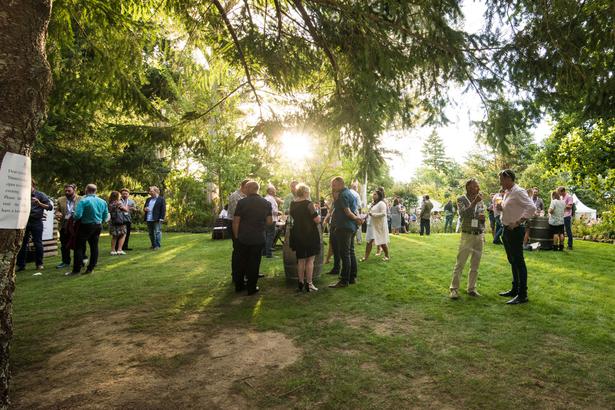 Toasting Success with International Sauvignon Blanc Celebration. Picture / Supplied.
The world of blanc
Homegrown sauvignon has been a hit with local wine drinkers, but it's also going off around the globe. In Australia, sauvignon, much of it hailing from our shores, is the number one variety with wine drinkers. In the important UK market, NZ sauvignon has a 39 per cent share of the sauvignon sector and sells for higher than the average wine in retail, according to UK-based Master of Wine David Gleave.
In the 12 million-case sauvignon blanc market of the States, our examples account for a significant proportion and are well placed for further growth, says American wine communicator, Leslie Sbrocco.
Even in red wine-focused China, where it has less of a foothold, wine critic Young Shi suggests that with its Chinese name, which translates as "everlasting lovesickness", it should become an increasingly beguiling proposition.
Our sauvignon blancs are riding the wave of growing global popularity that has seen it become the third most planted white grape in the world.
Though our area has risen the most rapidly, between 2007 and 2011 plantings have also grown by 30 per cent in its heartland of France, which, with over 26,000ha, remains the world's largest source.
It's been gaining ground in other countries as well, such as South Africa, Chile, Australia, and the US, whose sauvignons were show-cased at the event. In a strong field of international examples, France showed well with the elegant and flinty versions of Loire producer, Henri Bourgeois, one of the only foreign producers presented with wines available here and which has a foot in both sauvignon camps through its ownership of Clos Henri in Marlborough. Austria, where the first sauvignon conerence was held, in 2008, also saw its sauvignon well represented in the pure, minerally examples of Tement.
A standout from the New World was Chile, another up-and-coming centre of sauvignon, which has seen both plantings and quality skyrocket since it planted the true variety in the cooler sites it suits. The taut and fine expressions of Casa Marin offered proof that if any fellow newcomer is going to make examples to rival our own, it's Chile.

Developing through diversity
Though speakers urged our winemakers to continue pursuing the country's winning sauvignon formula, there were some words of caution. Gleave highlighted the possibility of "sauvignon fatigue", citing the example of international sommeliers recommending diners move away from New Zealand sauvignon to try something "new and more exciting". Jane Thomson, the founder of Australia's Fabulous Ladies' Wine Society, highlighted how the uncomplicated nature that attracted so many drinkers to the variety — many of whom are women — had also seen it being rubbished as "bitch diesel" or "cougar juice" across the ditch.
But New Zealand seems ready to rise to this challenge, through the growing quality and diversity of its sauvignon in recent years, which was clearly shown at the event.
Subregionality is starting to take off in Marlborough. Though many of its sauvignons are blended from across the whole region, more are now emerging from its smaller sub regions. These leave a distinctive stamp on the grape: from the classic pungency of the Wairau, to the texture of the Southern Valleys and the tomato stalk and mineral combination of Awatere.
With representatives from Nelson, Central Otago, Martinborough, Hawkes Bay and even Waiheke at the event, it's clear Marlborough isn't the only New Zealand region producing sensational sauvignon.
Head across the hills to Nelson and you'll find examples that share its fresh profile, but with more restraint. In the cool climes of Central Otago, they can be taut and minerally, while in warmer areas such as Hawke's Bay and Waiheke, they tend to the more tropical and respond well to sensitive use of oak.
And though it's the passionfruit-packed drink-now style that has the most popular appeal, it's not everyone's sauvignon Shangri- la, as was evidenced in the exciting selection of alternative styles shown at the event's "Wild Bunch" tasting.
This included an impressive line-up of older examples that proved quality focused examples made in appropriate styles can age. There were also current vintages of wines whose focus was on texture and complexity, rather than upfront fruit, something achieved through vineyard sites, viticultural practices and winemaking approaches such as using native yeasts and barrel fermentation.
"If we turn the volume down on some things, we might be able to hear what else is going on in sauvignon blanc," proposed Framingham's Andrew Hedley.
And these less mainstream styles certainly had a lot to say for themselves, often with the intriguing voices of specific sites as more winegrowers seek to make individual expressions from single vineyards or even a few special rows of vines.
This was something welcomed by keynote speaker Kramer, who felt Marlborough was having something of a "mid-life crisis" after moving from its first 40 years of success based on "luck beats talent" into phase two, when "talent beats luck".
While acknowledging the importance of the "big guys" in continuing to take sauvignon to new drinkers, the talent appears poised to take over as sauvignon's powerhouse follows "the trajectory of all fine wine regions: from the general to the particular".
New Zealand may have taken a while to host a major event in honour of its most important variety, but the timing was felicitous. Our sauvignons have never been so sophisticated, sexy and quite frankly, thrilling — which is something we should certainly celebrate.

• Jo's top sauvignon selections will be revealed in Viva's annual Top 50 Wines. See next week's issue.

INTERNATIONAL SAUVIGNON BLANC DAY
People around the world will be toasting to the joys of sauvignon on the seventh annual Sauvignon Blanc Day this Friday. Festivities fittingly kick off in New Zealand, where shops, bars and restaurants will host themed events. The party then continues across the world, where our local examples will be the focus of events from London to Hong Kong, New York to Brazil. Fans are encouraged to share their sauvignon experiences throughout the day via social media using the hashtags #SauvBlanc and #nzwine.
• Jo Burzynska attended the International Sauvignon Blanc Celebration 2016 as a guest of New Zealand Winegrowers.
Share this:
More Food & Drink / Wine & Drink