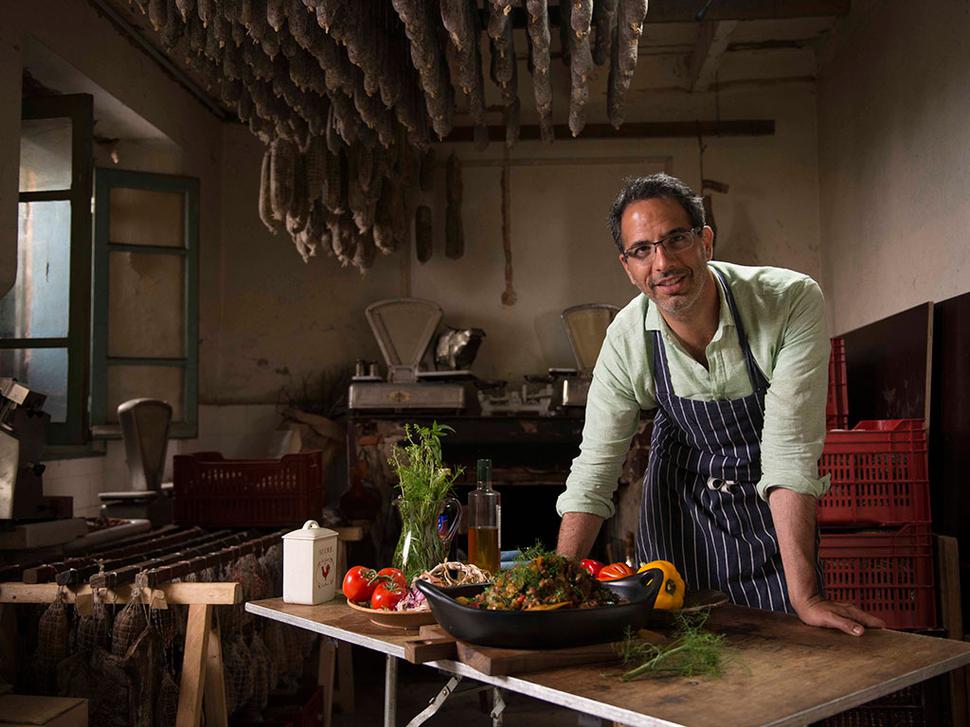 Yotam Ottolenghi's Colourful Journey
London chef Yotam Ottolenghi talks us through his Mediterranean travels
Thursday May 21, 2015
Yotam Ottolenghi, celebrity-chef-champion of Middle Eastern cuisine and passionate vegetable advocate, can't stop cooking. He has "a huge appetite" for his work, he tells us, and has just opened the most recent Ottolenghi deli and a new fast food venture, Sesame.
The chef-patron of Nopi restaurant and three other Ottolenghi delis also has TV shows and cookbooks to juggle — last year's bestselling Plenty More will be followed up in September by The Nopi Cookbook, written with head chef Ramael Scully. For those not visiting London — nor the Mediterranean or Middle East — anytime soon, Ottolenghi's Mediterranean Feast screens for the first time in New Zealand from today. The colourful journey sees the chef travel through Morocco, Istanbul, Tunisia and Israel, gathering recipes and stories in his usual charming manner. We asked him how he found the experience, and what he is cooking right now.

Tell us about some of the memorable moments that occurred while filming Ottolenghi's Mediterranean Feast.
There were so many. It was all about the people and the food and the journeys we went on to source our ingredients. Fishing with local lobster fishermen on the northwestern coast of Sardinia, and then cooking our freshly-caught lobsters in a fire of dried reeds in a deserted cove. Or rising at dawn in the mountains to help milk the goats, followed by a breakfast of freshly made ricotta. Collecting honey from hives in Corsica or delighting in the sweet oranges, tomatoes and ensaimadas (pastries) of Mallorca.

What did you love about the different cultures and cuisines?
I loved being reminded of the specificity of food: how the difference in landscape influences the produce of each island and the flavour of their food. The effect of the "maquis" in Corsica, for example, the highly-scented wild herb shrubs which grow everywhere. All the pigs, bees, goats and cows foraging on the hillsides feed on the maquis which, in turn, flavours the honey, cheese and charcuterie.

What similarities did you notice between your native Israeli cuisine and the countries you visited?
There was a democracy in the spread that was put on the table — lots of dishes to be shared and sampled, rather than one "main" dish supported by a couple of subservient sides. A real celebration of and equal role given to the vegetables in season, which I'm a big fan of.

What motivates you to keep evolving in your work?
I love what I do and have a huge appetite, quite literally, to keep doing it. It's all essentially about the same thing: making food that I love to eat with people I have a lot of fun with. I'm getting better at switching off than I used to be — I used to be a complete workaholic but weekends, for example, are now precious family time.

Talk us through a regular "work day" for you.
I live close to the test kitchen so it's either a short walk or even shorter drive to work. The test kitchen is one of three arches we have under the train lines in Camden (the bakery is one side of us and the webstore is the other) so we hear the rumble of the trains overhead throughout the day. There are generally three or four of us in the kitchen. I'm at my computer and jumping up and down the whole time, testing and tweaking the recipes that are being cooked.
We tend to test about five a day. A recipe never sneaks under the radar or gets through unless I am totally happy with it. It has to be something I think is completely delicious and a little bit special. I tend to head off around 4pm to be home for family supper and bedtime and then, more often than not, I'll head out again in the evening to have a bite of supper at one of the delis or restaurants.

You have The Nopi Cookbook coming out in spring. Can you tell us about this?
It's different to my previous books. The recipes are adapted from Nopi restaurant dishes, so some of the processes are more involved. There is something for everyone, though, whether you want a quick-(ish) brunch or a full-on restaurant-style dinner party.

Why do you think your restaurants, books and TV shows have resonated so widely?
People have a real appetite to seek out and try new things, as well as being encouraged to see familiar ingredients and dishes in a new light. I love to do both of these things. People also tell me that my recipes actually work, which helps build people's trust and confidence.

What current dining trends do you not get?
Any trend which involves the exclusion of a particular food group purely on the basis of some (questionable) health claim or diet drives me absolutely bonkers.

Do you get time to cook for yourself at home? 
Not as much as I used to. Weekday suppers are usually pretty simple — bulked up leftovers from the day's dishes in the test kitchen — but we like to make a celebration out of weekend brunches and lunches.

What's in your fridge right now?
Leftover pea and ricotta fritters, kohlrabi kimchi, cucumber and mint soup and a chicken with okra dish that is on test. There seems to have been a lot of okra recently.

• Ottolenghi's Mediterranean Feast screens Thursdays at 9.30pm for four weeks on Food TV.
Share this: