A butter bean and cauliflower salad from Petite Kitchen
Eleanor Ozich of Petite Kitchen serves up a crunchy, creamy salad.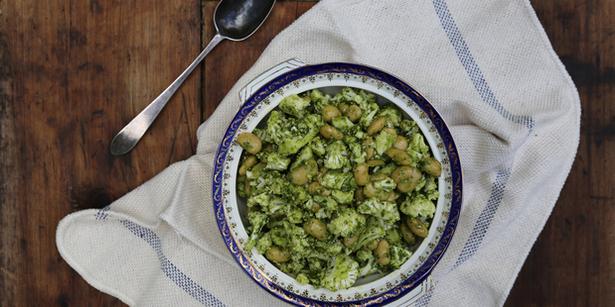 Thursday Nov. 6, 2014
I adore the vibrant flavours and textures in this salad. Raw, crunchy cauliflower florets, cut into the perfect little bite-size pieces; soft and rich butter beans, tossed with a brilliantly fragrant pesto sauce. Good-quality extra-virgin olive oil makes all the difference here. I have used basil for my home-made pesto, although you could use a mix of Italian parsley, oregano, mint or thyme. 

BUTTER BEAN AND CAULIFLOWER SALAD WITH A PUNCHY PESTO SAUCE
Serves 4 as a light lunch, or 6 as a side.
• ½ cup nuts of your choice
• Two large handfuls of fresh basil
• Juice of two lemons
• ½ cup extra-virgin olive oil
• Handful of grated Parmesan
• Sea salt
• Pepper
• 2 cans butter beans, drained
• Half a head of cauliflower, sliced into very small florets
To serve:
• 2-3 large handfuls of salad greens
• A drizzle of extra virgin olive oil
• Juice of 1 lemon
• Sea salt
• Pepper
1. To make pesto, add nuts, herbs, lemon juice, olive oil, Parmesan and a pinch of sea salt and pepper to a food processor or blender. Blend until a pesto-like consistency is reached.
2. Combine pesto, butter beans and cauliflower in a medium-sized bowl. Mix until nicely incorporated.
3. Add fresh salad leaves into a bowl, drizzle with a little extra-virgin olive oil, lemon juice, and a good pinch of sea salt and pepper. Toss lightly and serve. 
Share this:
More Food & Drink / Recipes