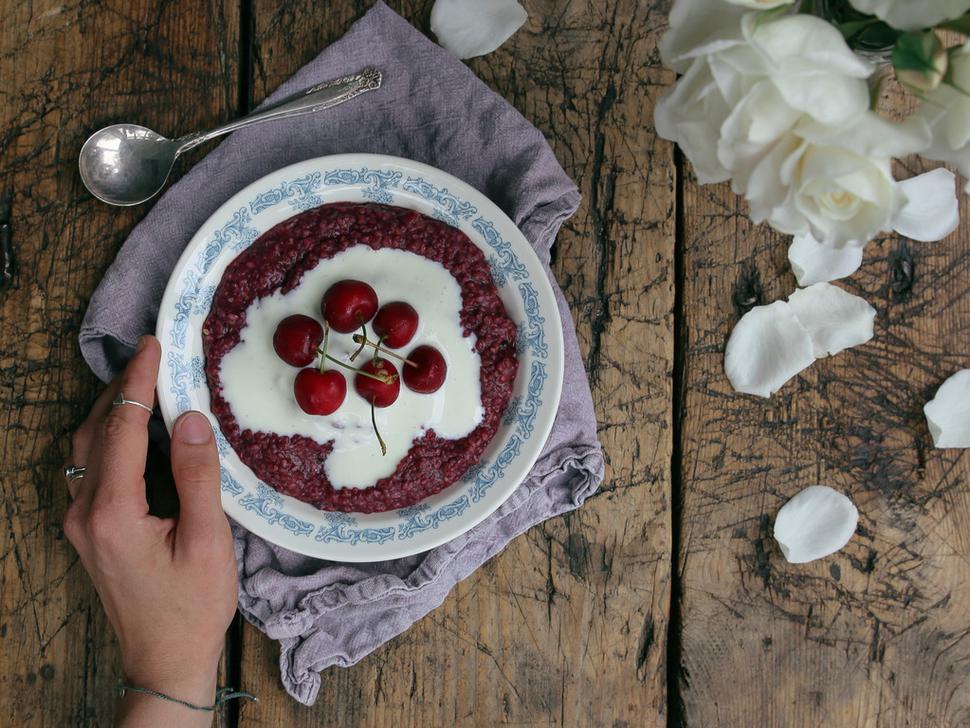 A nourishing breakfast from Petite Kitchen
Eleanor Ozich of Petite Kitchen creates a delicious spiced red berry oatmeal with a hint of rose.
Thursday Nov. 27, 2014
Today I share with you an absolutely gorgeous recipe for a spiced red berry oatmeal. This nourishing breakfast is not wildly sweet, and has the perfect hint of warming spices.
I have made this version with buckwheat for a slightly earthy flavour, although you could use traditional oats or quinoa flakes if you prefer. Wonderful topped with a dollop of thick and creamy natural yoghurt and a drizzle of honey or pure maple syrup. Be sure to soak the buckwheat or oats overnight to make it a little easier on your digestive system.

SPICED RED BERRY BUCKWHEAT OATMEAL WITH A HINT OF ROSE
Serves 2-3
• 1 cup buckwheat, soaked overnight in water
• 1½ cups fresh or frozen berries
• 1 tsp pure vanilla extract
• 1 tsp allspice or cinnamon
• 1 tsp rose water* optional
• 1 cup pure apple juice
• 1 cup water
• Pinch of sea salt
To serve:
• Natural yoghurt (or coconut yoghurt to become dairy free)
• Honey, pure maple or brown rice syrup for drizzling
• Fresh fruit for topping
1. Rinse the oats, and combine in a saucepan with the berries, vanilla, spices, rose water, apple juice, water and sea salt. Place over a medium heat.
2. Bring to a soft boil, then simmer on low, while stirring until a porridge-like consistency is achieved. This usually takes around 4-5 minutes.
3. Leave uncovered for 5 minutes, and then divide between 4 bowls.
4. Top with a dollop of yoghurt, a drizzle of honey and fresh fruit for a wholesome breakfast.
Share this: