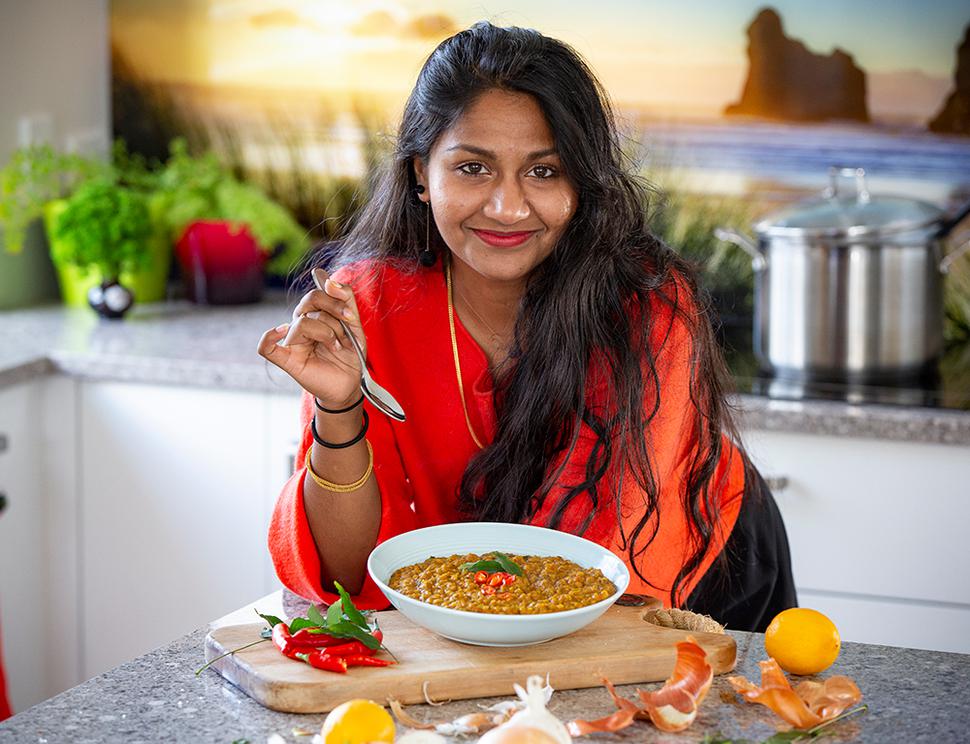 Actor Kalyani Nagarajan Shares Her Top Spots To Eat & Drink In Auckland
The star of Mrs Krishnan's Party shares her top picks, from Satya Chai Lounge's epic spiced negroni to fine-dining Indian cuisine at Sidart
Tuesday Aug. 6, 2019
Kalyani Nagarajan knows how to cook a mean pot of dhal.
The actor grew up making the South Indian staple, and, since graduating from Toi Whakaari in 2015 and working both locally and internationally with one of our most successful theatre companies, Indian Ink, returns home with the second season of the sell-out show, Mrs Krishnan's Party, where she cooks dhal live onstage.
READ: Cotto's Johnny Price Shares His Top Spots To Eat & Drink In Auckland
The highly theatrical and immersive show is a loose follow-up to the company's most famous play, Krishnan's Dairy, and seats the audience around the dining table and kitchen bench in the back room of the dairy, where Mrs Krishnan, played by Kalyani, is contemplating selling her shop.
"We want people to feel like they are in this woman's house," says Kalyani. "You get to share a meal with her, along with her tragedies and happy moments."
Kalyani takes charge of the cooking; a massive pot of dhal and rice and enough for about 200 people.
"I've made dhal probably more than 100 times so I wasn't worried, but there have been sliced fingers, undercooked dhal, and rice spilt over the seasons," she says.
"I think the elements keep the show alive. Cooking is a great tool to keep the actors present in the room with the audience."
After the show, the audience is invited to stay and share the cooked meal in the theatre space. Kalyani says it's a way to build community, and can promise no one will leave hungry.
"In a lot of local theatre you watch the show then go and have a wine and forget about it. With this, almost all of the audience stays to eat and talk to strangers. We soon had people bringing containers to pile up and take away."
READ: Coffee Pen's Yas & Fumi Hisai Share Their Top Spots In Auckland
Mrs Krishnan's Party will tour Auckland and Tauranga, then head overseas to tour 15 American cities. Kalyani says dining out is top of the agenda while in America.
"For me, the best part of the travel is the food. About 90 per cent of my time is dedicated to figuring out exactly where to go."
• Mrs Krishnan's Party is running until August 18 at Auckland's Q Theatre. Book tickets at Indianink.co.nz
KALYANI'S FOOD DIARY
Your signature dish? 
I've always loved being in the kitchen and have worked in hospitality my whole life. I'm keto now so I've had to change some of my dietary intake, although I still make exceptions. I make paneer curry, a prawn and tofu ribbon salad, and eggplant parmesan. Larb is my signature. If you come over for dinner I will cook larb for sure.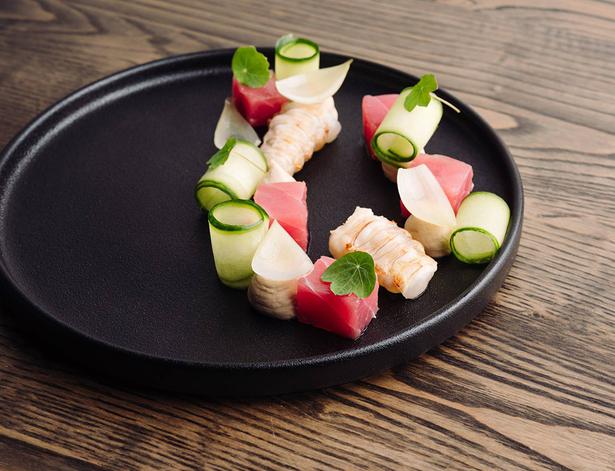 Kalyani reccomends the elevated Indian cusine at Cassia. Photo / Supplied

A fine-dining experience?
My all-time favourite restaurant is Cassia. Sidart has made Indian food more than just takeaways, he's made it fine dining. Sammy [Akuthota] has done the same with Chai Lounge. It's not just cream, sugar, and spice. It's such a delicate cuisine. There's tanginess in the tamarind, spiciness in the chilli, and crunchiness in the pani puri. I think Sidart has elevated Indian cuisine in New Zealand so people respect it more and respect the culture more. It represents us in a beautiful way. 5 Fort Ln, Auckland CBD

Go-to-takeaway?
Paradise in Sandringham always, but there's also an amazing Sri Lankan place, St Anthony's Food, right next door. They do what's best described as 'beer snacks' because you get right in there and eat it with your hands. Order the vadai which is a South Indian deep-fried lentil snack — it's gorgeous. 585 Sandringham Rd, Sandringham

Best spot for cocktails?
Caretaker for a twist on espresso martini; Annabel's Wine Bar is a stunning place to have a perfect negroni; Freida's for a beer or glass of red wine. Caretaker, Downstairs, 40 Customs St, Britomart Pl. Annabel's, 277 Ponsonby Rd, Ponsonby. Frieda Margolis, 440 Richmond Rd, Grey Lynn.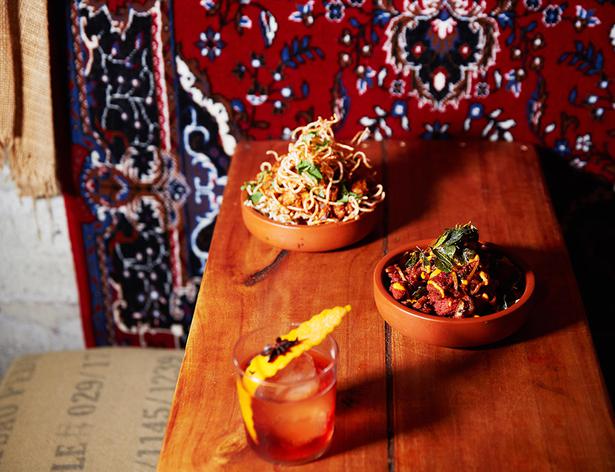 A tasty bite? 
Satya Chai Lounge every time. I get the kurryage fried chicken, vegetable manchurian dumplings, cabbage 65, and dahi puri. And to drink, the spiced negroni is the bomb. The gin is infused with cardamom, cloves, cinnamon, and kaffir bark. It's so pungent, flavourful and dangerous because you could easily drink about eight, it's that good. 271 Karangahape Rd, Auckland CBD
Share this:
More Food & Drink / Features & Profiles