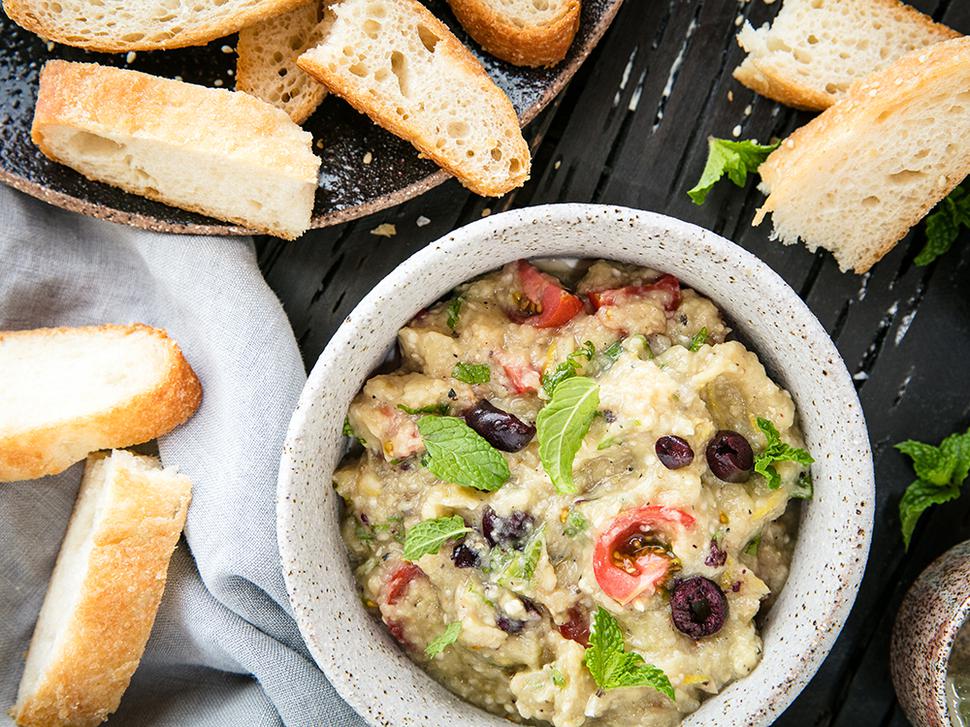 Addictive Aubergine Dip
A tasty twist on baba ganoush with fresh chopped tomatoes and olives
Friday April 6, 2018
Aubergines are simple to prepare. Today's take on baba ganoush includes fresh, chopped tomatoes and olives. Serve it with grilled chicken for a meal, on crackers with a glass of wine, or add to a salad instead of dressing.
AUBERGINE DIP 
Serves 4-6
1 aubergine
1 clove garlic, crushed
2 Tbsp lemon juice
1 Tbsp olive oil
¼ cup Greek-style yoghurt
Salt and freshly ground pepper to taste
2 small tomatoes, quartered
¼ cup Kalamata olives, roughly chopped
¼ cup chopped mint
Fresh bread to serve
1. Over a flame on a gas ring or barbecue char the aubergine on all sides. Allow it to cool enough to handle, split down the middle and scoop the centre out into a bowl. Discard the skin.

2. Add the garlic, lemon juice, oil and yoghurt. Mash with a fork and season to taste.

3. Stir through the tomatoes, olives and mint. Season with salt and pepper.

4. Serve with freshly sliced bread.
Share this:
More Food & Drink / Recipes