Al Brown's Cream of Jerusalem Artichoke Soup Recipe with Sauteed Crab
Equally as delicate as it is rich, Al Brown shares his silky-smooth soup recipe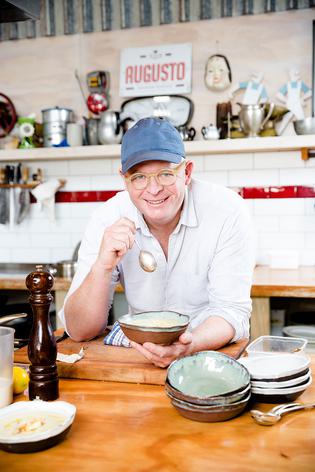 "Equally as delicate as it is rich, this soup is simply dreamy to eat. I'm a massive fan of the hero products in this dish, Jerusalem artichokes and fresh-picked crab meat; both have a natural sweetness, and the artichokes also bring a slight hint of nuttiness to the equation," says Al Brown, the man behind Auckland favourites Depot, Best Ugly Bagels and Federal Delicatessen.
"I know peeling Jerusalem artichokes is a bit of a pain, but it's worth it in this case, delivering a delicious white silky-smooth soup. You will need to buy 1.5kg of the artichokes as you'll lose about 200 to 300g in the peeling. No crab? Scallops, crayfish or even just a couple fillets of snapper or the like will also work perfectly well."
CREAM OF JERUSALEM ARTICOKE SOUP WITH SAUTEED CRAB
Serves 6 to 8
Step 1: Artichoke Soup
50g salted butter
1 cup finely diced celery
1 cup finely diced shallots
1½ Tbsp finely diced garlic
Fine zest of a lemon
1.2kg Jerusalem artichokes, peeled and roughly chopped
1 litre chicken stock
1 cup cream
Juice of one lemon
Few drops of Kaitaia Fire hot sauce
Flaky sea salt and fresh black pepper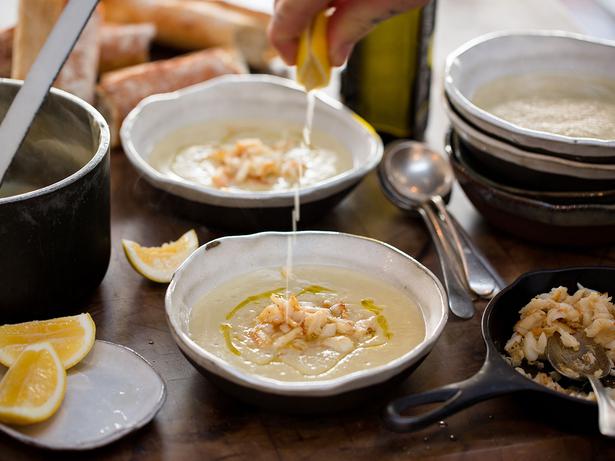 1. Place a large heavy-bottomed saucepan on a low(ish) heat. Add the butter followed by the celery, shallots, garlic and the fine zest of a single lemon. Sweat for 20 minutes, stirring occasionally. You want the vegetables soft and translucent without any colour.
2. Now add the peeled artichokes along with the chicken stock. Bring up to the boil then lower the heat to a slow-rolling boil. Cook for 30 to 40 minutes until the artichokes are soft and falling apart. Remove from the heat, and place in a liquidiser. Blitz until smooth. Pass the soup through a fine sieve into a clean saucepan.
3. Place back on low heat. Add the cream and the juice from half a lemon. Season with a few drops of hot sauce along with flaky sea salt and fresh black pepper. Depending on the size and juice quantity in your lemons, you may need to add a little more. Just taste as you go. If not serving immediately, refrigerate until required.
READ: Al Brown Partners with Seafood Delivery Service
Step 2: Cooking and Serving
Cream of Jerusalem Artichoke Soup
Butter
500g picked crab meat
Al Brown Lemon and Fennel Oil
Fresh black or white pepper
1. Heat up the soup in a suitable-sized saucepan over a low heat.
2. In a non-stick pan add a little butter. Squeeze out any crab stock into the soup, then add the crab meat to the pan. Saute to heat through.
3. To serve, divvy up the soup into warmed bowls. Add some crab meat to each dish, drizzle over a liberal amount of the lemon and fennel oil, then a grind of fresh pepper to finish. Serve now.
Share this: