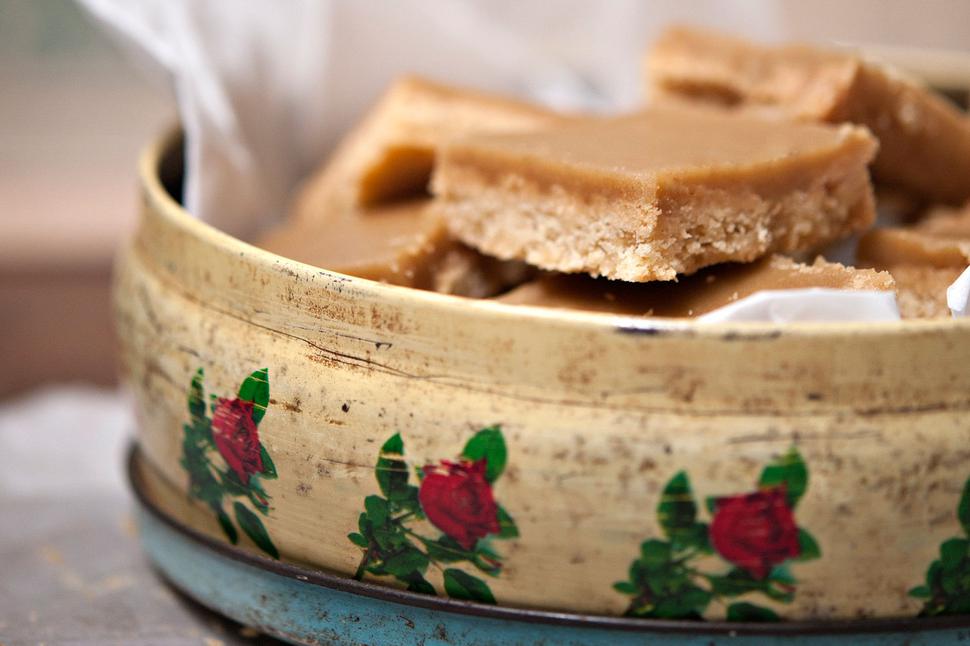 Al Brown's Mum's Ginger Crunch Recipe
Chef Al Brown shares his mum's recipe for ginger crunch
Wednesday Nov. 9, 2016
I'm a proud New Zealander and I'm proud to tell stories about the country through its food. Food doesn't have to be perfect; it's people and place that create the memory and those are the special ingredients that make it taste so good. A recipe is like a culinary love letter – you keep passing it on. Someone will take my recipe and add something to it and then it will become their recipe and then they will hopefully pass it on. My mum's ginger crunch will be passed on and who knows, in a couple of years' time, it might be being made in Canada or wherever; there's something inherently wonderful about that. — Al Brown, chef, restaurateur and author
AL BROWN'S MUM'S GINGER CRUNCH
Makes: 20
Prep time: 8 mins
Cook time: 25 mins plus setting
Skill level: 1 (Easy)
Base
175 g butter
¾ cup sugar
1¼ cup plain flour
1½ tsp ground ginger
1½ tsp baking powder

Icing
100g butter
1 cup icing sugar
2 Tbsp golden syrup
4 tsp ground ginger

1. Pre-heat the oven to 180C. Grease and line a 25 cm x 20 cm baking tin.

2. Cream butter and sugar together until pale. Sift in flour, ginger and baking powder and mix until combined. Press evenly into lined tin.

3. Bake for 20-25 minutes until base is firm to the touch. Remove from the oven and gently level out the base with the back of a spoon. Ice while the base is still warm.

4. Heat icing ingredients in a small saucepan. Stir until melted and combined.
5. Pour the icing over the warm base and spread out evenly. Leave to cool in the tin before cutting into squares.
TIP It is best to cut this slice in the tin, just before the icing is fully set, using a warm, wet knife.
Extracted with permission from Made With Love: 100 of the World's Best Chefs, Cooks and Food Artisans and the Food They Make for the People They Love (Published by PQ Blackwell, $49.95). All the royalties from the book go to the Nelson Mandela Foundation who will use them to develop and support community agricultural and food projects in Africa.

Share this:
More Food & Drink / Recipes