Al Brown Partners With Seafood Delivery Service
Leading restaurateur Al Brown's partnership with Freshcatch aims to educate New Zealanders about the 'jewels in our oceans'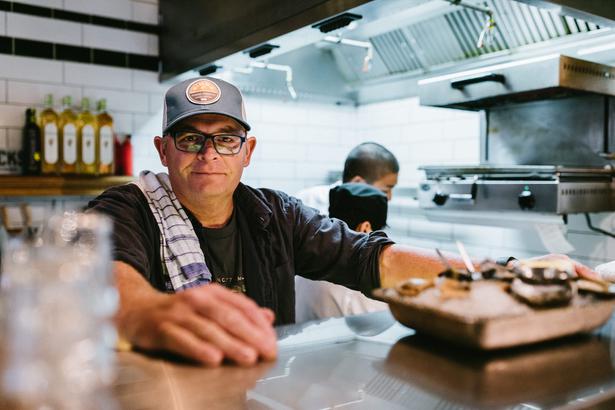 Wednesday April 5, 2017
Restaurateur and passionate fisherman Al Brown launched his latest initiative in Auckland last night — a partnership with seafood delivery service Freshcatch.
The "fresh, sustainable fish market that comes right to your doorstep" offers daily dispatches of kaimoana to the greater Auckland area six days a week.
The fish boxes are grouped together in taste and texture so they can be cooked in the same way, though there is a specific box for Mt Cook Alpine Salmon.
The two main options are Premium Catch (the finest fish from the day's catch, from $30) and Al's Pick (less familiar species, from $20).
"Snapper, hapuka and blue cod are beautiful fish that are wonderful to eat, but so are moki, warehou and yellow-eyed mullet," Al told guests at last night's launch.
A range of "one-off boxes" are also available, including Raw Deal (raw fish for ceviche, tartare and sashimi), The Shuck Club (freshly shucked live oysters and clams), Bits and Pieces (the parts that are often thrown away such as bellies and wings), and Fish Now (more common varieties that can be ordered up to 11pm the night before for delivery the next day). Customers can order weekly or delivery boxes, and choose portion sizes and which day they want them delivered.
At the launch the chef spoke of his relationship with the ocean and the "precious jewels" that come from it.
"I've had a strong connection with the sea for a long, long time," he said. "Every summer, for two weeks, like so many Kiwis we would pack up our old wooden caravan and take it across to Castlepoint and stay in the campground. For those two weeks, everything revolved around the ocean and, more than that, everything would revolve around low tide.
"Us kids would fossick in the rock pools for paua and kina, then race back and we'd still have time to dig pipis on the beachfront. At night we'd go out with our fathers with spotlights and spear flounder.
"On reflection, those were my first cooking lessons as well."
On the Freshcatch website, Al shares recipes and tips and tricks on how to cook with the various species of fish.
"It's mainly about trying to get people to understand how precious fish are," he said. "If you look after them all and you understand how to cook them, they're all absolutely delicious."
Visit freshcatch.co.nz
Share this:
More Food & Drink / The Latest