Al Brown's favourite recipe from Depot's new book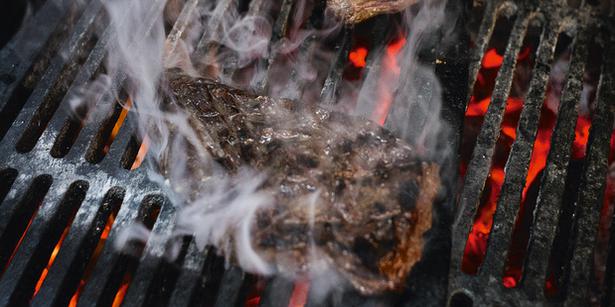 Wednesday Oct. 15, 2014
Al Brown's new cookbook Depot: The Biography of a Restaurant shares the recipe of the restaurant's success, along with every recipe ever served at Depot. Read more about the book here, and read on for Brown's favourite recipe from the book.

SKIRT STEAK WITH HABANERO MUSTARD, TOBACCO ONIONS & ICEBERG WEDGE
Serves 6.
So unappreciated is the skirt, that for many years it was destined for the meat grinder - sacrilege, I say. When cooked over searing coals, no more than a fraction over rare, you will see why this steak has earned such high regard among chefs for its flavour and tenderness. This cut is from the pectoral area of the steer. Ask your butcher for thick skirt steak or hangar steak and ignore his reluctance, for he may be intending to save it for himself - Kyle Street, head chef, Depot
Hands down my favourite dish on the menu, it is served at Depot with the habanero mustard on the side.
The combination of this humble cut of beef, cooked over screaming hot charcoal, served with the hot mustard, the cold iceberg with ranch dressing and the crisp sweet tobacco onions is simply mind-blowing. I just can't go past it when eating at the shop - Al Brown, Depot

Step 1. Habanero Mustard
• ¼ cup roughly chopped shallots 
• 1 teaspoon roughly chopped garlic 
• ¼ cup coriander stem or root, finely chopped
• 3 habanero chillies, seeds removed, roughly chopped
• ¾ cup white wine vinegar
• pinch salt
• 1 tablespoon sugar
• 2 cups American 'ball park' mustard
Step 2. Tobacco Onions
• canola oil for deep-frying
• 1 cup self-raising flour
• 1 teaspoon Spanish smoked sweet paprika 
• 1 teaspoon table salt
• 1 teaspoon cracked black pepper
• 4 cups halved and thinly sliced onion
Step 3. To Cook and Serve
• 1kg skirt steak
• canola oil for brushing
• flaky sea salt and freshly cracked black pepper
• tobacco onions
• ½ iceberg lettuce, cut into wedges
• ranch dressing [use recipe from book or your own variation]
• habanero mustard

STEP 1. HABANERO MUSTARD
In a saucepan, place all the ingredients except the American mustard. Bring up to the boil, then simmer for 30 minutes until the liquid is mostly reduced.
Remove from the heat, cool slightly, then puree with a wand blender to make a paste.
Fold through the American mustard, then refrigerate until required. 

STEP 2. TOBACCO ONIONS
Preheat the oven to 100C.
Heat a deep-fryer to 180C. Or heat a medium-sized saucepan half-filled with oil. The oil is ready when a cube of day-old bread turns golden when fried for about 1 minute.
In a large bowl, stir together the flour, paprika, salt and black pepper. Toss the onion slices in the flour mix, then dust off any excess.
Deep-fry the onions in batches for 3-4 minutes, until golden brown. Drain on paper towels and hold in the warm oven.

STEP 3. TO COOK AND SERVE
Preheat grill pan or barbecue to smoking hot.
Tenderise the skirt steaks by scoring both sides with a sharp knife. Oil your steaks and season well with salt and pepper.
Cook for 2 minutes on each side, then remove from the heat to rest for a couple of minutes.
Slice the skirt steaks across the grain. Divide up the sliced steak between six plates.
Top off the plates with the tobacco onions, an iceberg wedge with a generous amount of ranch dressing, and finish with a schmear of habanero mustard on the side.

• Extracted with permission from Depot: The Biography of a Restaurant by Al Brown. $70, Random House, available from Friday.
Share this:
More Food & Drink / Recipes