Alfred Cointreau on cocktails, cars and liqueur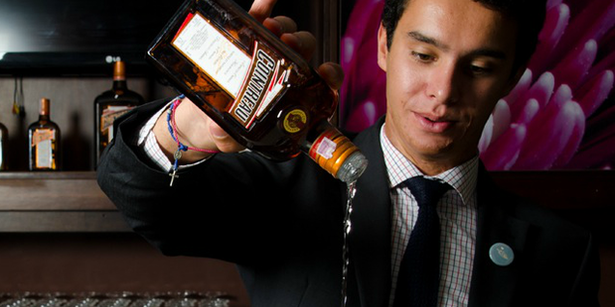 Tuesday March 4, 2014
As the great-great-grandson of Edouard Cointreau, Alfred Cointreau's role as Heritage Manager for the Cointreau brand comes naturally - he is a born and bred cocktail connoisseur.
The 27-year old Frenchman, who'll be in Auckland tomorrow to promote the launch into New Zealand of Cointreau Noir, a blend of Cointreau's iconic orange taste with the luxury cognac Remy Martin, is most looking forward to "fish and chips with beer while watching a rugby match" on his first visit to this country. He will also visit Christchurch as part of the promotional trip.
We asked Alfred to tell us about a few of his favourite things before he touches down on our shores.
Tell us about your favourite cocktail?
That is a difficult question. I think that it depends on what time of the day it is, on my mood, the context and so on. For example, before lunch, a White Lady with Cointreau and gin to whet the appetite is good. After lunch, I like having Cointreau on ice.
For a romantic dinner, a Cointreaupolitan. At a party with friends, a Margarita with Cointreau and tequila - each context has an appropriate drink. I think the better way to ask this question is: if you die tomorrow, what would be your last drink?

Where is your favourite travel destination?
Anywhere I can find a bar. . . just kidding. I do not have one favourite destination, in every culture and country that I visit, I find something that I like. In Latin America, for example, people are very open and warm. It is a country with beautiful landscapes and a young cocktail culture, influenced by the US.
The US is also an amazing country, where everything is huge, big and awesome. It is also the birthplace of cocktails and the place where you can find the best bars in the world. With the same roots but with a touch of craziness, the UK also has a unique cocktail culture.
I visited Asia recently; I was really impressed by the culture, the rituals and their different approach behind the bar, regarding the ice for example. I have never been to New Zealand and Australia. I am very impatient and excited about this region of the world, it is the other end of the planet for me! I have never gone so far away from my birthplace, Angers, so it will be a first for me. Also, all the bartenders I have met told me that this is the place in the world where the cocktails are the best and the bars are the most impressive. I can't wait to see for myself.

What is your favourite designer brand?
Edouard Cointreau! It is not a joke, this man was a ground breaker. He created a square and brown bottle with a crystal clear liquid inside - simple but new and unconventional in the 19th century [when all liqueurs were dark coloured and sold in round clear glass bottles]. And 140 years later the bottle and the recipe still haven't changed, who can say the same today? He also created the first advertising movie [with the Lumiere brothers, the inventors of moving pictures], initiated the teaser concept, the pop-up bar, advertising cars. . . and this man, in France we say "ce Monsieur" was my great great grandfather.
As for other designer brands, I grew up in my father's garage, with different vintage cars. Pininfarina is a very good designer brand. They designed popular cars like the Peugeot 404 but also luxury cars like the Ferrari Testarossa or the Maserati GranTurismo. I love cars; they somewhat remind me of cocktails. You can love them or hate them, but never judge before trying them.

Where is your favourite place in your hometown, Angers, France?
I have two favourite places in Angers. First, the pot still room. Going to the only place in the world where Cointreau distills is something unique. The temperature, the flavours, the light - it's just amazing; it is also my first childhood memory of Cointreau, I first entered this room when I was around 4 years old.
My second favourite place would be my grandmother's bar in her house, which is not far from Angers. It is in this bar that I started to learn, and where my passion for beverage mixing started. It is one of the smallest rooms of the house, yet when families usually like to spend time in the living room, the Cointreau family spends time in their bar.

Do you have a favourite food?
Just like for cocktails, I love to taste, to try and discover new food and new flavours. I can eat anything from rare or cooked meat to fish with a good sauce, vegetables or exotic fruits. My mother told me that when I was young, the school cook would complain about me because I would go up to her at the cafeteria, asking her to taste more kinds of food. Which was very unusual for a child my age!

What is your favourite childhood memory?
The first time I went to the Cointreau distillery. Imagine, you are a young child, quite small and you enter a room with massive pot stills. It's noisy, bright, but also, and I think this is why I remember it, has impressive orange flavours. What is funny though, is that when you work more than three months at the distillery, you can no longer smell the orange flavours because you are so used to them!

- Cointreau Noir will be available in New Zealand from April, $75 for a 700ml bottle.
Share this:
More Food & Drink / Wine & Drink