Almond Butter, Carob and Coconut Truffles Recipe
Try these truffles by Eleanor Ozich with a soft rich flavour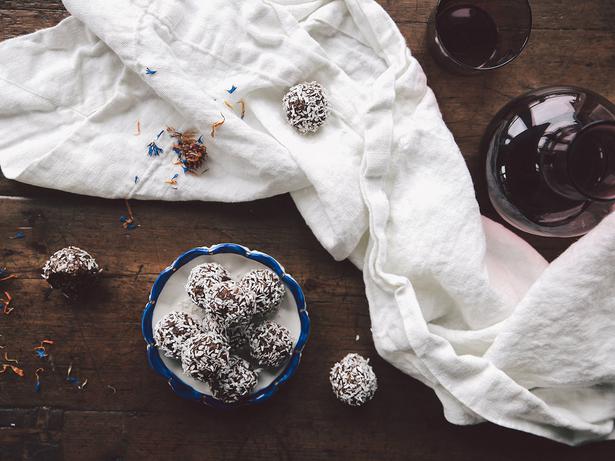 Thursday Oct. 13, 2016
I often keep a jar of nut truffles in the pantry, the kind that are unfussy to make, with a soft, rich texture. In this recipe, I have used carob as I love it's delicate malt flavour, quite lovely paired with a little maple to sweeten. I find the truffles need something to offset their richness, a little shredded coconut adds lightness and beautiful crunch.
ALMOND BUTTER, CAROB AND COCONUT TRUFFLES
Makes about 20
2/3 cup shredded coconut
1/3 cup ground almonds
1/3 cup rolled oats
4 Tbsp nut butter
4 Tbsp carob powder
¼ cup coconut oil, melted
¼ cup maple
a pinch a sea salt
For coating:
½ cup shredded coconut
1. Add all ingredients to a mixing bowl, and mix to combine. The mixture will be a little sticky, pop in the fridge to firm up for ten minutes or so.
2. Using your hands, form the mixture into small balls. Combine the desiccated coconut and lime for coating in a shallow bowl.
3. Roll the balls in the coconut until well coated. Transfer to a plate, then place in the fridge for at least 30 minutes to set.
4. The truffles can be kept at room temperature in an airtight container, but I find they are best kept in the fridge. They will keep for up to a week.
• For more from Eleanor Ozich see petite-kitchen.com 
Share this:
More Food & Drink / Recipes