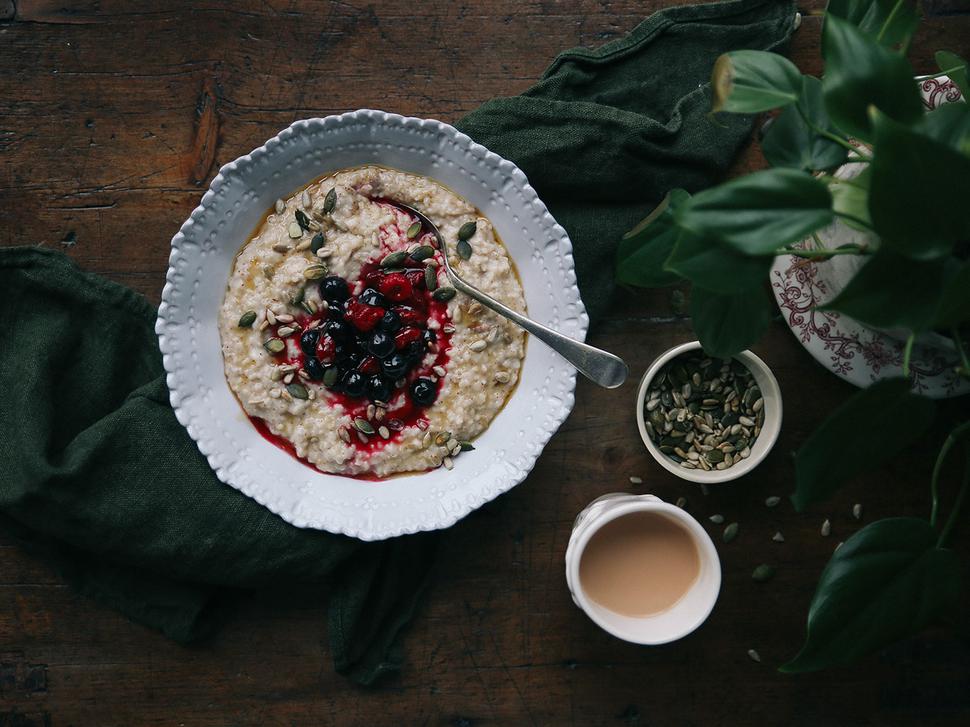 Almond Butter Oatmeal Recipe
Try this delicious oatmeal recipe by Eleanor Ozich
Thursday June 23, 2016
Tender and velvety, these are the kind of oats I like to make on a slow, weekend morning. I place a small red pot of oats on the stovetop and cover with almond milk, there is also a dollop of almond butter and a flick of fine sea salt. Gently, the pot begins to steam, I stir them softly until creamy and thick. Beautifully endearing, topped with toasted seeds and deep, glowing berries.
ALMOND BUTTER OATMEAL RECIPE
Serves 4 
For the berry compote:
1 cup fresh or frozen berries
2 Tbsp honey
¼ cup water
For the oatmeal:
2 cups rolled oats
2 cups water
2 cups almond milk
2 heaped Tbsp almond butter
2 tsp pure vanilla extract
a pinch of sea salt
1. Combine the berries, honey and water in a small saucepan over medium heat. Bring to a soft boil, and simmer for 10-15 minutes until glossy. Leave to cool.
2. Add all oatmeal ingredients to a saucepan. Bring to a soft boil over medium heat, then leave to simmer for a minute or so, stirring until the desired consistency is reached.
3. Remove from the heat and allow to sit for 1–2 minutes.
4. Divide among bowls, then drizzle with berry compote and a sprinkle of toasted seeds if you desire.
5. Any remaining compote can be stored in a glass jar or airtight container in the fridge for up to a week.

• For more from Eleanor Ozich see petite-kitchen.com 
Share this: