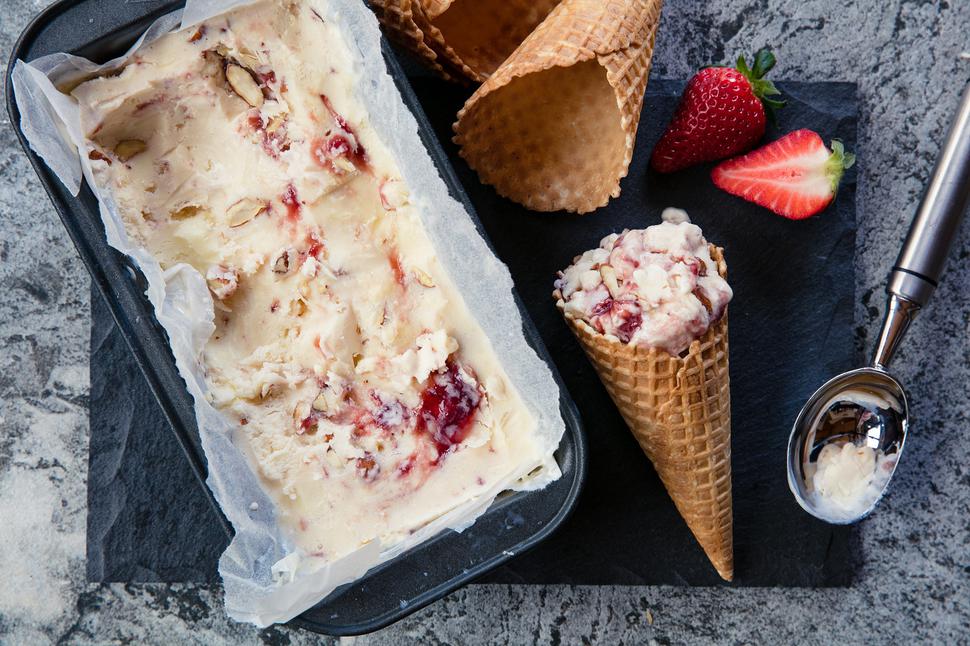 Almond, Mascarpone & Strawberry Gelato
Make like you're in Italy with a scoop (or several) of luscious homemade gelato
Friday Oct. 19, 2018
In Italy, no day is complete without at least one gelato. The ruby red grapefruit was a hit with me, as was the liquorice, but there was a strawberry, nut and mascarpone that I kept going back for. It was made without an egg custard and simply thickened with cornflour; it had more milk than cream. In order to enjoy the full flavour of gelato it should be eaten softened and creamy. Scoop into your favourite cones, sit in the sun and enjoy.
ALMOND, MASCARPONE & STRAWBERRY GELATO RECIPE
Serves 6-8
3 cups whole milk
1 cup cream
½ cup sugar
1 tsp vanilla
1/4 tsp almond essence
3 Tbsp cornflour mixed with 2 Tbsp milk
200g mascarpone
½ cup strawberry jam
3/4 cup roughly chopped toasted almonds

1. Line a 1 litre loaf tin with baking paper.
2. Into a saucepan place the milk, cream, sugar, vanilla and almond essence. Slowly bring to a simmer. Add the cornflour mixture and continue to cook, stirring until just thickened. Remove and allow to cool completely or overnight.
3. Whisk the mascarpone into the custard until completely smooth. Churn in an icecream maker until thick and creamy. Add the strawberry jam and nuts for the last 30 seconds so they just swirl through. Pour into the loaf tin, cover and freeze.
4. Before eating, remove from the freezer for 15 minutes or until soft and creamy.
5. Spoon into your favourite waffle cones.
*If you don't have an ice cream maker, beat until light and fluffy, freeze and repeat when half frozen.
Share this: