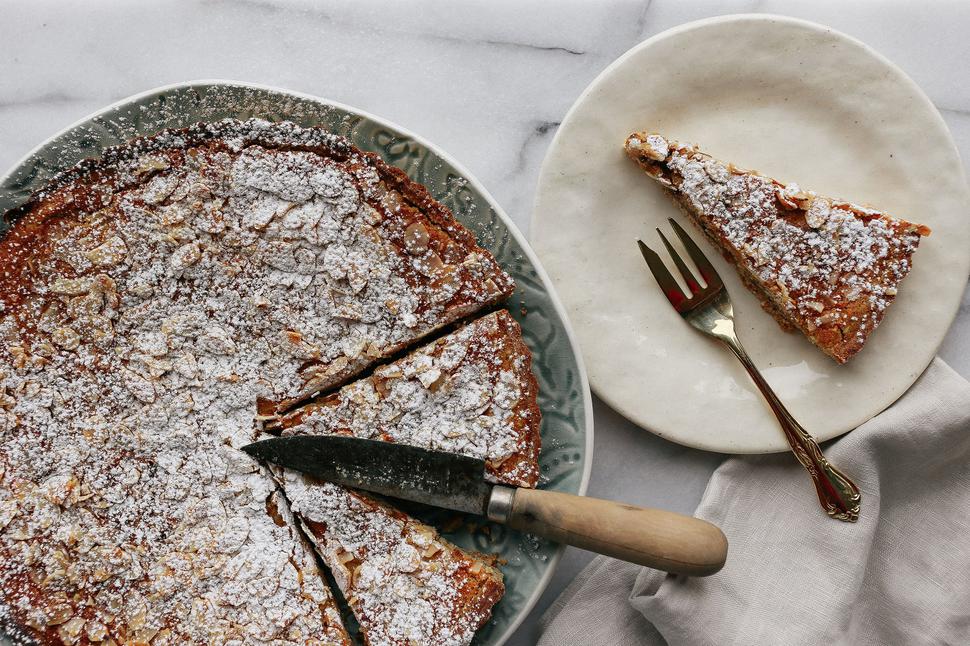 Almond Tart With Ricotta, Orange & Cinnamon
This rustic almond tart is simplicity at its most delicious
Thursday Oct. 24, 2019
This rustic almond and ricotta tart is robust in flavour, yet not overly sweet. Scented with orange zest and honey, its filling is soft and buttery with surprising little bursts of juicy raisins. Best served with thick Greek yoghurt or vanilla-specked icecream.
ALMOND TART WITH RICOTTA, ORANGE & CINNAMON RECIPE 
1 1/3 cups spelt flour,
1 cup ground almonds
100g chilled butter, cubed
½ tsp sea salt
1 free range egg yolk
2 tbsp runny honey
2 tbsp cold water
Filling
1 cup ricotta
70g butter, melted
2 free range eggs
1/3 cup runny honey
2/3 cup ground almonds
2/3 cup raisins, soaked and then drained well
Zest of one orange
1 1/2 tsp cinnamon
1 cup slivered almonds
1. Heat the oven to 180C and grease a loose-based tart tin.
2. To make the pastry, add the flour, ground almonds, butter, and sea salt to a food processor and process until the mixture resembles breadcrumbs. Add the egg, honey and water, one tablespoon at a time, until it comes together like a dough.
3. Place the dough on a floured surface and roll out until you have a large circle, about ½ cm thick. Transfer to the tart tin and press the dough into the edges evenly. Trim the edges.
4. Prick the pastry all over with a fork and bake in the oven for 10 minutes, or until lightly golden. Remove from the oven, and allow to cool while you make the filling.
5. Whisk together the ricotta, butter, eggs and honey until well combined. Fold in the ground almonds, raisins, orange zest and cinnamon, then pour the mixture into the pastry case and smooth out evenly.
6. Scatter the slivered almonds on top and bake in the oven for 20-25 minutes, or until golden and cooked through.
7. Allow to cool in the tin before carefully transferring to a plate. Dust with icing sugar if you desire.
Share this: