Almond Tarts Recipe with Vanilla Yoghurt, Mascarpone & Fruit
As healthy naughty treats go, these are moreish winners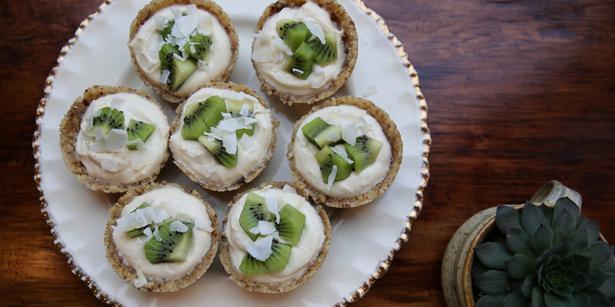 Thursday June 12, 2014
These delightful little almond tarts require no baking and are wonderfully simple to prepare. The filling is a marriage of natural yoghurt, mascarpone and vanilla bean. Perfectly creamy, yet slightly tangy. You could top the tarts with almost any type of fresh fruit. I love to use fresh berries, kiwifruit or feijoa.

ALMOND TARTS FILLED WITH VANILLA YOGHURT, MASCARPONE AND FRESH FRUIT 
Makes 12 muffin size tarts

For the tarts:
2 cups almond meal (or ground nuts of your choice)
6 Tbsp extra-virgin coconut oil
2 Tbsp honey or maple
A pinch of sea salt
For the filling:
¾ cup natural yoghurt
¾ cup mascarpone cheese
1 Tbsp honey or maple
1 tsp vanilla extract
Fresh fruit finely sliced for decorating.
¼ cup coconut chips or shredded coconut.
1. In a food processor, add the tart ingredients, and process until well combined.
2. Press evenly into 12 greased muffin tins, and place in the fridge or freezer for at least 2 hours to set. I like to use silicone muffin moulds, as I find they are easier to pop out. Alternatively, you could use muffin cases in the tins to prevent them from breaking.
3. Combine filling ingredients, and mix well. Divide evenly among the tart cases.
4. Top the tarts with the fresh fruit, and coconut chips. I find these tarts are best kept in the fridge.
*Gluten-free
*Refined sugar-free
Share this:
More Food & Drink / Recipes