SPONSORED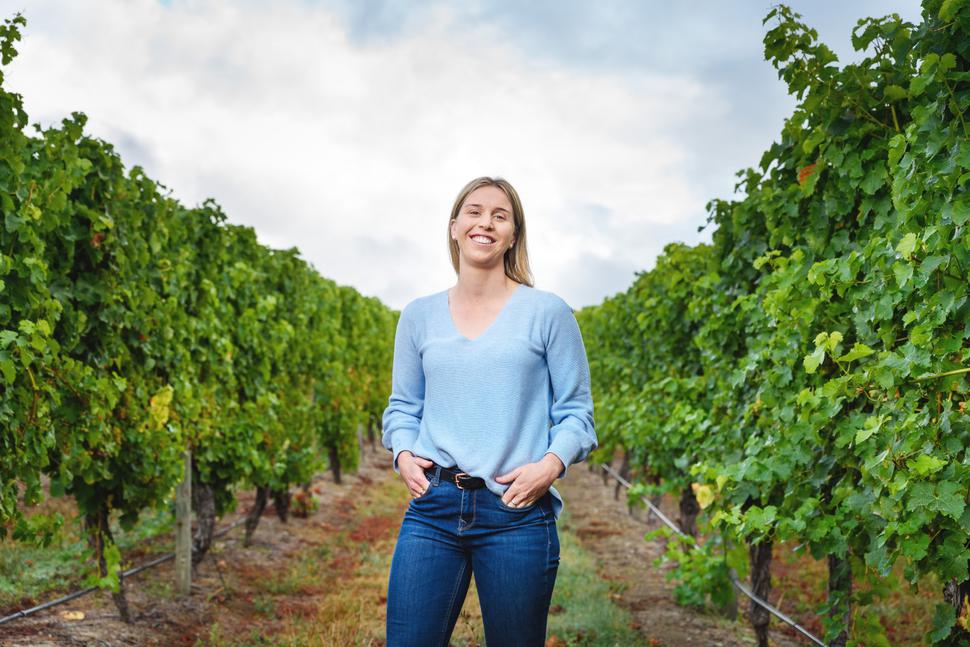 Always Wanted To Be A Winemaker? Brancott Estate's Laura-Kate Morgan Shares Her Experience In The Field
With the recent release of its new Brancott Estate Reserve range, Viva talks to winemaker Laura-Kate Morgan about work, success and the excitement of innovation
Monday March 15, 2021
From fruit to fermentation and the finished product, winemaker Laura-Kate Morgan's role is as varied as Brancott Estate's range itself. Her work encompasses many aspects of the winemaking process, and she plays an integral role in creating the company's famous wine. "I can do anything from tasting, fermenting and making adjustments, to ensuring the wine is just right, maintaining quality through to a finished ferment and a lot more," Laura-Kate explains. "In the day to day, we are looking at the fruit in the vineyard to decide when it will be tasting perfectly ripe and scheduling it to come in, then maintaining quality through processing and fermenting, looking at wines and wine styles, and essentially working with the cellar team to deliver the final wine."
Laura-Kate comes from wine country — Marlborough to be exact, where her parents had a small farm. "From an early age I was able to appreciate the ability to walk out of the front door and pick something fresh," she says. "This really kicked off my love for produce, Mother Nature and what the land can provide." She and her siblings watched as their parents established their own vineyard, and in no time it was a passion for Laura-Kate as she became involved in the pressing and fermenting — one that led her to Lincoln University in Canterbury, where she studied viticulture and oenology. This was followed by time spent working overseas at different wineries, seeing other ways of doing things and expanding her knowledge, before landing at Pernod Ricard Winemakers back home in Aotearoa. She was immediately impressed by what Brancott Estate was doing.
It's this innovation that continues to inspire Laura-Kate. "There are new technologies continually evolving, and things are always improving and changing, so being curious about these changes is so important to me," she says. "You learn a lot about what works well, but also what doesn't — what you don't plan can have the best, most surprising outcomes!"
Other than her passion for wine itself, Laura-Kate describes the human aspect of her job as one of her favourite elements. "I enjoy people and working alongside individuals from all walks of life, whoever they are from around the world," she says. "Working within Brancott Estate means that I am surrounded by super clever and creative people — it drives me to keep thinking and creating. People are the biggest drawcard to the industry for me."
Innovation is one of the biggest spheres of change in the wine industry since Laura-Kate began working in the field. "The adoption of technology is huge. It is allowing us to have more visibility and able to capture more data as its happening. This means we can be more reactive and make decisions a lot faster, we can be more agile and troubleshoot problems before they arrive."
Though some may see wine as an old, steadfast industry (feet in barrels may come to mind) Laura-Kate insists that's not the case. "There is a perception around vintage [the time of the year where we are picking and processing of the grapes], that it is very traditional, however, winemaking is progressive and is constantly evolving," she reveals. "It is innovative and creative; there is the use of technology and new processes which means people are constantly learning. It really is a wonderful place to thrive!"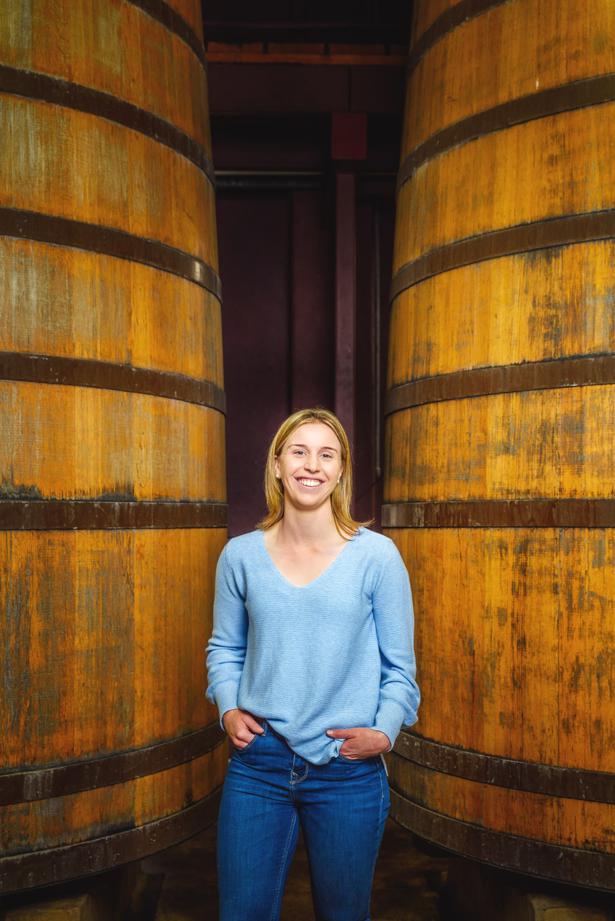 Innovation is something explored by Brancott Estate in many aspects of their business — from the special research they harness to create lighter wines with a lower alcohol content (all achieved naturally) to the new harvesting machinery that facilitates a remarkably cleaner harvest.
For Laura-Kate, this modernity is closely linked with environmental responsibility. "You do not want to take more from the land than what you need," says Laura-Kate. "I hope I can look back in years to come and people are still farming the same land and it is just as productive — the environment and land should be treated with respect."
The same is true for Brancott Estate, which advocates sustainability across its business, and released its first organic range in 2010. Long working in harmony with nature, it was a founding member of New Zealand's original sustainable winegrowing initiative, and the first Australasian winery to gain five of the world's top industry standards for quality, environment, health, and safety. Sheep even graze amongst the vines, removing leaves from the grape crop.
One of the winery's boldest initiatives is regenerative viticulture; its new pilot trial covers eight hectares of the vineyard, and encompasses soil function, companion planting and working in harmony with nature.
Brancott Estate also demonstrates the value it places in the environment by supporting local ecological initiatives like The Marlborough Falcon Trust, which aims to increase the numbers of endangered Kārearea (New Zealand's only native falcons) in the region, including hosting the Falcons Trust's aviaries for injured birds on the winery's vineyard. Meanwhile, Brancott Estate's own Kaituna project has seen it regenerating and replanting the Kaituna Wetlands
From sustainability to staffing, New Zealand's wine industry is evolving. Laura-Kate sees the industry becoming even more adaptive. "The industry is getting smarter and smarter in terms of the use of technology, and precision of winemaking processes," she reveals. "In addition to this, the fact that more women are studying oenology and viticulture means that it is an exciting time for wine and future graduate talent coming through into the industry."
All this combines to create an inspiring environment at Brancott Estate, one that Laura-Kate relishes. "There is a workplace culture with a really strong sense of fairness, equality and that we are one supportive team."
Speaking of equality, she dismisses the preconception many people have about the wine industry being a male-dominated field, reasserting the inspiring gender shift the New Zealand industry has seen in recent decades. "The industry has really evolved. 20 years ago, there were fewer women in winemaking as it used to be seen as manual, hands-on work for men — which is definitely not the case now," she reveals. "It is an open-minded industry and offers a great platform for a wide range of talent with more women working in leadership, corporate and operational roles."
Most exciting for Laura-Kate is the new Brancott Estate Reserve range. "I am really looking forward to how wine lovers receive it," she says. "The range explores the unique Tūrangawaewae, of Marlborough's Wairau and Awatere Valleys, and Hawkes Bay - meaning the place where the grape finds itself — the soil, the climate, the people — all woven together. It's a range of beautiful wines with intense vibrant fruit flavours and rich textural mouthfeel. It is a range where we as winemakers get to use our blending skills and explore winemaking artifact in more depth."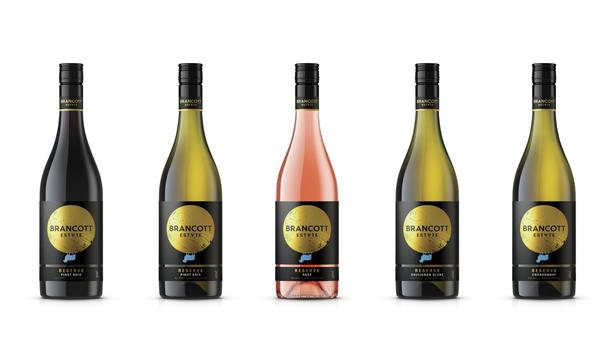 Though she's enamoured with the new release, Laura-Kate continues to strive to evolve and develop both her work and personal skills. "I am always looking at what can I do better, what is going to make the wine better," she admits. "I am constantly learning in my role as a winemaker, and this is important to me."
It's a mindset she encourages others in the field to embrace. "Be curious, ask questions, do not be afraid to get your hands dirty and roll your sleeves up — you can learn a lot from being out there and involved," she guides. "Be open-minded and jump at opportunities when they arise."
Connections are key, she says. "Communicate — the wine industry around the world is small — talk to people, make friends, be kind to those around you and enjoy and relish the relationships."
To all those aspiring winemakers, viticulturists, and those considering a career in the industry, her advice is simple. "There are so many opportunities and interesting roles from winemaking, to sales, and management. It is an exciting time for New Zealand wine. It is an incredibly diverse industry to work in," says Laura-Kate. "A wonderful way for people to get involved in winemaking is through vintage — from picking and processing, to cellar work and even digging out tanks, there are many roles to be filled. It is a chance to get a taste for the industry, and for many, that has been their pathway into wine."
Above all, she hopes everyone finds as much joy and satisfaction in a glass of Brancott Estate wine as she does. "Brancott Estate's processes and ethos have always been the same, which upholds its quality — maintaining beautiful quality fruit and carrying it through to glass," says Laura-Kate. "And, when it comes to health and wellbeing: make sure you have a laugh and surround yourself with people who make you smile!"
For more information on Brancott Estate Reserve, please visit Brancottestate.com
Share this:
More Food & Drink / Wine & Drink