Amber Rose's Latest Cookbook and New Life
New Zealand chef to the stars Amber Rose has a new book, The Wholefood Pantry, and a new life in Matakana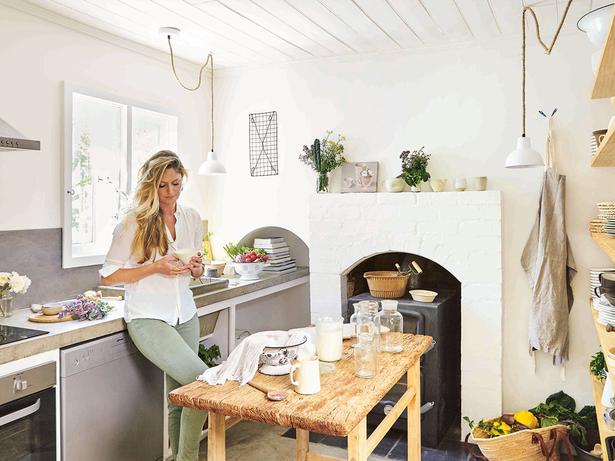 Wednesday Nov. 23, 2016
Massaging Kate Moss and Alexander McQueen and cooking for Jude Law, Sadie Frost and Gwyneth Paltrow are not typical ways most New Zealanders spend their days but for Kaiwaka-born chef and food stylist Amber Rose these were once ordinary events in her extraordinary life.
The self-taught cook, who has just released her third book, The Wholefood Pantry, after moving back to New Zealand several months ago, found herself part of the fast-paced London celebrity scene after a friend working for musician Noel Gallagher recommended her to Law and Frost as a nanny. She eventually become their chef and personal assistant, and later went on to cook for the likes of Gwyneth Paltrow and Chris Martin, Kate Hudson and Mat Bellamy.
Working for Law and Frost was slightly unusual, Amber says, because the couple were in the process of splitting up, but she stayed living with Sadie for a few years afterwards and the pair became "quite good friends", going on to write a book together, Nourish: Mind, Body & Soul. She only stopped working for her when she got pregnant with her first son Oli.
"We did loads of travelling, and cooking, it was wonderful. I had great fun," the 36-year-old tells Viva over a cup of tea at a Matakana cafe. "It was always a really busy household. There were so many staff and friends and nannies and kids and adults coming in and out, so I would just make these huge meals and whoever was around would sit down for lunch and dinner."
After her son was born, Amber's training as a massage therapist in a former life also found her in demand from some high-profile clients, including Moss — Oli's godmother — and McQueen.
"[Kate] used to get really nervous … she did a show with [comedians] David Walliams and Matt Lucas where she was [Little Britain character] Vicky Pollard's sister from the council estate. She was so nervous about going on stage that she called me up going, 'You've got to come and give me a massage to calm me down!'," laughs Amber.
She now calls the picturesque farmland and lifestyle blocks that surround the sleepy north Auckland settlement of Matakana home and is just about to have her second child, with partner Ed Guinness, co-owner of the Leigh Sawmill Cafe. She says she was happy to escape the frantic pace of London and get back to her roots, though it's taken a while to get used to her new life.
"Coming back to New Zealand, part of it for me was wanting to step out of that stressful London headspace and I have definitely achieved that. But it's an adjustment process. Even though I'm a Kiwi, you have to find your friends again and figure out career-wise where you want to go."
The Wholefood Pantry is a collection of 175 of Amber's favourite "toolbox" recipes — "all those little ingredients that you reach for that are the cornerstone of your kitchen; the nuts and bolts of your kitchen cupboard" — as well as practical tips and cooking options.
TRY: Amber Rose's Winter Salad Recipe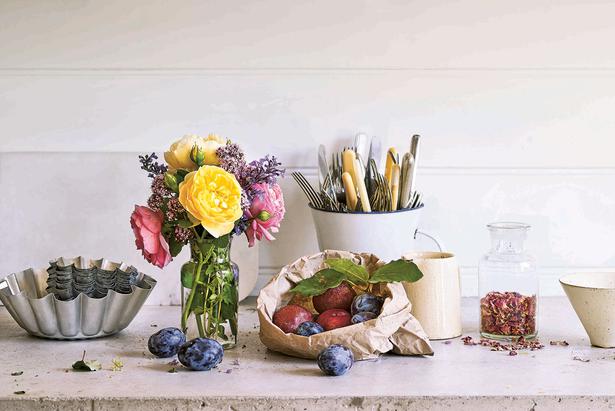 Creating the beautifully designed and photographed book was a "cross-Continental challenge", she laughs. It was written in the English countryside and shot in central Melbourne and rural Victoria at The Estate Trentham and lavender farm Lavandula.
Sourcing food for the recipes Amber and her team would make to photograph was often stressful, because they didn't know the local scene and where to get things.
"I had to try and find kefir grains, and I managed to track this hilarious Polish lady down on Craigslist and met her in some McDonald's carpark — we were doing 'back street kefir deals'. It was too funny."
She looked to her idyllic rural childhood as inspiration — her mother, Kay Baxter, one of the country's first organic farmers, was heavily into permaculture and biodynamics, and still runs a heritage seed-saving operation. Amber and her brothers grew up on a 160ha farm.
The family was largely self-sufficient, living almost entirely off the land, and the skills Amber learned early have stayed with her into her adult life.
"We were heavily involved in the runnings of the garden and looking after the animals," she says. "My mum did literally everything herself — she made her own bread, made her own soft cheese from the milk of the cow she milked herself, collected her own honey from her own hives and what wasn't used for honey and mead was made into candles … It was extraordinary.
"I really wanted the book to have that garden-to-table feel of how I grew up."
Amber advocates what she describes as a backwards approach, where you cook with what you have available, rather than going to the supermarket with a list of ingredients and buying what you want to eat. This is a more creative way of preparing food, she says, because you have to be more inventive.
"The way our family was brought up, and what I'm trying to go back to, is that you'd go out into the garden and what's there is there, and you have to figure out what you do with what you have.
The book is chatty and personal, with recipes included from extended family members including her 90-year-old grandmother Maida's mint sauce recipe.
Above all, Amber says, she wanted The Wholefood Pantry to be useful, proving that it's simple to make your own healthy basics.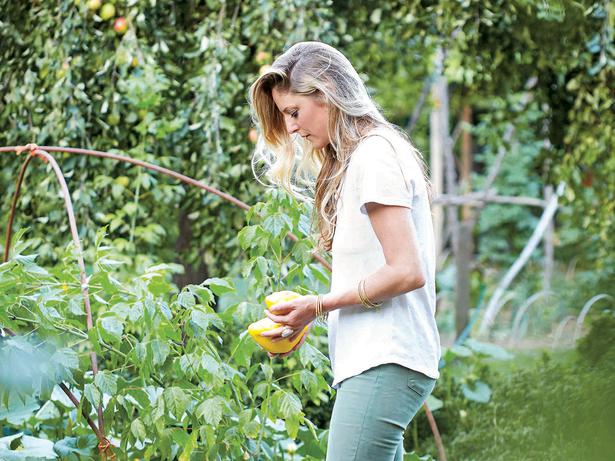 For instance, she offers several different ways of cooking each type of meat, along with handy hints, and has planned the book so the recipes can work together. The various spice mixes are a particularly useful way to play with a dish, so you can make it Middle Eastern, say, or Mexican-inspired.
Gut health has been one of Amber's recent obsessions. For this, she recommends soaking grains to make them easier to digest and making the most of the book's wild fermentation, broth and soup recipes.
"I've made a big effort over the last few years to incorporate those into my weekly diet because I've had a few problems with my skin in the past. By really looking after my gut, it's cleared everything up. It's about getting lots of nutrient-dense stuff into your diet and making it a bit more alive," she explains.
A classic example is using bone broth as stock which is filled with gelatin and collagen which are fantastic for your skin and bones and easy to make, rather than store-bought cubes which are easy but have no health benefits.
Amber's food philosophy is simple and she doesn't spend hours in the kitchen every night. A typical quick and easy evening meal will feature protein (probably meat or fish, seasoned with one of the spice mixes), some cooked vegetables and some raw, to give the gut the enzymes it needs for healthy digestion.
Superfoods don't have to cost you a fortune, she says, and often cleansing and cutting whole food groups out of your diet can do more harm than good.
"Even though I grew up the way I did, after more than 10 years of living in London, you sort of become indoctrinated to think that superfoods come from a packet from the wholefoods shelf, and are expensive seaweeds or berries from some Peruvian jungle," she says.
TRY Amber Rose's Perfect Sponge Cake Recipe
"You don't have to go on some crazy far-fetched diet, it's just about quality ingredients and nourishing yourself. It's certainly easier on the pocket than going out and buying all these crazy supplements."
A key thing to avoid is spoiling healthy meals with unhealthy condiments full of preservatives and sugars, and Amber suggests swapping out processed vegetable cooking oils for healthy fats such as butter, ghee, tallow or lard depending on what you're cooking, and switching pickles for naturally fermented veggies.
Overall, she says, eating well is about thinking about food in a more sensible, holistic way. "It's not about one particular thing that will miraculously change your life, it's nourishing yourself in all areas and aspects of your food and cooking, not getting caught up in trends … which is probably not a very trendy thing to say."

The Wholefood Pantry by Amber Rose, $49.99, published by Kyle Books, distributed by Bookreps.
Share this: