Amber Rose's Winter Salad Recipe
Here is a colourful and hearty salad from Amber Rose's new cookbook, The Wholefood Pantry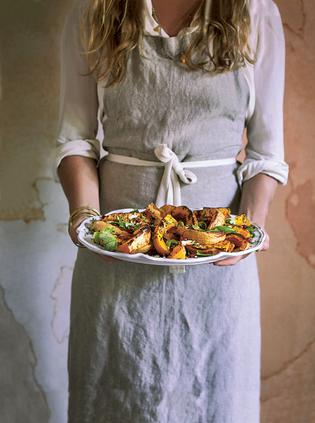 Here is a colourful, warming, hearty salad for colder months.
The sweetness of the pumpkin goes so beautifully with the sharpness and creaminess of the preserved lemon dressing.
Preserved lemons are lacto-fermented, which means they contain loads of naturally occurring probiotics to give your immune system a boost, just when it is most needed during the shorter days of autumn and winter, which is also when squash are in season.
READ MORE:
Amber Rose's Latest Cookbook and New Life
Amber Rose's Perfect Sponge Cake Recipe
WINTER SALAD WITH A CREAMY CASHEW AND PRESERVED LEMON DRESSING
Serves 4-6
For the salad
1 large butternut squash (or your favourite variety of pumpkin)
4 Tbsp ghee or olive oil
1 Tbsp sunflower seeds
1 Tbsp pumpkin seeds
1 Tbsp black sesame seeds
10g flaked almonds
10g basil leaves
A handful of rocket
Pomegranate, seeds removed and rinsed
Salt and freshly ground black pepper
For the cashew and preserved lemon dressing
150g cashews, soaked
2 Tbsp chopped preserved lemons
200ml almond milk
Sea salt and freshly ground black pepper
1. To make the dressing simply put all the ingredients into a bowl and blitz with a stick blender, adding more almond milk if you require a thinner consistency for drizzling, or less for a dip. Season to taste and set aside while you prepare the salad.
2. Preheat the oven to 220°C/fan 200°C/gas mark 7.
3. Trim the base and top off the squash, then cut it in half lengthways. Use a spoon to remove the seeds. Cut each half into wedges about 3cm thick.
4. Arrange the wedges on a roasting tray, skin-side down. Brush with ghee or olive oil and season well with salt and pepper. Roast for 30-35 minutes. Keep an eye on the wedges — depending on your oven they may take a little longer or a little less, but you don't want them to burn.
5. When the wedges are just catching at the edges and feel tender all the way through when poked with a knife, remove the tray from the oven and allow to cool.
6. Reduce the oven temperature to 180°C/fan 160°C/gas mark 4 and put all the seeds and the almonds onto a clean baking tray. Pop into the oven to toast for 6-8 minutes, or until lightly browned and popping.
7. When you are ready to assemble the salad, arrange the squash on a beautiful serving platter, sprinkle over the toasted seeds, almonds, basil, rocket and pomegranate seeds, then serve with the dressing on the side. As a final flourish you can drizzle with extra virgin olive oil and add an extra sprinkle of sea salt and freshly cracked black pepper.

The Wholefood Pantry by Amber Rose, $49.99, published by Kyle Books, distributed by Bookreps.


Share this:
More Food & Drink / Recipes