Angela Casley's picnic perfect recipes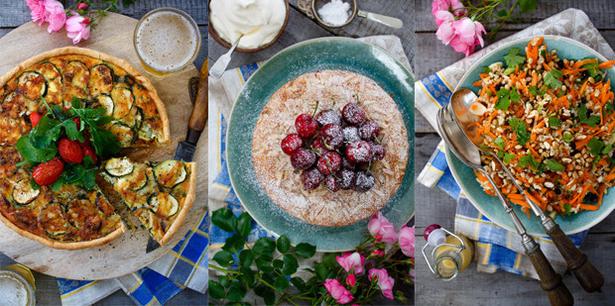 Friday Dec. 19, 2014
It's nearly time to pack the bags with summer gear and head out of the city. I can't wait.
First, a bit of time will be spent sourcing treats to take away. Good balsamic, cheese, pasta and prosciutto. I will also take a supply of vanilla soy and almond milk, which are popular in smoothies and on cereal in our home.
Half the fun of being away is eating the local produce, which every year grows in abundance and quality. I am desperately waiting for the corn and watermelon bought at the side of the road.
And, no pressure, Mum, but I hope those tomatoes, lettuces and beans in your garden are also ready for us.
There is something so summery about a quiche: perfect to take for a picnic or to whip up when unexpected visitors turn up for lunch. I always make my pastry but, hey, this is about more time on the beach, so use store-bought if need be. Quiche is versatile, so whatever cheese you have in the fridge will suffice, plus ham or salmon and a few herbs.
We are eating more brown rice with our evening meals and I can't bear to throw out leftovers. Instead, I toss it in a bowl with a few ingredients to make a tasty fresh salad. Roughly chopped coriander and a slightly sweet honey and Dijon mustard dressing makes this a meal in itself. And you can always add a tin of tuna to the mix.
Again, this is great for a picnic or to take to a pot-luck lunch or dinner.
This cake will impress. Whipped cream and a large slice is the perfect way to finish a meal.
I have ordered cherries from the South Island for Christmas Day. Because of the weather, most cherries will be delayed until after Christmas, so I will organise delivery of another box for the new year.
I have to be quick to set a few aside for cooking before the box is discovered; the perfectly ripened soft, juicy cherries don't last long.
Recipes:
• Carrot, nut and currant salad
Share this:
More Food & Drink / Recipes