Chef Angelo Georgalli's Steamed Buns Recipe
TV star and chef Angelo Georgalli shares a simple recipe for fresh buns from his new book, Angelo's Wild Kitchen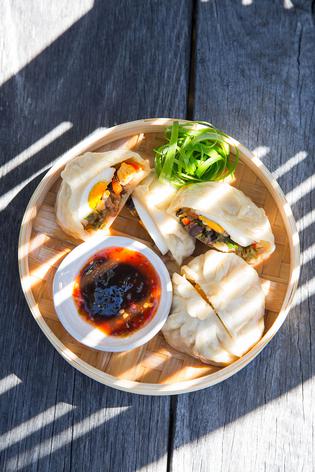 Angelo Georgalli wants you to get dirty. Er, your kitchen hands, that is. While you're at it, why not have a crack at foraging, plucking and chasing down your ingredients as well. The chef, who has his own TV series The Game Chef, is back with his second cookbook Angelo's Wild Kitchen. Inside, he shares family favourite recipes and explains why fresh, local and as natural as possible is best. 
He says: "My first restaurant job was working in a Chinese restaurant in London. It was there I discovered the epicurean beauty of a freshly steamed bun. A great way to use leftover cooked meat! Of course, you can use fresh meat for this and cook from raw."
STEAMED BUNS
Makes 16
500g high-grade self-raising flour
½ tsp yeast
½ tsp salt
400ml warm water
Rice bran oil
1. Place flour into a bowl. Mix yeast and salt with water, then add to flour. Work through or knead for 10 minutes.
2. Place dough in a bowl, cover with a damp tea towel and let it rest for 40 minutes somewhere warm.
3. Once dough has risen, roll out into a long sausage shape around 4cm in diameter. Cut in half and halve and halve again until you end up with 16 pieces. Roll pieces into round balls. They should weigh around 60g each.
4. Use a little bit of flour for dusting a clean workbench. Dust rolling pin. Roll each ball out flat into a mini pizza base with thinner edges and thicker centre.
5. Place 1 heaped tablespoon of mixture (the choice of filling is yours) in the middle. Create little 'money bag' pouches, squeezing the dough together at the top until sealed. Turn over and round into smooth buns with your hands.
6. In a small wok add some water to just over halfway and place the steamer on top. Cut 16 x 70mm squares of baking paper. Place in the bottom of a bamboo steamer so that buns don't stick to steamer. Place buns on paper, brush with rice bran oil.
7. Steam for 15 minutes. Depending on size of your steamer and wok you might have to do this in 2 or 4 batches.
• Extracted with permission from Angelo's Wild Kitchen by Angelo Georgalli. Beatnik Publishing, $44.99.Photos by Sally Greer.
Share this: