Annabel Langbein's Gluten-Free Orange and Almond Cake Recipe
A fantastic go-to gluten-free option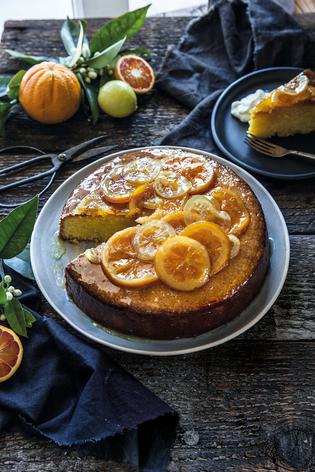 GLUTEN-FREE ORANGE AND ALMOND CAKE
Prep 20 mins
Cook 40 mins
Serves 10-12
GF V
• 300g butter, melted
• 1½ cups caster sugar
• 4 eggs
• 1 tsp vanilla extract
• 3½ cups ground almonds
• 1 cup fine polenta
• 1 tsp baking powder
• finely grated zest of 1 lemon and 2 oranges
• ¼ cup orange juice
Glazed Citrus Topping
• 1 orange and 1 lemon, unpeeled and sliced as thinly as possible
• ¾ cup sugar
• ¾ cup water
1. Preheat oven to 160°C fanbake. Grease the sides of a 23cm-diameter springform cake tin and line the base with baking paper.
2. In a mixing bowl, whisk together butter, sugar, eggs and vanilla extract. Mix in ground almonds, polenta, baking powder, zests and orange juice. Transfer to prepared tin and bake until the top is deeply golden and bounces back when lightly pressed (about 40 minutes). Allow to cool in the tin before turning out. The unglazed cake will keep in a covered container in the fridge for up to 5 days.
3. To prepare the Glazed Citrus Topping, place the citrus slices in a pot, cover with boiling water, stand for 5 minutes then drain. Repeat once more to remove any bitterness from the citrus. Add sugar and water and bring to a simmer, swirling to dissolve sugar. Simmer until the liquid has almost evaporated (10-15 minutes) or until syrupy. Spoon fruit and syrup over cake just prior to serving.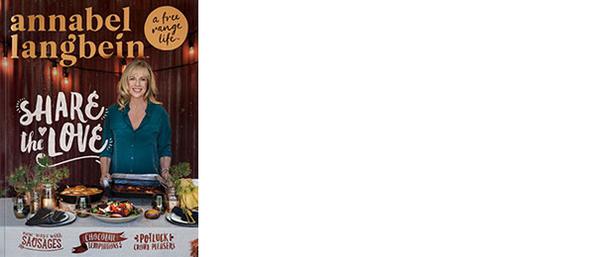 This recipe is extracted from Annabel's new autumn winter annual Annabel Langbein A Free Range Life: Share the Love (Annabel Langbein Media, $24.95), available from Paper Plus, the Warehouse and all good supermarkets and bookshops. For more great Annabel Langbein recipes and to find out about her Share the Love Potluck campaign visit annabel-langbein.com
You can see Annabel speak live at the Power Stage at the BePure Live Well Festival, October 15 & 16 2016 at the Cloud in Auckland. These seminars are free for everyone with a GA Ticket. The BePure Live Well Festival is New Zealand's premier wellness and lifestyle event, with over 60 exhibitors, seminars from health and wellness experts, fitness classes, meditation and massage. For more information and to purchase tickets visit livewellfestival.co.nz.
Share this:
More Food & Drink / Recipes